Abstract
Background
The aim of this study was to evaluate clinical and morphological factors associated with recurrence in anterior communicating artery (AcomA) aneurysms after clipping or coiling.
Methods
We retrospectively reviewed the clinical and radiologic features of consecutive 214 patients with AcomA aneurysms treated between January 2012 and December 2016 in a single tertiary institute. Univariate and multivariate analyses were performed to identify the relationship between clinical and morphological variables and recurrence.
Results
Of 214 patients, 166 were unruptured aneurysms and 109 were treated with coiling. Overall recurrence rate was 13% (28 out of 214 aneurysms) during mean 36.9 ± 18.4-month follow-up. Multivariate logistic regression analysis showed that size greater than 10 mm (OR = 5.651; 95% CI, 1.317–24.242; p = 0.020), smoking (OR = 3.474; 95% CI, 1.342–8.996; p = 0.010), coiling (OR = 2.98; 95% CI, 1.005–8.832; p = 0.049), and anterior direction of aneurysm (OR = 3.77; 95% CI, 1.12–12.66; p = 0.032) were significantly associated with recurrence of AcomA aneurysms after treatment.
Conclusions
The results of this study demonstrated that coiling, large aneurysm, anterior direction, and smoking history may be independent risk factors for the recurrence of AcomA aneurysms. Therefore, careful follow-up should be needed especially in large AcomA aneurysms with anterior direction after coiling.
This is a preview of subscription content, log in to check access.
Access options
Buy single article
Instant access to the full article PDF.
US$ 39.95
Price includes VAT for USA
Subscribe to journal
Immediate online access to all issues from 2019. Subscription will auto renew annually.
US$ 199
This is the net price. Taxes to be calculated in checkout.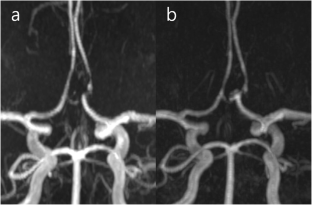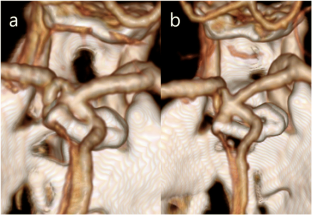 Ethics declarations
Conflict of interest
The authors declare that they have no conflict of interest.
Ethical approval
This study was executed in accordance with the ethical standards of the institutional and/or national research committee and with the 1964 Helsinki declaration and its later amendments or comparable ethical standards. This study was approved by the institutional review board at the author's institute (KC19RASI0866).
Informed consent
The requirement for written informed consent was waived by the ethics committee due to the study's retrospective design.
Additional information
Comments
Anterior communicating aneurysms are commonly encountered in clinical practice. For the most part, they can be treated effectively with intelligent use of microsurgery and endovascular therapy as complementary therapeutic options. In this article, the authors analyze morphological and clinical factors associated with ACom aneurysm recurrence after treatment. As expected, the recurrence rate after surgery is very low and, especially anteriorly pointing Acom aneurysms, have higher tendency to recur after endovascular treatment. However, endovascular treatment continues to evolve. Until a few years ago I continued to offer surgery for broad based Acom aneurysms. In the past 3 years, with newer stents, increasing use of flow diverters for Acom aneurysms and the WEB device, the number of Acom aneurysms for which I offer surgical treatment has decreased dramatically. Based on early follow-up of Acom aneurysms treated with these newer endovascular techniques, it is my impression that recurrence rates, even for inferiorly pointing Acom aneurysms, are dropping.
Giuseppe Lanzino.
USA
Publisher's note
Springer Nature remains neutral with regard to jurisdictional claims in published maps and institutional affiliations.
This article is part of the Topical Collection on Vascular Neurosurgery - Aneurysm
About this article
Cite this article
Ki, H.J., Lee, K.S., Kim, B.S. et al. Clinical and morphological risk factors for the recurrence of anterior communicating artery aneurysms after clipping or coiling. Acta Neurochir (2020). https://doi.org/10.1007/s00701-020-04450-2
Received:

Accepted:

Published:
Keywords
Anterior communicating artery aneurysm

Aneurysm direction

Recurrence

Risk factor