Abstract
Background
Glioblastoma (GBM) is the most frequent intraaxial malignant brain tumour, in which recurrence management is a frequent and demanding issue. Recently, reintervention has emerged as a useful tool for treatment. However, some new evidence has shown that most of the articles published could have overestimated its effects. We aimed to analyse the effect on survival of reintervention considering it as a time-dependent variable and to compare it with classic statistical analysis.
Methods
We performed a retrospective study with GBM patients between 2007 and 2017. We compared the overall survival (OS) between reintervention and non-reintervention groups with time-dependent statistical methods (Simon-Makuch and landmarking methods and time-dependent multivariable Cox analysis) and compared them with those obtained with non-dependent time variable analysis.
Results
A total of 183 patients were included in the analysis and 44 of them were reoperated. The standard analysis with Kaplan-Meier and multivariable Cox regression of the cohort showed an OS of 22.2 months (95% CI 12.56–16.06) in the reintervention group and 11.8 months (95% CI 9.87–13.67) in the non-reintervention group (p < .001); and an HR 0.649 (95% CI 0.434–0.97 p = .035) for reintervention, demonstrating an increase in OS. However, time-dependent analysis with the Simon-Makuch test and the landmarking method showed that the relationship was not consistent, as this increase in OS was not significant. Moreover, time-dependent multivariable Cox analysis did not show that reintervention improved OS in our cohort (HR 0.997 95% CI 0.976–1.018 p = 0.75).
Conclusions
There has been a temporal bias in the literature that has led to an overestimation of the positive effect of reintervention in recurrent GBM. However, reintervention could still be useful in some selected patients, who should be individualized according to prognostic factors related to the patient, biology of the tumour, and characteristics of surgical procedure.
This is a preview of subscription content, log in to check access.
Access options
Buy single article
Instant access to the full article PDF.
US$ 39.95
Price includes VAT for USA
Subscribe to journal
Immediate online access to all issues from 2019. Subscription will auto renew annually.
US$ 199
This is the net price. Taxes to be calculated in checkout.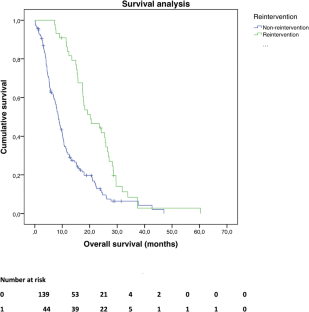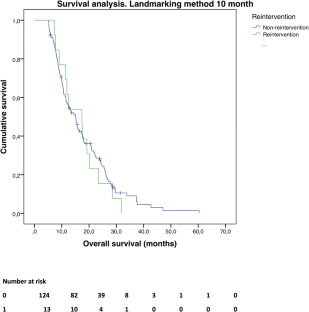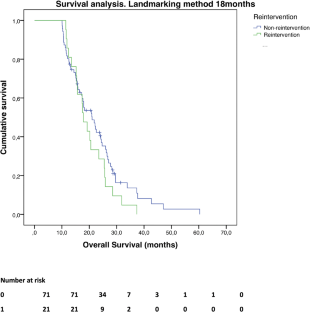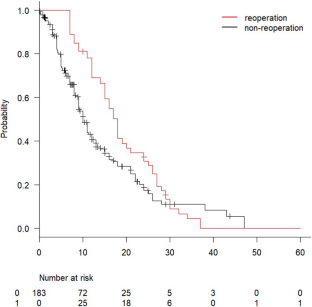 References
1.

Azoulay M, Santos F, Shenouda G, Petrecca K, Oweida A, Guiot MC, Owen S, Panet-Raymond V, Souhami L, Abdulkarim BS (2017) Benefit of re-operation and salvage therapies for recurrent glioblastoma multiforme: results from a single institution. J Neuro-Oncol 132(3):419–426

2.

de Bonis P, Fiorentino A, Anile C, Balducci M, Pompucci A, Chiesa S, Sica G, Lama G, Maira G, Mangiola A (2013) The impact of repeated surgery and adjuvant therapy on survival for patients with recurrent glioblastoma. Clin Neurol Neurosurg 115(7):883–886

3.

Chaichana KL, Zadnik P, Weingart JD, Olivi A, Gallia GL, Blakeley J, Lim M, Brem H, Quiñones-Hinojosa A (2013) Multiple resections for patients with glioblastoma: prolonging survival. J Neurosurg 118(April):812–820

4.

Chen Y, Sole J, Ugiliweneza B, Johnson E, Burton E, Woo SY, Koutourousiou M, Williams B, Boakye M, Skirboll S (2019) National trends for reoperation in older patients with glioblastoma. World Neurosurg 113:e179–e189

5.

Delgado-Fernandez J, Garcia-Pallero MÁ, Blasco G, Penanes JR, Gil-Simoes R, Pulido P, Sola RG (2017) Usefulness of reintervention in recurrent glioblastoma: an indispensable weapon for increasing survival. World Neurosurg 108:610–617

6.

Filippini G, Falcone C, Boiardi A et al (2008) Prognostic factors for survival in 676 consecutive patients with newly diagnosed primary glioblastoma. Neuro-Oncology 2008:79–87

7.

Franceschi E, Bartolotti M, Tosoni A et al (2015) The effect of re-operation on survival in patients with recurrent glioblastoma. Anticancer Res 1748(35):1743–1748

8.

Gillis J, Cooper C, Burchell AN, Gardner S, Manno M, Mazzulli T, Rourke SB, Raboud JM (2015) Time-dependent bias in hepatitis C classification. Epidemiology 26(2):24–26

9.

Gleiss A, Oberbauer R, Heinze G (2018) An unjustified benefit : immortal time bias in the analysis of time-dependent events. Transpl Int 31(2):125–130

10.

Goldman DA, Hovinga K, Reiner AS, Esquenazi Y, Tabar V, Panageas KS (2018) The relationship between repeat resection and overall survival in patients with glioblastoma: a time-dependent analysis. J Neurosurg 129(5):1231–1239

11.

Heister T, Wolkewitz M, Kaier K (2020) Letters to the editor estimating the additional costs of surgical site infections : length ventilator-associated events as a quality indicator in intensive care. J Hosp Infect 99(1):103–104

12.

Hervey-jumper SL, Berger MS (2014) Reoperation for recurrent high-grade glioma: a current perspective of the literature. Neurosurgery 75(5):491–499

13.

Li YM, Suki D, Hess K, Sawaya R (2016) The influence of maximum safe resection of glioblastoma on survival in 1229 patients: can we do better than gross-total resection? J Neurosurg 124(April):977–988

14.

Lu VM, Goyal A, Graffeo CS, Perry A, Burns TC, Parney IF, Quinones-hinojosa A, Chaichana KL (2019) Literature review survival benefit of maximal resection for glioblastoma reoperation in the temozolomide era : a meta-analysis. World Neurosurg 127:31–37

15.

Lu V, Jue TR, Mcdonald KL, Rovin RA (2018) Literature review the survival effect of repeat surgery at glioblastoma recurrence and its trend : a systematic review and meta-analysis. World Neurosurg 115:453–459 e3

16.

Martínez-Garcia M, Álvarez-Linera J, Carrato C, Ley L, Luque R, Maldonado X, Martínez-Aguillo M, Navarro LM, Vaz-Salgado MA, Gil-Gil M (2018) SEOM clinical guidelines for diagnosis and treatment of glioblastoma (2017). Clin Transl Oncol 20(1):22–28

17.

Montemurro N, Perrini P, Blanco MO, Vannozzi R (2016) Second surgery for recurrent glioblastoma: a concise overview of the current literature. Clin Neurol Neurosurg 142:60–64

18.

Nava F, Tramacere I, Fittipaldo A et al (2014) Survival effect of first- and second-line treatments for patients with primary glioblastoma: a cohort study from a prospective registry, 1997–2010. Neuro-Oncology 16(August 2013):719–727

19.

Niranjan A, Kano H, Iyer A, Kondziolka D, Flickinger JC, Lunsford LD (2015) Role of adjuvant or salvage radiosurgery in the management of unresected residual or progressive glioblastoma multiforme in the pre–bevacizumab era. J Neurosurg 122(April):757–765

20.

Oppenlander ME, Wolf AB, Snyder LA et al (2014) An extent of resection threshold for recurrent glioblastoma and its risk for neurological morbidity. J Neurosurg 120(April):846–853

21.

Ostrom QT, Ph D, Gittleman H, Truitt G, Boscia A, Kruchko C, Barnholtz-sloan JS, Ph D (2018) Neuro-oncology CBTRUS statistical report : primary brain and other central nervous system tumors diagnosed in the United States in 2011-2015. Neuro-Oncology 20(S4):1–86

22.

Park JK, Hodges T, Arko L et al (2010) Scale to predict survival after surgery for recurrent glioblastoma multiforme. J Clin Oncol 28(24):3838–3843

23.

Park C, Kim J, Nam D et al (2012) A practical scoring system to determine whether to proceed with surgical resection in recurrent glioblastoma. Neuro-Oncology 15(8):1096–1101

24.

Ringel F, Pape H, Sabel M et al (2016) Clinical benefit from resection of recurrent glioblastomas: results of a multicenter study including 503 patients with recurrent glioblastomas undergoing surgical resection. Neuro-Oncology 18(1):96–104

25.

Robin AM, Lee I, Kalkanis SN (2019) Reoperation for recurrent glioblastoma multiforme. Neurosurg Clin NA 28(3):407–428

26.

Rynken T, Kalkanis S, Buatti JM, Olson JJ (2014) The role of cytoreductive surgery in the management of progressive glioblastoma: a systematic review and evidence-based clinical practice guideline. J Neuro-Oncol 118(3):479–488

27.

Sanai N, Polley M-Y, McDermott MW, Parsa AT, Berger MS (2011) An extent of resection threshold for newly diagnosed glioblastomas. J Neurosurg 115(July):3–8

28.

Stupp R, Mason W, van den Bent M, Al E (2005) Radiotherapy plus concomitant and adjuvant temozolomide for glioblastoma. N Engl J Med 352(10):987–996

29.

Suchorska B, Weller M, Tabatabai G et al (2016) Complete resection of contrast-enhancing tumor volume is associated with improved survival in recurrent glioblastoma - results from the DIRECTOR trial. Neuro-Oncology 18(4):549–556

30.

Tully PA, Gogos AJ, Love C, Liew D, Drummond KJ, Morokoff AP (2016) Reoperation for recurrent glioblastoma and its association with survival benefit. Neurosurgery 79(5):678–689

31.

Van Walraven C, Davis D, Forster AJ, Wells GA (2004) Time-dependent bias was common in survival analyses published in leading clinical journals. J Clin Epidemiol 57:672–682

32.

Wann A, Tully P, Barnes E, Lwin Z, Jeffree R, Drummond K, Gan H, Khasraw M (2018) Outcomes after second surgery for recurrent glioblastoma: a retrospective case-control study. J Neuro-Oncol 137:409–415

33.

Weller M, Cloughesy T, Perry JR, Wick W (2013) Standards of care for treatment of recurrent glioblastoma - are we there yet? Neuro-Oncology 15(1):4–27

34.

Yong RL, Wu T, Mihatov N, Shen MJ, Brown A, Zaghloul KA, Park GE, Park JK (2014) Residual tumor volume and patient survival following reoperation for recurrent glioblastoma. J Neurosurg 121(October):802–809

35.

Zhao Y, Wang Z, Pan Z, Péus D, Delgado-Fernandez J, Pallud J, A-Q L (2019) A meta-analysis of survival outcomes following reoperation in recurrent glioblastoma : time to consider the timing of reoperation. Front Neurol 10(March):286
Ethics declarations
For this type of study formal consent is not required.
Conflict of interest
The authors declare that they have no conflict of interest.
Additional information
Publisher's note
Springer Nature remains neutral with regard to jurisdictional claims in published maps and institutional affiliations.
This article is part of the Topical Collection on Brain Tumors
About this article
Cite this article
Delgado-Fernández, J., Frade-Porto, N., Blasco, G. et al. Does reintervention improve survival in recurrent glioblastoma? Facing a temporal bias in the literature. Acta Neurochir (2020). https://doi.org/10.1007/s00701-020-04432-4
Received:

Accepted:

Published:
Keywords
Glioblastoma

Recurrent glioblastoma

Reintervention

Survival

Temporal bias

Time-dependent statistical analysis