Abstract
Background
The diagnosis of Chiari 1 malformation is based on the extent of tonsillar ectopia.
Objective
To examine the relationship between the extent of tonsillar ectopia and the intra-operative findings and clinical outcome following Chiari decompression surgery.
Methods
Patients were divided into four groups depending on the position of the cerebellar tonsil (T): group 1: 0 < T < 3; group 2: 3 ≤ T ≤ 5; group 3: 5 < T ≤ 10; and group 4: T > 10. Intra-operative observations were recorded with regard to compression of the brain stem by posterior inferior cerebellar artery (pica), neuroma formation along the first cervical (C1), and accessory spinal nerves (XI), and pallor of the cerebellar tonsils. Brain stem auditory evoked potentials, (BAEP), were monitored in each case. One hundred sixty-eight patients accrued between 2009 and 2013 agreed to participate in an outcome study to determine the effectiveness of foramen magnum decompression. Findings across the four groups were compared using one-way ANOVA. Observed differences were further subjected to paired analysis. Intra-group comparisons were made using the paired t test. A P value less than 0.05 was considered statistically significant.
Results
There were 98 patients in group 1, 147 patients in group 2, 180 patients in group 3, and 63 patients in group 4. The mean extent of tonsillar ectopia was 0.4, 4.0, 7.1, and 14.3 mm in the four groups respectively. The prevalence of tonsillar pallor was greatest in group 4. Otherwise, there was no difference observed in the operative findings. A reduction of > 0.1 msec in the wave III–wave V latency of the BAEP was noted in all four groups with equal frequency. One hundred ten patients complied with at least 6 months follow-up. There was no difference in the prevalence of symptoms between the four groups at the time of initial evaluation and at 6 weeks and 6 months following surgery. There was a statistically significant reduction in the intensity of individual symptoms 6 months following surgery regardless of the extent of tonsil ectopia.
Conclusion
Other than the finding of tonsillar pallor, there was no relationship between the extent of tonsillar ectopia and the intraoperative anatomical and physiological observations, nor was there any relationship to the likelihood of symptomatic improvement following surgery. These observations call into question the focus on the extent of tonsillar of ectopia in assessing the patient who presents with symptoms of the Chiari malformation.
This is a preview of subscription content, log in to check access.
Access options
Buy single article
Instant access to the full article PDF.
US$ 39.95
Price includes VAT for USA
Subscribe to journal
Immediate online access to all issues from 2019. Subscription will auto renew annually.
US$ 199
This is the net price. Taxes to be calculated in checkout.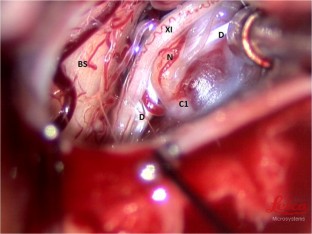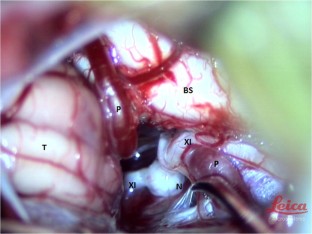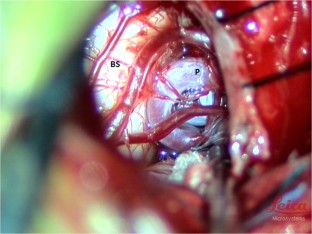 References
1.

An HS (1998) Clinical presentation of discogenic neck pain, radiculopathy and myelopathy. In: the Cervical Spine Research Society editorial committee. The cervical spine 3rd edn. Lippincott-raven, Philadelphia, 755-764

2.

Ball WS, Krone KR (1995) Chiari malformation from Dr. Chiari to MR imaging. Radiology 195:602–604

3.

Barkovich AJ, Wippold FJ, Sherman JL, Citrin CM (1986) Significance of cerebellar tonsillar position on MR. AJNR 7:795–799

4.

Bejjani GK, Cockerham KP (2011) Adult Chiari malformation. Contemporary Neurosurg 23(26):1–8

5.

Chern JJ, Gordon AJ, Mortazavi MM, Tubbs RS, Oakes WJ (2011) Pediatric Chiari malformation type 0: a 12-year institutional experience. J Neurosurg Pediatr 8(1):1–5

6.

Elster AD, Chen MY (1992) Chiari 1 malformations: clinical and radiological reappraisal. Radiology 183:347–353

7.

Fakhri A, Shah MN, Goyal MS (2015) Advanced imaging of Chiari 1 malformations. Neurosurg Clin N Am 26:519–526

8.

Hassan T, Hamimi A (2013) Successful endovascular management of brain aneurysms presenting with mass effect and cranial nerve palsy. Neurosurg Rev 36(1):87–97 discussion 97

9.

Higashida RT, Halbach VV, Dowd C, Barnwell SL, Dormandy B, Bell J, Hieshima GB (1990) Endovascular detachable balloon embolization therapy of cavernous carotid artery aneurysms: results in 87 cases. J Neurosurg 72(6):857–863

10.

Hussain SI, Lynch JR, Wolfe T, Fitzsimmons BF, Zaidat OO (2009) Stent-assisted parent artery occlusion of giant cerebrovascular aneurysms to avoid mass effect. J Neuroimaging 19(4):370–374

11.

Kahn EN, Muraszko KM, Maher CO (2015) Prevalence of Chiari 1 malformation and syringomyelia. Neurosurg Clin N Am 26:501–507

12.

Kameyama S, Masuda H, Shirozu H, Ito Y, Sonoda M, Kimura J (2016) Ephaptic transmission is the origin of the abnormal muscle response seen in hemifacial spasm. Clin Neurophysiol 127(5):2240–2245

13.

Katzberg HD (2015) Neurogenic muscle cramps. J Neurol 262(8):1814–1821

14.

Klekamp J (2012) Surgical treatment of Chiari 1 malformation-analysis of intraoperative findings, complications, and outcome for 371 foramen magnum decompressions. Neurosurgery 71:365–380

15.

Krishna V, Sammartino F, Yee P, Mikulkis D, Walker M, Elias G, Hodaie M (2016) Diffusion tensor imaging of microstructural brainstem integrity in Chiari malformation type 1. J Neurosurg 125:1112–1119

16.

Kupersmith MJ, Berenstein A, Choi IS, Ransohoff J, Flamm ES (1984) Percutaneous transvascular treatment of giant carotid aneurysms: neuro-ophthalmologic findings. Neurology 34(3):328–335

17.

Lang J (1993) Clinical anatomy of the cervical spine. Thieme Medical Publishers, New York, p 58

18.

Legatt AD (2008) BAEPs in surgery in Nuwer MR (ed) Intraoperative monitoring of neural function, handbook of clinical neurophysiology: Amsterdam, the Netherlands, Elsevier B.V., vol 8, chpt 22, p334–349

19.

Love S, Coakham HB (2001) Trigeminal neuralgia: pathology and pathogenesis. Brain 124(Pt 12):2347–2360

20.

Massimi L, Peppucci E, Peraio S, Di Rocco C (2011) History of Chiari type I malformation. Neurol Sci 32(Suppl 3):S263–S265

21.

McGirt MJ, Nimjee SM, Floyd J, Bulsara KR, George TM (2005) Correlation of cerebrospinal fluid flow dynamics and headache in Chiari I malformation. Neurosurgery 56(4):716–721

22.

Meadows J, Kraut M, Guarnieri M, Haroun RI, Carson BS (2000) Asymptomatic Chiari type I malformations identified on magnetic resonance imaging. J Neurosurg 92(6):920–926

23.

Mikulis DJ, Diaz O, Egglin TK, Sanchez R (1992) Variance of the position of the cerebellar tonsils with age: preliminary report. Radiology 183:725–728

24.

Milhorat TH, Chou MW, Trinidad EM, Kula RW, Mandell M, Wolpert C, Speer MC (1999) Chiari 1 malformation redefined: clinical and radiographic findings for 364 symptomatic patients. Neurosurgery 44:1005–1017

25.

Moncho D, Poca MA, Minoves T, Ferre A, Canas V, Sahuquillo J (2017) Are evoked potentials clinically useful in the study of patients with Chiari malformation type 1? J Neurosurg 126:606–619

26.

Seltzer Z, Devor M (1979) Ephaptic transmission in chronically damaged peripheral nerves. Neurology 29(7):1061–1064
Acknowledgements
We are indebted to the efforts of Stephan Dullweber for database construction and management and to Betty Kaimans for tireless data monitoring and entry.
Ethics declarations
The study that was approved by The New England Institutional Review Board.
Conflict of interest
Dr. Heffez developed the Chiari plate and has received royalties from KLS Martin. The authors declare that they have no conflict of interest.
Informed consent
For this type of study formal consent is not required. Some patients undergoing surgery after December 2008 participated in a prospective treatment outcome study approved by the New England Institutional Review Board. Consent was obtained for study participation.
This article does not contain any studies with human participants performed by any of the authors. Human participation is limited to standard medical care.
Additional information
Publisher's note
Springer Nature remains neutral with regard to jurisdictional claims in published maps and institutional affiliations.
This article is part of the Topical Collection on Neurosurgery general
About this article
Cite this article
Heffez, D.S., Golchini, R., Ghorai, J. et al. Operative findings and surgical outcomes in patients undergoing Chiari 1 malformation decompression: relationship to the extent of tonsillar ectopia. Acta Neurochir 162, 1539–1547 (2020). https://doi.org/10.1007/s00701-019-04172-0
Received:

Accepted:

Published:

Issue Date:
Keywords
Chiari 1 malformation

Operative findings

Tonsillar ectopia

Outcomes