Abstract
A glassy carbon electrode (GCE) was modified with magnetic molecularly imprinted polymers (mMIPs) using catechin as a template, reduced graphene oxide (rGO), and zeolitic imidazolate frameworks-8 (ZIF-8) for the sensitive detection of catechin (mMIPs/rGO-ZIF-8/GCE). The prepared rGO, ZIF-8, and mMIPs exhibited typical structures and properties determined by various characterizations. The mMIPs showed good selectivity for catechin among several structural analogs. The mMIPs/rGO-ZIF-8/GCE showed a higher maximum peak current for catechin than that of a single component modified GCE. After the optimization of the material ratio, coating amounts, pH, and scan rate, the mMIPs/rGO-ZIF-8/GCE exhibited good selectivity, good linearity, and a low detection limit (LOD) for catechin. The linear range was 0.01 nmol/L–10 μmol/L and the LOD was 0.003 nmol/L (S/N = 3). The relative standard deviations for reproducibility and stability tests (n = 6) were 5.2% and 6.1%, respectively. A recovery between 99.1 and 101.3% was obtained in the detection of catechin in spiked samples. Based on these findings, the proposed mMIPs/rGO-ZIF-8/GCE could be developed further, and future research could be conducted on alternate fabrication strategies and methods to create more portable and practical electrochemical sensors.
Access options
Buy single article
Instant access to the full article PDF.
US$ 39.95
Tax calculation will be finalised during checkout.
Subscribe to journal
Immediate online access to all issues from 2019. Subscription will auto renew annually.
US$ 119
Tax calculation will be finalised during checkout.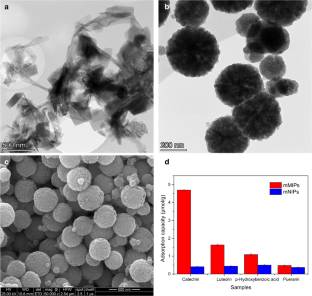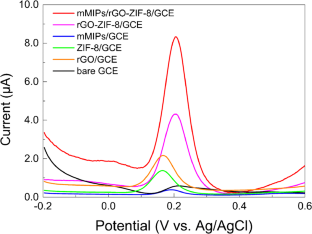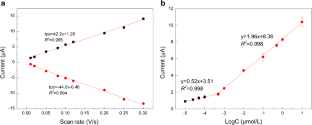 Data availability
All data generated or analyzed during this study are included in this published article and its supplementary information files.
Acknowledgements
We would like to thank Editage (www.editage.cn) for English language editing.
Funding
This work was supported by the Central Public-interest Scientific Institution Basal Research Fund (No. 1610242020005), Open project of key laboratory of biology and processing for bast fiber crops, MARA, and National Agricultural Science and Technology Innovation Project (Characteristic fruit and vegetable innovation team, ASTIP-IBFC05).
Ethics declarations
Consent to participate
Informed consent was obtained from all individual participants involved in the study.
Conflict of interest
The authors declare no competing interests.
Code availability
Not applicable.
Additional information
Publisher's note
Springer Nature remains neutral with regard to jurisdictional claims in published maps and institutional affiliations.
Supplementary information
About this article
Cite this article
Fu, Y., You, Z., Xiao, A. et al. Magnetic molecularly imprinting polymers, reduced graphene oxide, and zeolitic imidazolate frameworks modified electrochemical sensor for the selective and sensitive detection of catechin. Microchim Acta 188, 71 (2021). https://doi.org/10.1007/s00604-021-04724-1
Received:

Accepted:

Published:
Keywords
Catechin

Electrochemical detection

Magnetic nanoparticles

Molecularly imprinted polymer

Reduced graphene oxide

Zeolitic imidazolate frameworks