Abstract
The aggregation of amyloid-β oligomers (AβOs) with extremely strong neurotoxicity has been proved to be the main pathogenesis of Alzheimer's disease (AD). For sensitive quantification of AβOs, a switchable electrochemical aptasensor is proposed. Metal organic framework carrying Au nanoparticles (AuNPs@CuMOF) has been used to label signaling displaced-probe (SD), which formed triple helix switch (THS) by hybridizing with label-free anti-AβOs aptamer (Apt) on the electrodeposited palladium electrode (EPd). Thus, a relatively strong response of differential pulse voltammetry (DPV) was produced (switch on). With the specific binding between AβOs and Apt, the DPV response obviously decreased, owing to destroyed structure of THS and the separation of AuNPs@CuMOF/SD from the EPd (switch off). The mode of "switch on-off" can dramatically enhance the AβOs-dependent DPV intensity change. As a result, the switchable EA exhibited excellent selectivity and sensitivity with the linear range from 0.5 fM to 500 fM and the detection limit of 0.25 fM. When evaluating the AβOs of artificial cerebrospinal fluid (aCSF) samples, the switchable EA exhibited desirable feasibility, and the results are basically consistent with the enzyme linked immunosorbent assay (ELISA). The work could provide a potential tool of the AD diagnosis and a bright future in clinical applications.
Access options
Buy single article
Instant access to the full article PDF.
US$ 39.95
Tax calculation will be finalised during checkout.
Subscribe to journal
Immediate online access to all issues from 2019. Subscription will auto renew annually.
US$ 119
Tax calculation will be finalised during checkout.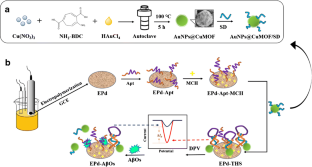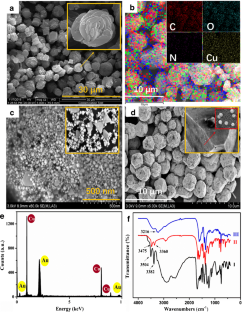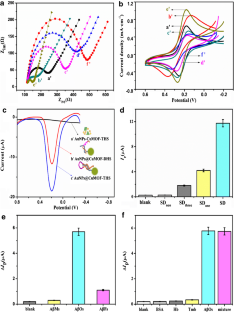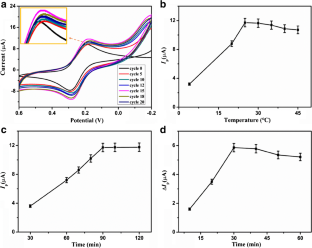 Funding
The work was supported by the "Qinglan Project" funded by universities in Jiangsu and the Fundamental Research Funds for the Central Universities (No.2242020 K40191).
Ethics declarations
Conflict of interest
the authors declare that they have no conflict of interests.
Additional information
Publisher's note
Springer Nature remains neutral with regard to jurisdictional claims in published maps and institutional affiliations.
About this article
Cite this article
Wang, X., Li, L., Gu, X. et al. Switchable electrochemical aptasensor for amyloid-β oligomers detection based on triple helix switch coupling with AuNPs@CuMOF labeled signaling displaced-probe. Microchim Acta 188, 49 (2021). https://doi.org/10.1007/s00604-021-04704-5
Received:

Accepted:

Published:
Keywords
Electrochemical aptasensor

Amyloid-β oligomers

Triple helix switch

Metal-organic framework

Signaling displaced-probe