Abstract
A sol-gel method is presented to synthesize molecularly imprinted polymers (MIPs) composed with a copper-based metal-organic framework (referred to as MIP/HKUST-1) on a paper support to selectively recognize tetrabromobisphenol A (TBBPA). The imprinting factor is 7.6 and the maximum adsorption capacity is 187.3 mg g−1. This is much better than data for other MIPs. The degradation of TBBPA is introduced in the procedure. Due to the selective recognition by the MIP, the enzyme-mimicking properties of HKUST-1 under the MIP layer became weak due to the decrease of residue imprinted cavities. And adsorbed TBBPA can be degraded under consumption of hydrogen peroxide (H2O2). The combined effect of H2O2 and HKUST-1 cause the coloration caused by catalytic oxidation of 3,3′,5,5′-tetramethylbenzidine to become less distinct. This amplification strategy is used for the ultrasensitive and highly selective colorimetric determination of TBBPA. The gray intensity is proportional to the logarithm concentration of TBBPA in the range of 0.01–10 ng g−1. The limit of detection is as low as 3 pg g−1, and the blank intensities caused by TBBPA analogues are <1% of that caused by TBBPA at the same concentration, this implying excellent selectivity. The spiked recoveries ranged from 94.4 to 106.6% with relative standard deviation values that were no more than 8.6%. Other features include low costs, rapid response, easy operation and on-site testing.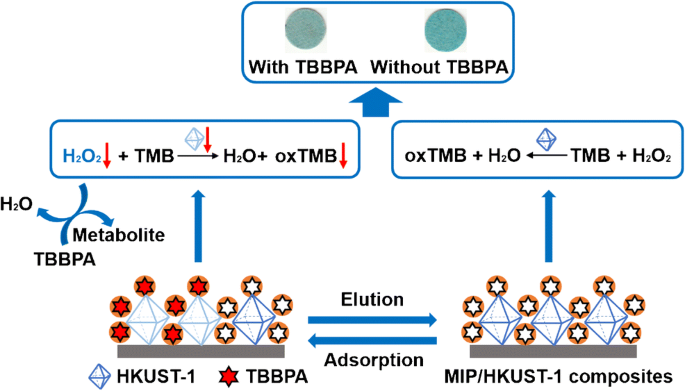 Access options
Buy single article
Instant access to the full article PDF.
US$ 39.95
Tax calculation will be finalised during checkout.
Subscribe to journal
Immediate online access to all issues from 2019. Subscription will auto renew annually.
US$ 119
Tax calculation will be finalised during checkout.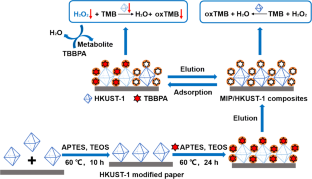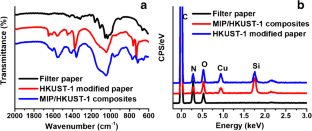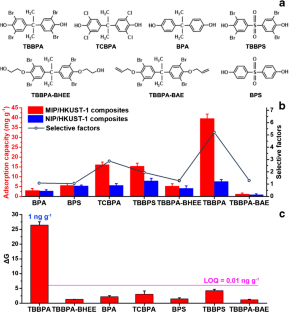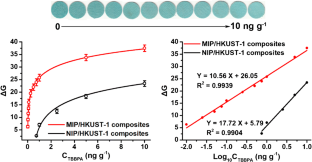 Acknowledgements
This work was supported by the National Natural Science Foundation of China (No. 21577042) and the National Basic Research Program of China (973 Program, No. 2015CB352100). We also thank the Analytical and Testing Center of Huazhong University of Science and Technology for TG-DSC, XPS, FT-IR and SEM analysis.
Ethics declarations
Conflict of interest
The authors declare that they have no competing interests.
Additional information
Publisher's note
Springer Nature remains neutral with regard to jurisdictional claims in published maps and institutional affiliations.
Electronic supplementary material
About this article
Cite this article
Zeng, L., Cui, H., Chao, J. et al. Colorimetric determination of tetrabromobisphenol A based on enzyme-mimicking activity and molecular recognition of metal-organic framework-based molecularly imprinted polymers. Microchim Acta 187, 142 (2020). https://doi.org/10.1007/s00604-020-4119-9
Received:

Accepted:

Published:
Keywords
MIP/HKUST-1 composites

On-site monitoring

Paper-based analytical devices

Signal amplification strategy

Peroxidase-like activity