Abstract
A non-invasive aptamer-based electrochemical biosensor using disposable screen-printed graphene electrodes (SPGEs) was developed for simple, rapid, and sensitive determination of cortisol levels. Selective detection of cortisol based on a label-free electrochemical assay was achieved by specific recognition of the cortisol DNA aptamer (CApt). The CApt was modified with streptavidin magnetic beads (MBs) before simple immobilization onto the electrode surface using a neodymium magnet. The electrochemical behavior of the aptamer-based biosensor was assessed by using electrochemical impedance spectroscopy (EIS) and cyclic voltammetry (CV) (vs Ag/AgCl). The specific binding between cortisol and CApt resulted in a decrease in charge transfer resistance (Rct) from EIS using [Fe(CN)6]3−/4− with increasing cortisol concentration. Under optimal conditions, a linear range from 0.10 to 100 ng/mL with a low detection limit (3SD/slope) of 2.1 pg/mL was obtained. Furthermore, the proposed biosensing system exhibited a satisfactory recovery in the range 97.4–109.2% with 5.7–6.6% RSD in spiked artificial human sweat. Regarding the applications of this tool, the aptamer-based biosensor has potential to be a versatile and point-of-care (POC) device for simple, sensitive, selective, disposable, and low-cost cortisol detection.
Graphical abstract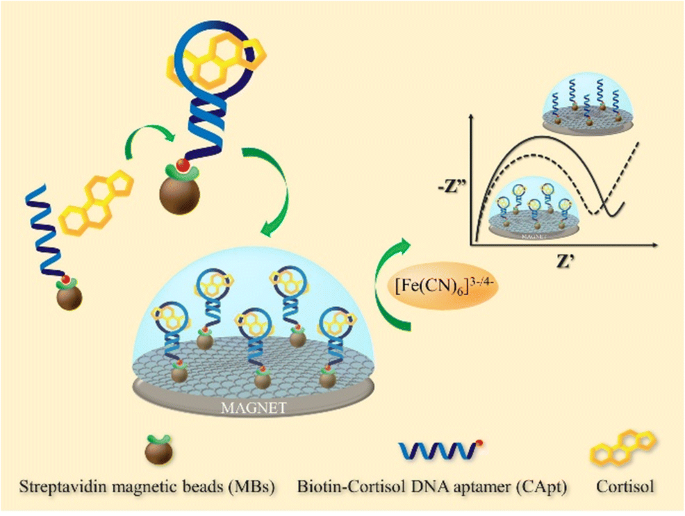 Access options
Buy single article
Instant access to the full article PDF.
US$ 39.95
Tax calculation will be finalised during checkout.
Subscribe to journal
Immediate online access to all issues from 2019. Subscription will auto renew annually.
US$ 119
Tax calculation will be finalised during checkout.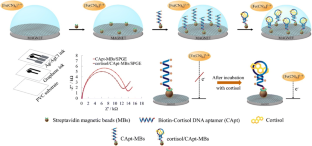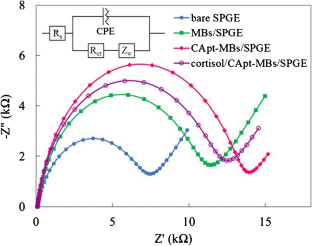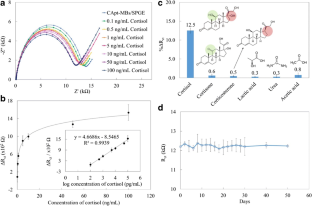 Funding
The authors thank financial supports from the Science Achievement Scholarship of Thailand (SAST), the 90th Anniversary of Chulalongkorn University Fund (Ratchadaphiseksompot Endowment Fund) (GCUGR1125633049D), National Research Council of Thailand (NRCT), and the Electrochemistry and Optical Spectroscopy Research Unit (EOSCE), Chulalongkorn University. PT would like to acknowledge the Second Century Fund (C2F), Chulalongkorn University, for providing the fellowship.
Ethics declarations
Conflict of interest
We have used artificial human sweat as analyte-free sample. Therefore, the human research ethics for the analysis of real sample are not required.
Additional information
Publisher's note
Springer Nature remains neutral with regard to jurisdictional claims in published maps and institutional affiliations.
Supplementary Information
About this article
Cite this article
Pusomjit, P., Teengam, P., Thepsuparungsikul, N. et al. Impedimetric determination of cortisol using screen-printed electrode with aptamer-modified magnetic beads. Microchim Acta 188, 41 (2021). https://doi.org/10.1007/s00604-020-04692-y
Received:

Accepted:

Published:
Keywords
Aptamer

Electrochemical impedance spectroscopy

Non-invasive

Cortisol

Label-free

Screen-printed graphene electrode