Abstract
A sensitive ratiometric fluorescence probe based on hybridization chain reaction (HCR) was constructed for sensitive detection of miRNA-21 by using G-triplex and silver nanocluster pairs (AgNC pairs) as an enzyme-free and label-free signal output group. miRNA-21 was used as the primer for the hybridization chain reaction of molecular beacon 1 (MB1) containing the locked G-triplex sequence and molecular beacon 2 (MB2) with intact AgNC pairs at the 5′ and 3′ end activation. The double-stranded product was obtained along with the opening of the G-triplex and the separation of the AgNC pairs. A detection limit of 67 pM and a linear detection range of 0.1–300 nM were obtained for miRNA-21 determination. The proposed strategy enabled the monitoring of miRNA-21 levels in at least three cell lines, indicating that it provided new ideas for detecting miRNA in real samples.
Graphical abstract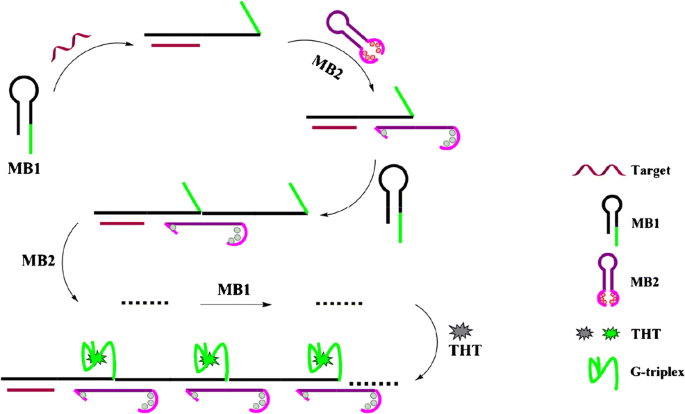 Access options
Buy single article
Instant access to the full article PDF.
US$ 39.95
Tax calculation will be finalised during checkout.
Subscribe to journal
Immediate online access to all issues from 2019. Subscription will auto renew annually.
US$ 119
Tax calculation will be finalised during checkout.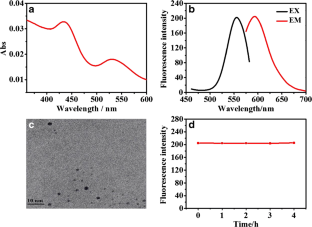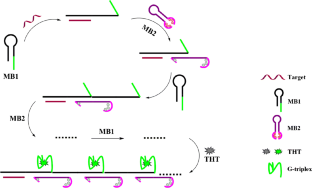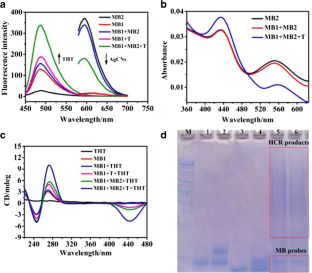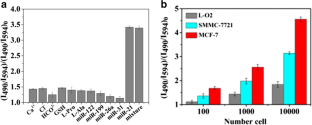 Acknowledgments
This work was supported by the National Natural Science Foundation of China (No. 21775132), the Natural Science Foundation of Hunan Province (No.2018JJ2388), Hunan 2011 Collaborative Innovation Center of Chemical Engineering & Technology with Environmental Benignity and Effective Resource Utilization, the project of innovation team of the Ministry of Education (IRT_17R90), and "1515" academic leader team program of Hunan Agricultural University.
Ethics declarations
Conflict of interest
The authors declare that they have no competing interests.
Additional information
Publisher's note
Springer Nature remains neutral with regard to jurisdictional claims in published maps and institutional affiliations.
Supplementary information
About this article
Cite this article
Zhao, X., Wang, S., Zou, R. et al. An enzyme-free probe based on G-triplex assisted by silver nanocluster pairs for sensitive detection of microRNA-21. Microchim Acta 188, 55 (2021). https://doi.org/10.1007/s00604-020-04680-2
Received:

Accepted:

Published:
Keywords
MicroRNA-21; G-triplex

Enzyme-free probe

Label-free probe

Silver nanocluster pairs