Abstract
Carbon quantum dots co-doped with iron and nitrogen (Fe@NCDs) were synthesized by using Passiflora edulis Sims (P. edulis) as a precursor. The Fe@NCDs exhibit outstanding peroxidase-mimetic activity owing to successful doping with iron resulting in a behavior similar to that of iron porphyrins. In the presence of H2O2, the Fe@NCDs catalyze the oxidation of the peroxidase substrate 3,3′,5,5′-tetramethylbenzidine (TMB) with a color change from colorless to blue. The blue oxidation product has a characteristic absorption peaking at 652 nm. A colorimetric assay was worked out for uric acid (UA) that measures the hydrogen peroxide produced during oxidation of UA by uricase. Response is linear in the 2–150 μM UA concentration range, and the limit of detection is 0.64 μM. The method was applied to the determination of UA in (spiked) urine, and recoveries ranged from 92.0 to 103.4%.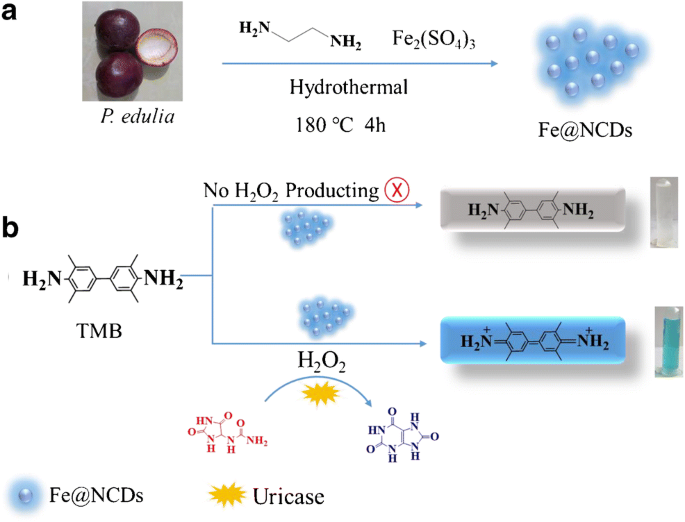 This is a preview of subscription content, log in to check access.
Access options
Buy single article
Instant access to the full article PDF.
US$ 39.95
Price includes VAT for USA
Subscribe to journal
Immediate online access to all issues from 2019. Subscription will auto renew annually.
US$ 199
This is the net price. Taxes to be calculated in checkout.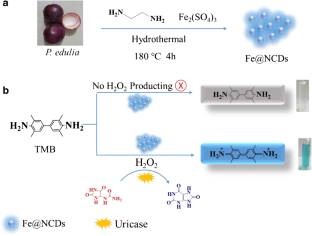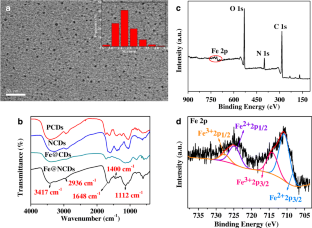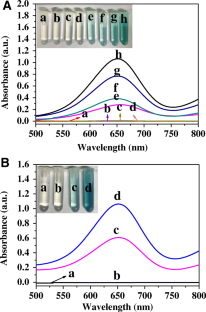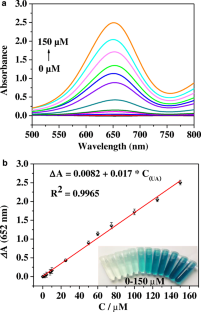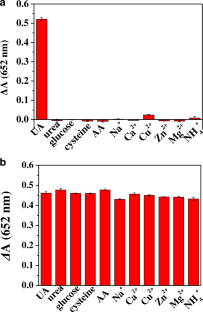 Funding
This work was supported by the National Natural Science Foundation of China (No. 61664002) and Guangxi major science and technology projects (AA18242011-2).
Ethics declarations
Conflict of interest
The author(s) declare that they have no competing interests.
Additional information
Publisher's note
Springer Nature remains neutral with regard to jurisdictional claims in published maps and institutional affiliations.
Electronic supplementary material
About this article
Cite this article
Liang, C., Lan, Y., Sun, Z. et al. Synthesis of carbon quantum dots with iron and nitrogen from Passiflora edulis and their peroxidase-mimicking activity for colorimetric determination of uric acid. Microchim Acta 187, 405 (2020). https://doi.org/10.1007/s00604-020-04391-8
Received:

Accepted:

Published:
Keywords
Passiflora edulis Sims

Carbon quantum dots

Fe@NCDs

Hydrothermal synthesis

Peroxidase mimics

3,3′,5,5′-tetramethylbenzidine

Uric acid

Colorimetric assay

Visual detection

Urine analysis