Abstract
Aptamer-modified SiC quantum dots (DNA-SiC QDs) as fluorescent aptasensor are described for the determination of Proteus mirabilis. The SiC QDs were synthesized through one-pot hydrothermal method with particle sizes of about 14 nm. The amino-modified aptamers against P. mirabilis were conjugated to the surfaces of SiC QDs for bacteria recognition. The aptamer with an affinity for target protein can bound to P. mirabilis and this causes a decrease in the fluorescence intensity of DNA-SiC QDs. P. mirabilis levels were tested by the aptasensor within 35 min with fluorescence excitation/emission maxima at 320/420 nm. The linear range is from 103 to 108 CFU mL−1 and the limit of detection is 526 CFU mL−1 (S/N = 3). The aptasensor was used for determination of P. mirabilis in pure milk samples and obtained good accuracy (87.6–104.5%) and recovery rates (85–110.2%) were obtained. The detection in simulated forensic identification samples (pure milk, milk powder, blood, and urine) obtained gave satisfactory coincidence rates with the method of bacterial isolation and identification as standard. These results demonstrate that the fluorescent aptasensor is a potential tool for identification of P. mirabilis in forensic food poisoning cases.

This is a preview of subscription content, log in to check access.
Access options
Buy single article
Instant access to the full article PDF.
US$ 39.95
Price includes VAT for USA
Subscribe to journal
Immediate online access to all issues from 2019. Subscription will auto renew annually.
US$ 199
This is the net price. Taxes to be calculated in checkout.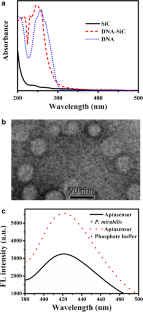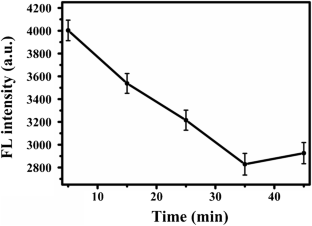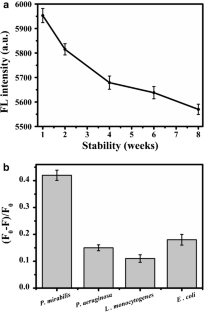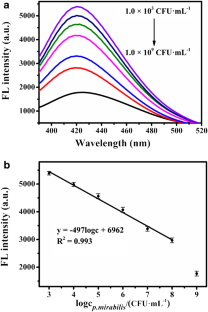 Funding
This study was supported by the National Natural Science Foundation of China (Nos. 81772025 and 81772026).
Ethics declarations
Conflict of interest
The authors declare that they have no conflict of interest.
Additional information
Publisher's note
Springer Nature remains neutral with regard to jurisdictional claims in published maps and institutional affiliations.
Electronic supplementary material
About this article
Cite this article
Yao, W., Shi, J., Ling, J. et al. SiC-functionalized fluorescent aptasensor for determination of Proteus mirabilis. Microchim Acta 187, 406 (2020). https://doi.org/10.1007/s00604-020-04378-5
Received:

Accepted:

Published:
Keywords
SiC QD aptasensor

Foodborne pathogen

P. mirabilis determination

Forensic food poisoning cases