Abstract
HRP@ZIF–8 nanocomposite was prepared by in situ encapsulation of horseradish peroxidase (HRP) in the frame of zeolitic imidazolate framework–8 (ZIF–8) with a simple one-pot method. The HRP@ZIF–8 nanocomposite displays outstanding thermal stability and efficiently catalyzes the chemiluminescence (CL) reaction of luminol with hydrogen peroxide (H2O2) under near-neutral pH condition (pH 7–8). This CL system has a good response to H2O2 with a linear range of 0.1–100.0 μmol L−1. The limit of detection (LOD) is 0.06 μmol L−1 H2O2. By marriage with cholesterol oxidase, cholesterol is determined with a linear range from 0.1 to 100.0 μmol L−1 and a LOD of 0.04 μmol L−1. The relative standard deviations (RSD) are 1.7% and 2.5%, respectively, in 11 repeated measurements of 50.0 μmol L−1 solutions of H2O2 and cholesterol, indicating excellent precision of the method. The method shows good selectivity and has been applied to the determination of total cholesterol in real serum samples. No significant difference has been observed between the results obtained by this method and the cholesterol oxidase–peroxidase coupling method.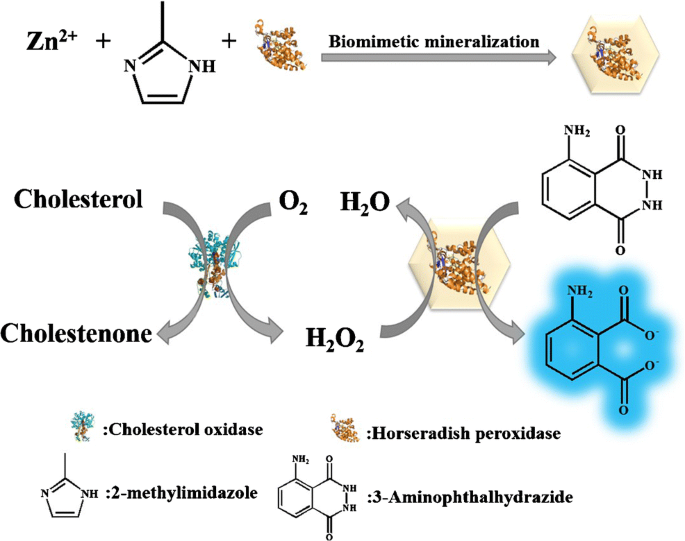 This is a preview of subscription content, log in to check access.
Access options
Buy single article
Instant access to the full article PDF.
US$ 39.95
Price includes VAT for USA
Subscribe to journal
Immediate online access to all issues from 2019. Subscription will auto renew annually.
US$ 199
This is the net price. Taxes to be calculated in checkout.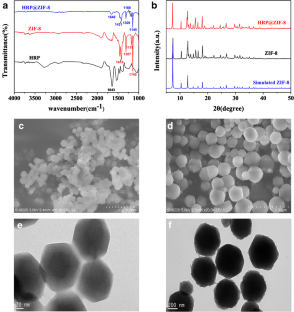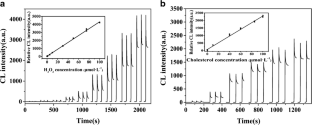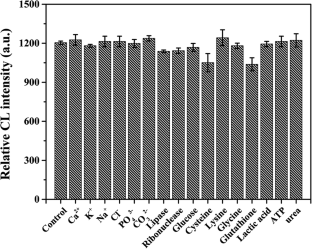 Funding
Financial support from the Natural Science Foundation of Shaanxi Province (2020JM–035) is gratefully acknowledged.
Ethics declarations
Conflict of interest
The authors declare that they have no conflict of interest.
Additional information
Publisher's note
Springer Nature remains neutral with regard to jurisdictional claims in published maps and institutional affiliations.
Electronic supplementary material
About this article
Cite this article
Xu, X., Zhao, Y., Tan, H. et al. In situ encapsulation of horseradish peroxidase in zeolitic imidazolate framework–8 enables catalyzing luminol reaction under near-neutral conditions for sensitive chemiluminescence determination of cholesterol. Microchim Acta 187, 346 (2020). https://doi.org/10.1007/s00604-020-04313-8
Received:

Accepted:

Published:
Keywords
Chemiluminescence

Metal organic frameworks

Horseradish peroxidase

Enzyme immobilization

Cholesterol