Abstract
A method is described for the determination of microRNAs via two-stage signal enhancement. This is attained by combining hairpin (HP) assisted cascade isothermal amplification with light-up DNA-Ag nanoclusters. A rationally designed dual-functional HP is used, and microRNA-21 is chosen as a model analyte. At the first stage, upon the hybridization of the microRNA-21 with HP, microRNA recycling via polymerase-displacement reaction and a circulative nicking-replication process are achieved. This generates numerous G-abundant overhang DNA sequences. In the second stage, the above-released G-abundant overhang DNA sequences hybridize with the dark green Ag NCs, and this results in the appearance of bright red fluorescence. Thanks to the two signal enhancement processes, a linear dependence between the fluorescence intensity at 616 nm and the concentration of microRNA-21 is obtained in the range from 1 pM to 20 pM with a detection limit of 0.7 pM. The strategy clearly discriminates between perfectly-matched and mismatched targets. The method was applied to the determination of microRNA-21 in a spiked serum sample.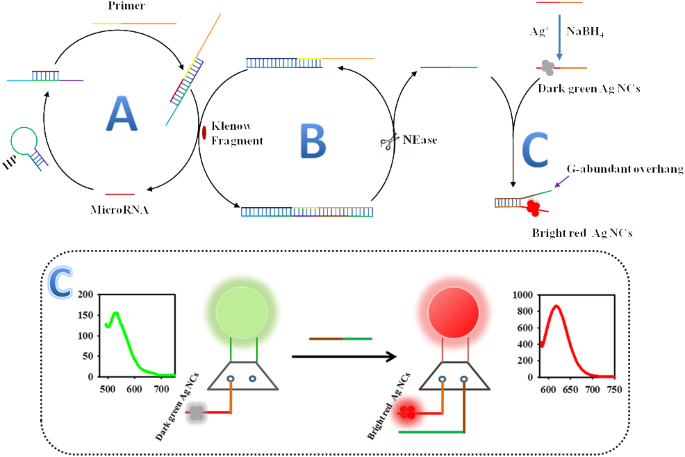 Access options
Buy single article
Instant access to the full article PDF.
US$ 39.95
Tax calculation will be finalised during checkout.
Subscribe to journal
Immediate online access to all issues from 2019. Subscription will auto renew annually.
US$ 119
Tax calculation will be finalised during checkout.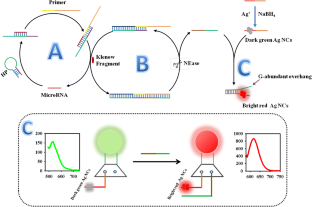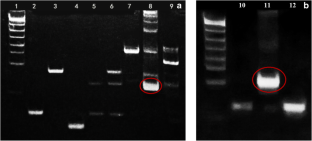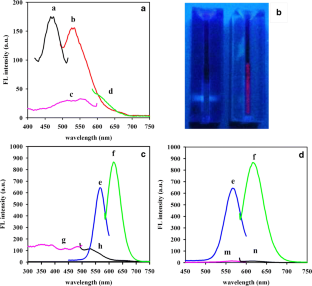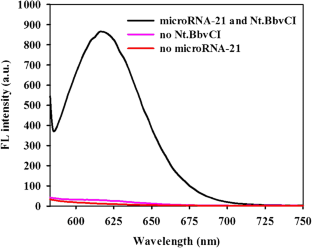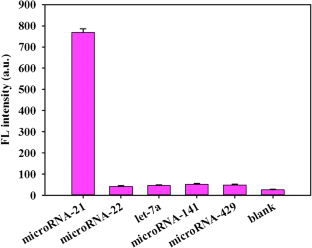 Acknowledgments
This work was supported by the Natural Science Foundation of China (21461002, 21241005 and 21562002), Key Laboratory of Jiangxi University for Functional Materials Chemistry (FMC15104), Jiangxi Provincial Department of Education (GJJ170826 and JXJG-14-6), and Gannan Normal University (16zb19).
Ethics declarations
Conflict of Interest
The author(s) declare that they have no competing interests.
Additional information
Publisher's note
Springer Nature remains neutral with regard to jurisdictional claims in published maps and institutional affiliations.
Electronic supplementary material
About this article
Cite this article
Li, M., Xu, X., Zhou, Z. et al. Label-free detection of microRNA: two-stage signal enhancement with hairpin assisted cascade isothermal amplification and light-up DNA-silver nanoclusters. Microchim Acta 187, 141 (2020). https://doi.org/10.1007/s00604-019-4094-1
Received:

Accepted:

Published:
Keywords
Fluorescence detection

MicroRNA-21

DNA polymerase

NEase

Hairpin assisted target recycling

Light-up Ag NCs

Strand displacement amplification

Serum analysis