Abstract
A hydrothermal method was applied to the synthesis of green-emitting gold nanoclusters (Au NCs) which are shown to be viable fluorescent probes for 4-nitrophenol (4-NP). The Au NCs were prepared by using thiol-β-cyclodextrin as a template. Under 365 nm excitation, their green fluorescence has a peak at 502 nm, with a narrow emission bandwidth of only 30 nm. The fluorescence and composition of the Au NCs were characterized and the mechanism of the nanocluster formation is discussed. Due to host-guest recognition of β-cyclodextrin and 4-NP, fluorescence is quenched. The probe can selectively recognize 4-NP among other nitrophenols. A fluorometric and colorimetric assay was developed for 4-NP that works in the 0.1 to 100 μM concentration range and has a detection limit of 90 nM (at 3σ).

Access options
Buy single article
Instant access to the full article PDF.
US$ 39.95
Tax calculation will be finalised during checkout.
Subscribe to journal
Immediate online access to all issues from 2019. Subscription will auto renew annually.
US$ 119
Tax calculation will be finalised during checkout.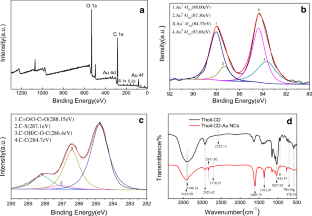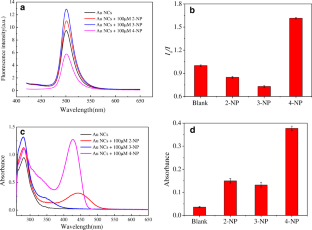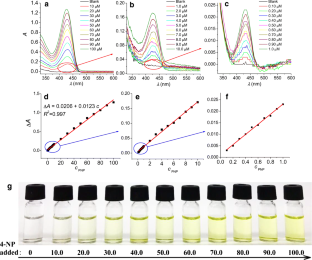 Acknowledgements
This work was financially supported by the National Natural Science Foundation of China (No. 21565030), Program for Excellent Young Talents of Yunnan University and National Demonstration Center for Experimental Chemistry and Chemical Engineering Education (Yunnan University).
Ethics declarations
Conflict of interest
The authors declare that they have no conflict of interest.
Additional information
Publisher's note
Springer Nature remains neutral with regard to jurisdictional claims in published maps and institutional affiliations.
Electronic supplementary material
About this article
Cite this article
Li, Y., Wen, QL., Liu, AY. et al. One-pot synthesis of green-emitting gold nanoclusters as a fluorescent probe for determination of 4-nitrophenol. Microchim Acta 187, 106 (2020). https://doi.org/10.1007/s00604-019-4090-5
Received:

Accepted:

Published:
Keywords
Metal nanoclusters

Thiol-β-cyclodextrin

Host-guest recognition

Fluorometry

Colorimetry