Abstract
A bioinspired fluorometric method has been developed for the detection of glutathione (GSH) in biological fluids. It is based on the use of near-infrared fluorescent semiconducting polymer dots (P-dots) and of the dopamine (DA)-melanin nanosystem. The P-dots were prepared from poly(styrene-co-maleic anhydride), the semiconducting polymer poly[(9,9′-dioctyl-2,7-divinylenefluorenylene)-alt-2-methoxy-5-(2-ethyl-hexyloxy)-1,4-phenylene] and the fluorescent dye tetraphenylporphyrin. They have excitation/emission maxima at 458/656 nm, and this enables measurement to be performed with low autofluorescence and scattering background. DA can self-polymerize on the surface of the P-dots to yield a poly-DA coating. This coating, at weak alkaline pH values, causes the quenching of the fluorescence of the P-dots. However, the polymerization of DA is inhibited by GSH. Hence, quenching of fluorescence is prevented. This effect was used to design a fluorometric assay for GSH that has good selectivity and sensitivity. Under optimal conditions, the method has a linear response in the 0.2 to 20 μM GSH concentration range and a 60 nM detection limit. It was successfully applied to the determination of GSH in HepG2 cells and in spiked human serum.

Access options
Buy single article
Instant access to the full article PDF.
US$ 39.95
Tax calculation will be finalised during checkout.
Subscribe to journal
Immediate online access to all issues from 2019. Subscription will auto renew annually.
US$ 119
Tax calculation will be finalised during checkout.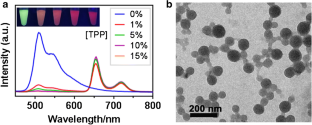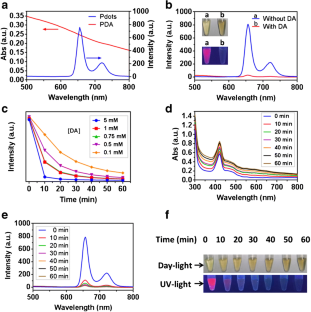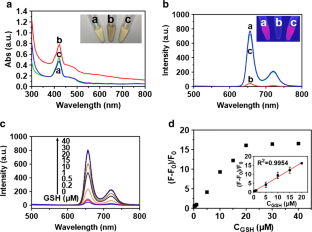 Acknowledgements
This work was supported by the National Natural Science Foundation of China (Grant No. 21605021 and 21705022), Joint Funds for the Innovation of Science and Technology of Fujian province (Grant No. 2016Y9060 and 2017Y9115), the Young and Middle-aged Talent Training Project of Fujian Provincial Health and Family Planning Commission (Grant No. 2018-ZQN-75), the China Postdoctoral Science Foundation, the Natural Science Foundation of Fujian Province of China (Grant No. 2016 J05206), the Medical Innovation grant of Fujian province (Grant No. 2018-CX-49) and the Startup Fund of Mengchao Hepatobiliary Hospital of Fujian Medical University (Grant No. QDZJ-2017-004).
Ethics declarations
The author(s) declare that they have no competing interests.
Additional information
Publisher's note
Springer Nature remains neutral with regard to jurisdictional claims in published maps and institutional affiliations.
Electronic supplementary material
About this article
Cite this article
Wang, J., Zheng, C., Tan, X. et al. Sensitive fluorometric determination of glutathione using fluorescent polymer dots and the dopamine-melanin nanosystem. Microchim Acta 186, 568 (2019). https://doi.org/10.1007/s00604-019-3675-3
Received:

Accepted:

Published:
Keywords
Polydopamine

Semiconducting polymer dots

Antiquenching

Antioxidant

PEPV

Biothiols

Tetraphenylporphyrin

Cell extracts

Serum

Nanoparticles