Abstract
A new dual-emission ratiometric fluorescent probe was synthesized and successfully used for the determination of Malachite Green (MG) in fish farming water. The ratiometric fluorescent probe was successfully composited by sol-gel method using C3N4 and CdTe quantum dots as fluorescent materials combined with mesoporous molecularly imprinted polymers. MG quenches the red fluorescence of the CdTe QDs (with excitation/emission wavelengths at 350/680 nm) while the blue fluorescence of C3N4 (with excitation/emission wavelengths at 350/458 nm) remains unchanged. The change of fluorescence color and fluorescence intensity ratio can be successfully used for quantification of malachite green. In addition, the mesoporous structure has a large surface and good adsorption capacity for malachite green. The normalized intensity of fluorescence increases linearly in the 50–1000 ng·mL−1 MG concentration range, and the detection limit is 10 ng·mL−1. The imprinting factor is 3.2. The nanoprobe was applied to the determination of MG in fish farming water samples. Recoveries and relative standard deviations were 92.5–97.8% and 2.5–6.2%, respectively.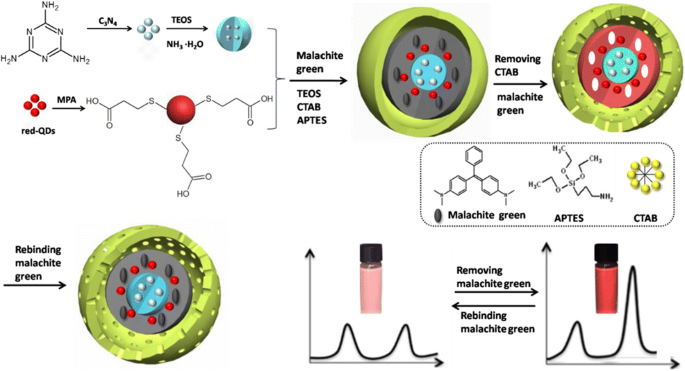 We're sorry, something doesn't seem to be working properly.
Please try refreshing the page. If that doesn't work, please contact support so we can address the problem.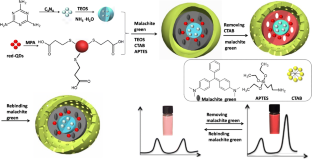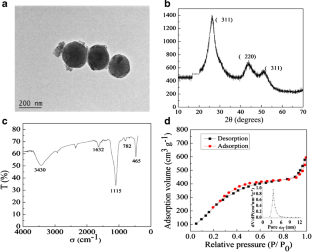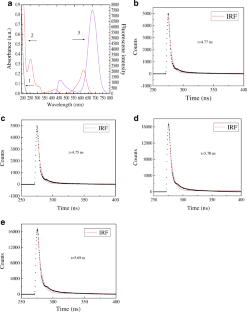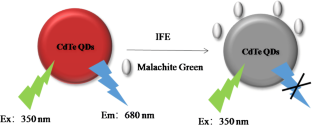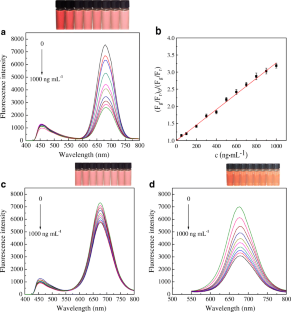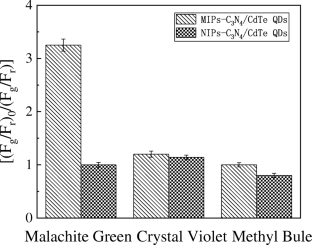 Acknowledgments
This work was supported by the Fundamental Research Funds for the Central Universities (No.2572017 EB08) and was supported by Natural Science Foundation of Heilongjiang Province of China (No.JJ2018ZR0081).
Ethics declarations
The author(s) declare that they have no competing interests.
Additional information
Publisher's note
Springer Nature remains neutral with regard to jurisdictional claims in published maps and institutional affiliations.
Electronic supplementary material
About this article
Cite this article
Shi, H., Zhang, L., Yu, G. et al. Molecularly imprinted mesoporous silica incorporating C3N4 dots and CdTe quantum dots as ratiometric fluorescent probe for determination of Malachite Green. Microchim Acta 186, 556 (2019). https://doi.org/10.1007/s00604-019-3670-8
Received:

Accepted:

Published:
Keywords
Dual emission

Mesoporous structure

Molecularly imprinted polymers

Nanoprobe

Fish farming water

Fluorometry