Synthesis and characterization of manganese diselenide nanoparticles (MnSeNPs): Determination of capsaicin by using MnSeNP-modified glassy carbon electrode
Abstract
A new type of manganese diselenide nanoparticles (MnSeNPs) was synthesized by using a hydrothermal method. Their surface morphology, crystallinity and elemental distribution were characterized by using transmission electron microscopy, X-ray diffraction, energy dispersive X-ray spectroscopy, and X-ray photoelectron spectroscopy which scrutinize the formation of the NPs. The NPs were coated on a glassy carbon electrode (GCE), and electrochemical impedance spectroscopy, cyclic voltammetry and differential pulse voltammetry were applied to study the electroanalytical properties towards the oxidation of the food additive capsaicin. The modified GCE displays lower charge transfer resistance (R ct  = 29.52 Ω), a larger active surface area (0.089 cm2/g, and more efficient electrochemical oxidation of capsaicin compared to a MnS2/GCE and a bare GCE. The oxidation peak potential is 0.43 V (vs. Ag/AgCl) which is lower than that of previously reported GCEs. The sensor has a detection limit as low as 0.05 μM and an electrochemical sensitivity of 2.41 μA μM−1 cm−2. The method was applied to the determination of capsaicin in pepper samples.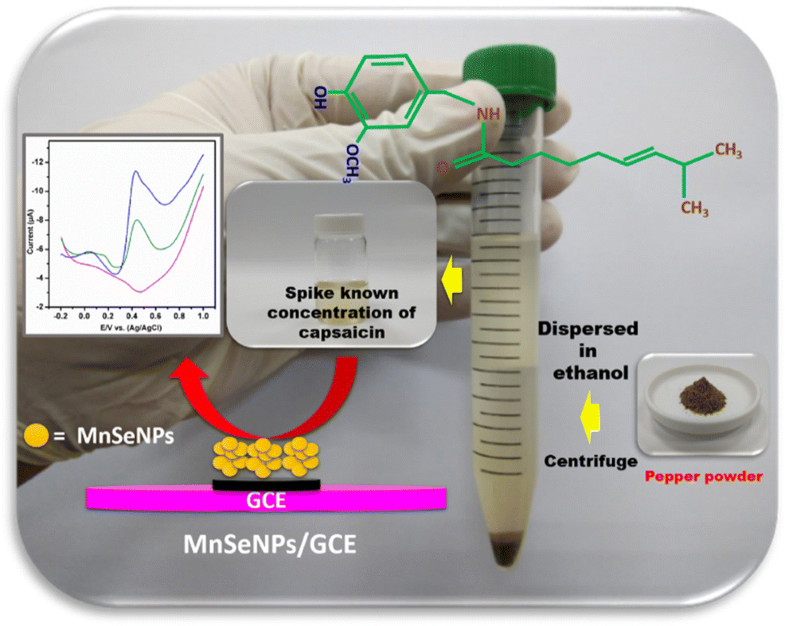 Keywords
Manganese diselenide 
Hydrothermal synthesis 
Electrochemical sensor 
Capsaicin 
Metal chalcogenides 
Pepper sample 
Capsaicinoid 
Notes
Acknowledgements
The authors extend their appreciation to the International Scientific Partnership Program ISPP at King Saud University for funding this research work through ISPP# 124.The authors gratefully acknowledge the financial support of the Ministry of Science and Technology, Taiwan through contract Nos: MOST106-2113-M-027-004 and MOST106-2221-E-182-021.
Compliance with ethical standards
The author(s) declare that they have no competing interests.
Copyright information
© Springer-Verlag GmbH Austria, part of Springer Nature 2018