Magnetic microspheres modified with Ti(IV) and Nb(V) for enrichment of phosphopeptides
Abstract
Magnetic microspheres (Fe3O4) were coated with polydopamine (PDA) and loaded with the metal ions Ti(IV) and Nb(V) to give a material of type Fe3O4@PDA-Ti/Nb. It is shown to be useful for affinity chromatography and for enrichment of phosphopeptides from both standard protein solutions and real samples. For comparison, such microspheres loaded with single metal ions only (Fe3O4@PDA-Ti and Fe3O4@PDA-Nb) and their physical mixtures were also investigated under identical conditions. The binary metal ion-loaded magnetic microspheres display better enrichment efficiency than the single metal ion-loaded microspheres and their physical mixture. Both multiphosphopeptides and monophosphopeptides can be extracted. The Fe3O4@PDA-Ti/Nb microspheres exhibit ultra-high sensitivity (the lowest detection amount being 2 fmol) and selectivity at a low mass ratio such as in case of β-casein/BSA (1:1000).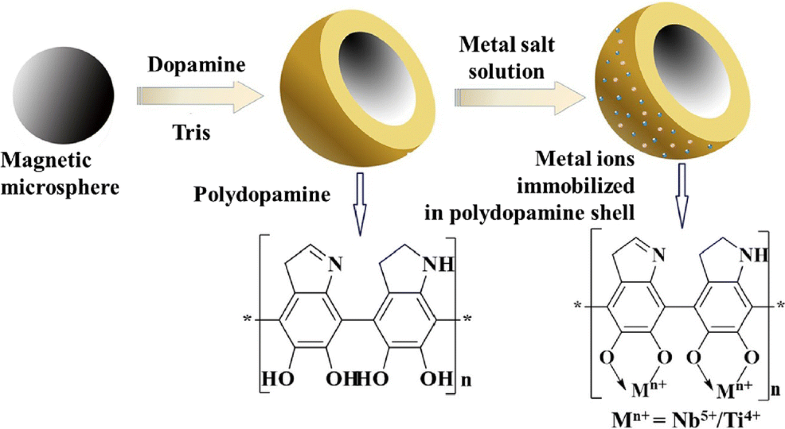 Keywords
Metal ions combination 
Immobilized metal ion affinity chromatography 
MALDI-TOF mass spectrometry 
Polydopamine 
Affinity probe 
Notes
Acknowledgements
This work was supported by funds provided by the Natural Science Foundation of China (Project no. 21675034), the Natural Science Foundation of Shanghai (Project no. 16ZR1402300), the Outstanding Talent Plan of Fudan University (Project no. JJF301038) and the Ministry of Science and Technology of the People's Republic of China (Grant no. 2018ZX09J18112).
Compliance with ethical standards
The authors declare that they have no competing interests.
Copyright information
© Springer-Verlag GmbH Austria, part of Springer Nature 2018