Three-way DNA junction based platform for ultra-sensitive fluorometric detection of multiple metal ions as exemplified for Cu(II), Mg(II) and Pb(II)
Abstract
A DNA-based fluorometric method is described for simultaneous determination of multiple metal ions. It is based on recycling cleavage of hairpins by using a three-way DNA junction structure. Three DNA sequences containing a binding region and an enzyme-strand (E-DNA) region are hybridized to form a three-way DNA junction. The enzyme strand regions at the end of the DNA sequence binds to the substrate sequence (S-DNA) at the loop of the hairpin to form typical DNAzyme structures. In the presence of analyte metal ions, the DNAzyme structure thus formed cleaves the loop of hairpins. This is accompanied by a release of fluorescently labeled DNA fragments and by quenching of fluorescence. The detection limits are 35 pM for Cu(II), 2 nM for Mg(II), and 8 pM for Pb(II). This method was successfully applied to the simultaneous determination of these ions in spiked human serum.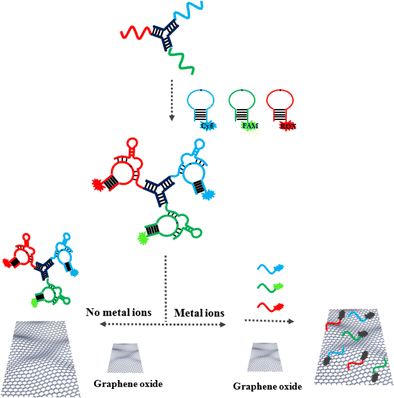 Keywords
Recycling cleavage 
Graphene oxide 
DNAzyme 
Amplification 
Fluorescence 
Hairpin 
Notes
Acknowledgments
This work is sponsored by Chongqing Key Laboratory of Catalysis and New Environmental Materials (Grant No. KFJJ2017033).
Compliance with ethical standards
The author(s) declare that they have no competing interests.
Copyright information
© Springer-Verlag GmbH Austria, part of Springer Nature 2018