A microfluidic chip containing a molecularly imprinted polymer and a DNA aptamer for voltammetric determination of carbofuran
Abstract
An electrochemical microfluidic chip is described for the determination of the insecticide carbofuran. It is making use of a molecularly imprinted film (MIP) and a DNA aptamer as dual recognition units. The analyte (carbofuran) is transported to the MIP and captured at the identification site in the channel. Then, carbofuran is eluted with carbinol-acetic acid and transported to the DNA aptamer on the testing position of the chip. It is captured again, this time by the aptamer, and detected by differential pulse voltammetry (DPV). The dual recognition (by aptamer and MIP) results in outstanding selectivity. Additionally, graphene oxide-supported gold nanoparticles (GO-AuNPs) were used to improve the sensitivity of electrochemical detector. DPV response is linear in the 0.2 to 50 nM carbofuran concentration range at a potential of −1.2 V, with a 67 pM detection limit. The method has attractive features such as its potential for high throughput, high degree of automation, and high integration. Conceivably, the method may be extended to other analytes for which appropriate MIPs and aptamers are available.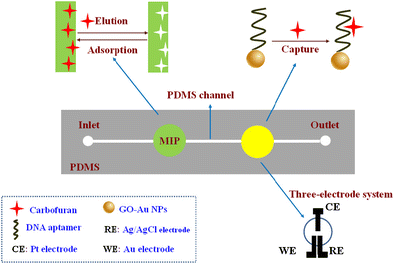 Keywords
X-ray photoelectron spectroscopy 
Transmission electron microscopy 
X-ray diffraction 
Fourier transform infrared spectra 
Differential pulse voltammetry 
Ultraviolet–visible absorption spectroscopy 
Polydimethylsiloxane 
Graphene oxide 
Gold nanoparticles 
Pesticide residues 
Notes
Acknowledgements
This project was supported by the Natural Science Foundation of Hainan Province of China (No. 217222) and the Central Public-interest Scientific Institution Basal Research Fund for Chinese Academy of Tropical Agricultural Sciences (No. 1630082017002 and 1630082018003).
Compliance with ethical standards
The author(s) declare that they have no competing interests.
Copyright information
© Springer-Verlag GmbH Austria, part of Springer Nature 2018