Electrochemical determination of 2,4-dichlorophenol by using a glassy carbon electrode modified with molybdenum disulfide, ionic liquid and gold/silver nanorods
Abstract
Molybdenum disulfide (MoS2) was used as an electrically conductive skeleton and functionalized with an ionic liquid and gold/silver nanorods. The resulting composite was characterized by scanning electron microscopy, transmission electron microscopy and UV–vis spectroscopy. The composites were used to modify a glassy carbon electrode (GCE) to obtain a sensor for 2,4-dichlorophenol (2,4-DCP). The results show that the oxidation power and electrocatalytic activity of the modified GCE towards 2,4-DCP are enhanced compared to a bare GCE and other modified GCEs. Response is linear in the 0.01 to 50 μM 2,4-DCP concentration range, with a 2.6 nM detection limit. The sensor is highly sensitive and long-term stable. It was successfully applied to the determination of 2,4-DCP in spiked water samples and gave satisfactory recoveries.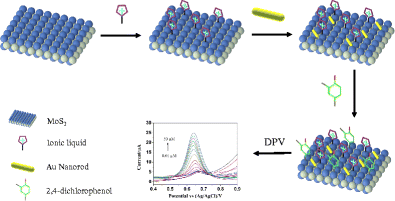 Keywords
Dichalcogenides 
Hydrothermal method 
Electrocatalytic activity 
Nanocomposites 
Chlorinated phenols 
Notes
Acknowledgments
The authors gratefully acknowledge the financial support provided by the Program for Key Science and Technology Innovation Team in Shaanxi Province (No. 2014KCT-27).
Compliance with ethical standards
The author(s) declare that they have no competing interests.
Copyright information
© Springer-Verlag GmbH Austria, part of Springer Nature 2018