Non-enzymolytic adenosine barcode-mediated dual signal amplification strategy for ultrasensitive protein detection using LC-MS/MS
Abstract
A method is described for the determination of proteins with LC-MS/MS enabled by a small molecule (adenosine) barcode and based on a double-recognition sandwich structure. The coagulation protein thrombin was chosen as the model analyte. Magnetic nanoparticles were functionalized with aptamer29 (MNP/apt29) and used to capture thrombin from the samples. MNP/apt29 forms a sandwich with functionalized gold nanoparticles modified with (a) aptamer15 acting as thrombin-recognizing element and (b) a large number of adenosine as mass barcodes. The sandwich formed (MNP/apt29-thrombin-apt15/AuNP/adenosine) can ben magnetically separated from the sample. Mass barcodes are subsequently released from the sandwiched structure for further analysis by adding 11-mercaptoundecanoic acid. Adenosine is then detected by LC-MS/MS as it reflects the level of thrombin with impressively amplified signal. Numerous adenosines introduced into the sandwich proportional to the target concentration further amplify the signal. Under optimized conditions, the response is linearly proportional to the thrombin concentration in the range of 0.02 nM to 10 nM, with a detection limit of 9 fM. The application of this method to the determination of thrombin in spiked plasma samples gave recoveries that ranged from 92.3% to 104.7%.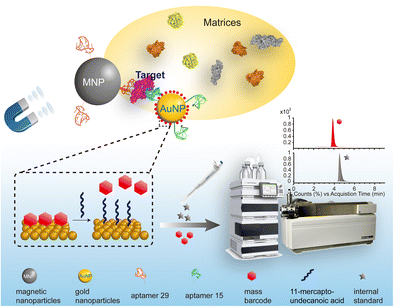 Keywords
Signal transduction 
Nanocomposites 
Mass barcodes 
Aptamer 
Proteins 
Notes
Acknowledgments
We are grateful for the financial support of the National Natural Science Foundation of China (No.81573387, No.81703472, No.81603072 and No.81560695). Also thanks for the support from the Postgraduate Research & Practice Innovation Program of Jiangsu Province (No. KYCX17_0683).
Compliance with ethical standards
The author(s) declare that they have no competing interests.
Ethical approval
Institutional Review Board approval was not required because the study is not on animals.
Informed consent
Written informed consent was not required for this study because the study is not on human subjects.
Copyright information
© Springer-Verlag GmbH Austria, part of Springer Nature 2018