Colorimetric determination of glutathione by using a nanohybrid composed of manganese dioxide and carbon dots
Abstract
A kind of single-layer carbon based dots (CDs) with abundant carboxyl functional groups was hybridized with manganese dioxide (MnO2). The resulting nanohybrid is stable and can be well dispersed in water. MnO2 is capable of oxidizing the substrate 3,3′5,5′-tetramethylbenzidine (TMB) to form a blue product whose absorption (peaking at 655 nm) fades in the presence of glutathione (GSH). A sensitive and selective colorimetric GSH assay was worked out that has a linear response in the 10 to 0.1 µM GSH concentration range, with a 0.095 μM detection limit. The method was applied to the determination of GSH in spiked fetal calf serum where it gave excellent recoveries.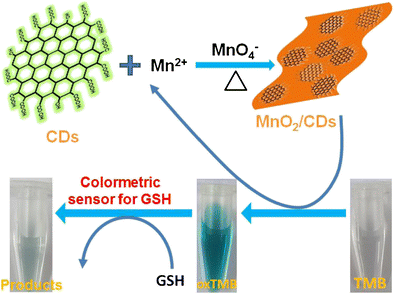 Keywords
Manganese dioxide/carbon based dots nanohybrids 
Oxidation 
Tetramethylbenzidine 
Fatel calf serum sample 
Visual detection 
Notes
Acknowledgements
This study was financially supported by National Key Research and Development Program of China (2017YFC1600500), National Natural Science Foundation of China (21675026, 21675027, 21506029), Natural Science Foundation of Fujian Province (2017Y01010023).
Compliance with ethical standards
The author(s) declare that they have no competing interests.
Copyright information
© Springer-Verlag GmbH Austria, part of Springer Nature 2018