Electrodes modified with 3D graphene composites: a review on methods for preparation, properties and sensing applications
Abstract
Three-dimensional (3D) porous networks of planar 2D graphene have attractive features with respect to sensing. These include a large electroactive surface area, good inner and outer surface contact with the analyte, ease of loading with (bio)catalysts, and good electrochemical sensitivity. 3D free-standing graphene can even be used directly as an electrode. This review (with 140 refs.) covers the progress made in the past years. Following an introduction into the field (including definitions), a large section is presented that covers methods for the synthesis of 3D graphene (3DG) (including chemical vapor deposition, hydrothermal methods, lithography, support assisted synthesis and chemical deposition, and direct electrochemical methods). The next section covers the key features of 3DG and its composites for use in electrochemical sensors. This section is subdivided into sections on the uses of 3D porous graphene, 3DG composites with metals and metal oxides, composites consisting of 3DG and organic polymers, and electrodes modified with 3DG, 3DGs decorated with carbon nanotubes, and others. The review concludes with a discussion of future perspectives and current challenges.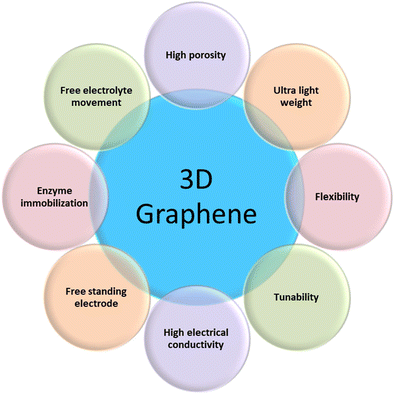 Keywords
Porous carbon 
Three-dimensional material 
Quantum dots 
Lithography 
Hydrothermal synthesis 
Chemical vapor deposition 
3D printing 
Electrochemical sensor 
Biosensor 
Conductive polymer 
Nanoparticles 
Notes
Acknowledgements
The authors gratefully acknowledge the support provided by the Chemistry Department at King Fahd University of Petroleum and Minerals (KFUPM).
Compliance with ethical standards
The author(s) declare that they have no competing interests.
Copyright information
© Springer-Verlag GmbH Austria, part of Springer Nature 2018