Aptamer based label free thrombin assay based on the use of silver nanoparticles incorporated into self-polymerized dopamine
Abstract
The authors describe an electrochemical aptasensor for thrombin that is based on the use of a glassy carbon electrode (GCE) modified with polydopamine that is loaded with silver nanoparticles (PDA/AgNPs). The use of AgNPs improves the conductivity of the film and increases the surface area of the GCE. PDA was deposited on the GCE via self-polymerization, and the thrombin binding aptamer was grafted onto the PDA-modified GCE by a single step reaction. Residual electrode surface was blocked with 6-mercapto-1-hexanol. On exposure to thrombin, the electrochemical impedance of the modified electrode increases gradually. Response is linear in the 0.1 pM to 5.0 nM thrombin concentration range, and the limit of detection is as low as 36 fM. The method is selective and capable of detecting thrombin in diluted human serum. In our perception, such a GCE modified with AgNP in a PDA matrix may be applied to many other analytes for which appropriate aptamers are available.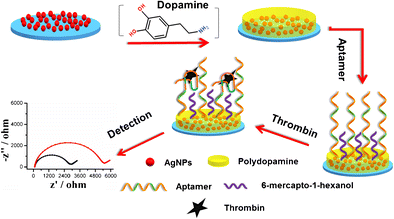 Keywords
Aptasensor 
Polydopamine 
Nanocomposites 
Chemically modified electrode 
Self-polymerization 
Electrochemistry 
Biosensor 
Electrochemical impedance spectroscopy 
Notes
Compliance with ethical standards
The author(s) declare that they have no competing interests.
Copyright information
© Springer-Verlag GmbH Austria, part of Springer Nature 2018