3D hollow porous CdFe2O4 microspheres as viable materials for magnetic solid-phase extraction of azo colorants
Abstract
3D magnetic hollow porous CdFe2O4 microspheres (3D MHPS-CdFe2O4) were prepared by a one-step and template-free hydrothermal method. The material was applied for magnetic solid phase extraction of three azo colorants (Acid Red, Congo Red, Sunset Yellow). Compared to conventional CdFe2O4 nanoparticles, the new 3D material exhibits superior extraction capability because of its unique hollow porous structure, high specific surface area, and the strong interaction between 3D microspheres and the colorants. A magnetic solid phase extraction (MPSE) combined with HPLC was established for simultaneous detection of the three azo colorants in food samples. Under optimum conditions, the detection limits are 0.54–1.00 ng mL-1, and good recoveries of 87.0–100.7% were obtained with spiked samples, with relative standard deviation of ≤ 3.8%. The combination of using the new 3D material and MPSE-HPLC results in an efficient, sensitive and inexpensive method for simultaneous determination of such colorants.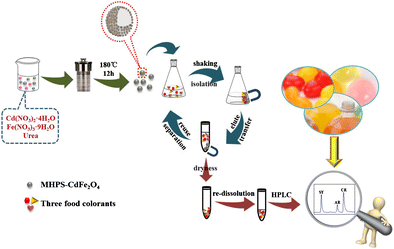 Keywords
3D Microspheres 
Magnetic material 
Food colorants 
HPLC 
Notes
Acknowledgements
This work was supported by the National Nature Science Foundation of China (NSFC51672116). Science and technology foundation of ocean and fisheries of Liaoning province (201408, 201406), General project of scientific research of the education department of Liaoning province (L2015206), Liaoning scientific instruments service sharing information platform ability construction funds (201507A003). The authors also thank their colleagues and other students who participated in this work.
Compliance with ethical standards
The author(s) declare that they have no competing interests.
Copyright information
© Springer-Verlag GmbH Austria, part of Springer Nature 2018