MnO nanoparticles with unique excitation-dependent fluorescence for multicolor cellular imaging and MR imaging of brain glioma
Abstract
The authors describe MnO nanoparticles (NPs) with unique excitation-dependent fluorescence across the entire visible spectrum. These NPs are shown to be efficient optical nanoprobe for multicolor cellular imaging. Synthesis of the NPs is accomplished by a thermal decomposition method. The MnO NPs exhibit a high r1 relaxivity of 4.68 mM−1 s−1 and therefore give an enhanced contrast effect in magnetic resonance (MR) studies of brain glioma. The cytotoxicity assay, hemolysis analysis, and hematoxylin and eosin (H&E) staining tests verify that the MnO NPs are biocompatible. In the authors' perception, the simultaneous attributes of multicolor fluorescence and excellent MR functionality make this material a promising dual-modal nanoprobe for use in bio-imaging.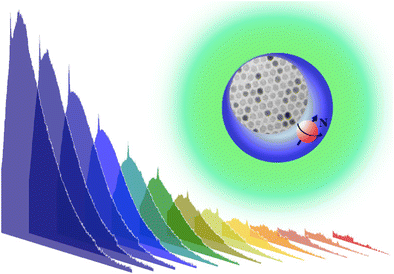 Keywords
Mn-based nanoparticles 
Thermal decomposition 
T1 contrast agents 
r1 Relaxivity 
Optical imaging 
Tunable fluorescence 
Dual-modal nanoprobes 
Biocompatible 
C6 cells 
Brain tumor 
Notes
Acknowledgements
The authors gratefully acknowledge the financial supports from the Key Project from Beijing Commission of Education (KZ201610025022), National Natural Science Foundation of China (81271639) and Beijing Natural Science Foundation (7162023). The instrumental supports from the Core Facility Center (CFC) at Capital Medical University are greatly acknowledged.
Compliance with ethical standards
The author(s) declare that they have no competing interests.
Copyright information
© Springer-Verlag GmbH Austria, part of Springer Nature 2018