Synthesis of Er(III)/Yb(III)-doped BiF3 upconversion nanoparticles for use in optical thermometry
Abstract
The authors describe an ethylene glycol assisted precipitation method for synthesis of Er(III)/Yb(III)-doped BiF3 nanoparticles (NPs) at room temperature. Under 980-nm light irradiation, the NPs emit upconversion (UC) emission of Er(III) ions as a result of a two-photon absorption process. The temperature-dependent green emissions (peaking at 525 and 545 nm) are used to establish an unambiguous relationship between the ratio of fluorescence intensities and temperature. The NPs have a maximum sensitivity of 6.5 × 10−3 K−1 at 619 K and can be applied over the 291–691 K temperature range. The results indicate that these NPs are a promising candidate for optical thermometry.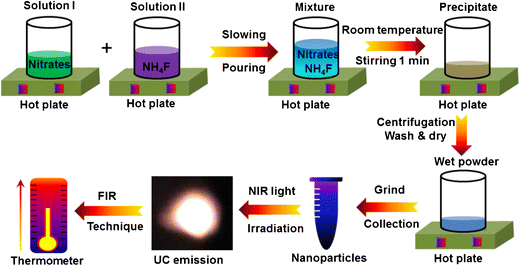 Keywords
Fluorides 
Ethylene glycol 
Thermometer 
NIR light 
Energy transfer 
Remote sensing 
FIR technique 
X-ray diffraction 
Luminescence 
Notes
Acknowledgements
This work was supported by the National Research Foundation of Korea (NRF) grant funded by the Korea government (MSIP) (No. 2017R1A2B4011998).
Compliance with ethical standards
The author(s) declare that they have no competing interests.
Copyright information
© Springer-Verlag GmbH Austria, part of Springer Nature 2018