Zwitterion-functionalized polymer microspheres as a sorbent for solid phase extraction of trace levels of V(V), Cr(III), As(III), Sn(IV), Sb(III) and Hg(II) prior to their determination by ICP-MS
Abstract
This paper describes the preparation of zwitterion-functionalized polymer microspheres (ZPMs) and their application to simultaneous enrichment of V(V), Cr(III), As(III), Sn(IV), Sb(III) and Hg(II) from environmental water samples. The ZPMs were prepared by emulsion copolymerization of ethyl methacrylate, 2-diethylaminoethyl methacrylate and triethylene glycol dimethyl acrylate followed by modification with 1,3-propanesultone. The components were analyzed by elemental analyses as well as Fourier transform infrared spectroscopy, and the structures were characterized by scanning electron microscopy and transmission electron microscopy. The ZPMs were packed into a mini-column for on-line solid-phase extraction (SPE) of the above metal ions. Following extraction with 40 mM NH4NO3 and 0.5 M HNO3 solution, the ions were quantified by ICP-MS. Under the optimized conditions, the enrichment factors (from a 40 mL sample) are up to 60 for the ions V(V), As(III), Sb(III) and Hg(II), and 55 for Cr(III) and Sn(IV). The detection limits are 1.2, 3.4, 1.0, 3.7, 2.1 and 1.6 ng L−1 for V(V), Cr(III), As(III), Sn(IV), Sb(III) and Hg(II), respectively, and the relative standard deviations (RSDs) are below 5.2%. The feasibility and accuracy of the method were validated by successfully analyzing six certified reference materials as well as lake, well and river waters.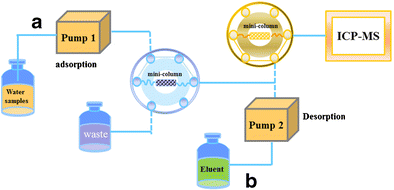 Keywords
Trace analysis 
Environmental waters 
1,3-propanesultone 
Ethyl methacrylate 
Cross-linked polymers 
Mini-column 
SPE–ICP-MS 
Certified reference materials 
FT-IR 
ICP-OES 
Notes
Acknowledgements
This work was supported by the National Natural Science Foundation of China under Grant (21507126), the Science and Technology of Fujian Province (2015H0045), and the Knowledge Innovation Program of Institute of Urban Environment, Chinese Academy of Sciences (IUEMS201409). We would like to extend our sincere gratitude to Yijun Yan, for his help in material characterization.
Compliance with ethical standards
The author(s) declare that they have no competing interests.
Copyright information
© Springer-Verlag GmbH Austria, part of Springer Nature 2018