Solid-phase microextraction of sulfonylurea herbicides by using borate-reinforced multiple monolithic fibers
Abstract
Boron-nitrogen coordination is a useful interaction for use in the extraction of amino-nitrogen-containing compounds. A new monolithic adsorbent is described here that consisted of poly(acrylamidophenyl boronic acid/vinyl-3-octylimidazolium tetrafluroborate-co-divinylbenzene/ethylene dimethacrylate) polymer. It was synthesized with the aim to obtain a new kind of extraction phase for multiple monolith based fiber solid-phase microextraction of sulfonylurea herbicides. Results indicate that boron-nitrogen coordination interaction plays a key role in the efficient extraction. It is also found that soaking the sorbent in a borate solution further improves the enrichment performance. The preparation conditions and extraction parameters were optimized. Following extraction with the adsorbent, the sulfonylurea herbicides were submitted to quantitation by HPLC with DAD detection. The limits of detection are in the range of 9.0–18 ng·L−1. The method was applied to monitor the herbicides in samples of tap, river and waste waters. Recoveries at spiking levels of 1.0, 10 and 100 μg·L−1 are in the range of 70.1–108%, and the values for relative standard deviation are less than 10% for all analytes in all cases.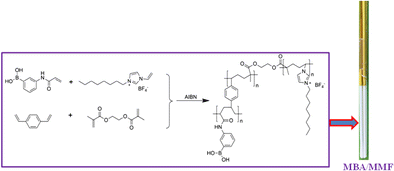 Keywords
Monolith 
Boron-nitrogen coordination 
Adsorbent 
Preconcentration 
Enrichment 
Water 
Notes
Acknowledgments
The authors appreciate the financial support from the National Natural Science Foundation of China (grant: 21777133, 21377105, 21577111), National Key Research and Development Program of China (grant: 2016YFC0502904), Natural Science Foundation of Fujian Province of China (grant: 2015 J01061) and Training Program of Innovation and Entrepreneurship for Undergraduates of Xiamen University.
Compliance with ethical standards
The author(s) declare that they have no competing interests.
Copyright information
© Springer-Verlag GmbH Austria, part of Springer Nature 2018