A ratiometric upconversion nanoprobe for fluorometric turn-on detection of sulfite and bisulfite
Abstract
A nanoprobe is described for the ratiometric fluorometric determination of sulfite ions. Upconversion nanoparticles (UCNPs) of the type β-NaYF4:Yb(III),Er(III),Tm(III) were covalently modified with the molecular probe HIAN which is a hydroxynaphthalimide fluorophore modified with a (cationic) indolinium moiety. Under excitation at 980 nm, the green emission of the UCNPs (peaking at 543 nm) is almost totally quenched, while the NIR emission (peaking at 802 nm) remains unaffected. In the presence of sulfite or bisulfite (hydrogen sulfite), the green fluorescence is restored and can be visually observed. A ratiometric method was worked out by measurement of the ratio of the green and NIR emissions. The analytical range extends from 10 to 250 μM, the limit of detection is 0.14 μM, and the assay can be performed within 40 s.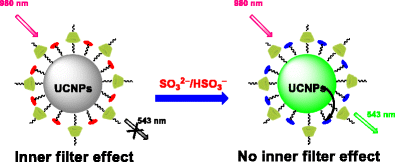 Keywords
Upconversion luminescence 
Ratiometric 
Inner filter effect 
Sulfite/bisulfite 
Lanthanide 
Michael reaction 
Naphthalimide fluorophores 
Nanoparticles 
Notes
Acknowledgements
We are grateful for the financial supports from National Natural Science Foundation of China (81741134, 81671756), Key Research Project of Science and Technology Foundation of Hunan Province (2017SK2093) and the Fundamental Research Funds for the Central Universities of Central South University (1053320170134).
Compliance with ethical standards
The author(s) declare that they have no competing interests.
Copyright information
© Springer-Verlag GmbH Austria, part of Springer Nature 2018