Magnetic nanoparticles coated with a molecularly imprinted polymer doped with manganese-doped ZnS quantum dots for the determination of 2,4,6-trichlorophenol
Abstract
The authors describe a multifunctional magnetic molecularly imprinted phosphorescent nanoparticle probe for the selective determination of 2,4,6-trichlorophenol (2,4,6-TCP). The probe consists of a magnetite (Fe3O4) core that is coated with a molecularly imprinted polymer doped with Mn-doped ZnS quantum dots (QDs). The MIP was obtained by copolymerization of acrylamide, ethylene glycol dimethacrylate, and 2,4,6-TCP. The resulting nanoprobe shows strong phosphorescence (with excitation/emission peaks at 320/594 nm) due to the presence of the QDs, good magnetism, and high selectivity for 2,4,6-TCP. Under optimal detection condition, response is linear in the 0.1–30 μmol L−1 2,4,6-TCP concentration range. The imprinting factor is 8.84, and the detection limit is 35 nmol L−1. The method was successfully applied to the determination of 2,4,6-TCP in spiked river water and waste water.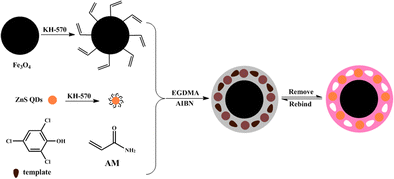 Keywords
Molecular imprinting 
Precipitation polymerization 
Room temperature phosphorescence 
Composite material 
Quenching 
Stern-Volmer plot 
Selective recognition 
Chlorophenols 
Notes
Acknowledgments
This research has been supported by the National Postdoctoral Science Foundation (No. 2017 M610618), Fundamental Research Funds for the Central Universities of Chang'an University (No. 310829173601, No. 310829172002, No. 310829171004, No. 310829171003, No. 310829161013).
Compliance with ethical standards
The author(s) declare that they have no competing interests.
Copyright information
© Springer-Verlag GmbH Austria, part of Springer Nature 2018