Detection of nucleic acids and elimination of carryover contamination by using loop-mediated isothermal amplification and antarctic thermal sensitive uracil-DNA-glycosylase in a lateral flow biosensor: application to the detection of Streptococcus pneumoniae
Abstract
The authors report on a loop-mediated isothermal amplification (LAMP) scheme that uses antarctic thermally sensitive uracil-DNA-glycosylase (AUDG) for simultaneous detection of nucleic acids and elimination of carryover contamination. It was applied in a lateral flow assay (LFA) format. The assay has attractive features in that it does not require the use of labeled primers or probes, and can eliminate false-positive results generated by unwanted hybridization between two labeled primers or between a labeled primer and probe. LAMP amplification and AUDG digestion are conducted in a single pot, and the application of a closed-tube reaction prevents false-positives due to carryover contamination. The method was applied to the detection of the human pathogen Streptococcus pneumoniaein in pure cultures and spiked blood samples. This LFA can detect S. pneumoniae in pure cultures with a 25 fg.μL−1 detection limit and in spiked blood samples with a 470 cfu.mL−1 detection limit. Conceivably, this assay can be applied to the detection of various other targets if the specific LAMP primers are available.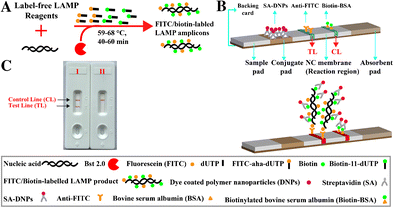 Keywords
Diagnostic technique 
Nucleic acid amplification 
Limit of detection 
Nanoparticles 
False-positive result 
Notes
Acknowledgements
We acknowledge the financial supports of the grants (Mega Project of Research on the Prevention and Control of HIV/AIDS, Viral Hepatitis Infectious Diseases 2013ZX10004-101 to Changyun Ye) from the Ministry of Science and Technology, People's Republic of China, and grant (2015SKLID507 to Changyun Ye) from State Key Laboratory of Infectious Disease Prevention and Control, China CDC.
Compliance with ethical standards
The author(s) declare that they have no competing interests.
Copyright information
© Springer-Verlag GmbH Austria, part of Springer Nature 2018