Impedimetric detection of cocaine by using an aptamer attached to a screen printed electrode modified with a dendrimer/silver nanoparticle nanocomposite
Abstract
The authors describe a highly sensitive method for the aptamer (Apt) based impedimetric determination of cocaine. The surface of a screen-printed electrode (SPE) was modified with a nanocomposite of dendrimer and silver nanoparticles (AgNPs). The cocaine-binding Apt was attached to a dendrimer/AgNP/SPE surface, forming a sensitive layer for the determination of cocaine. The incubation with the analyte resulted in the formation of a cocaine/Apt complex on the electrode surface. As a consequence, folding and conformational change in the aptamer structure was induced, this resulting in a change in the impedimetric signal. The aptaassay exhibits highly efficient sensing characteristics with a good linearity of 1 fmol L−1 to 100 nmol L−1 (with two linear ranges) and a limit of detection (LOD) of 333 amol L−1. Its excellent specificity and high sensitivity suggest that this kind of aptamer-based assay may be applied to detect other targets in this field.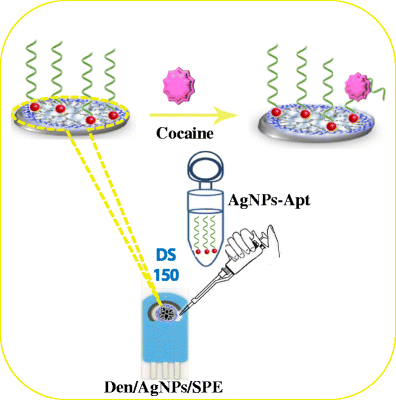 Keywords
Electrochemical impedance spectroscopy 
Nanomaterial 
Aptasensor 
Metal nanoparticles 
Charge transfer resistance 
Poly amidoamine 
Chemisorption 
Notes
Acknowledgements
The authors thank the Iran National Science Foundation (Grant no. 94808064) for their support. They would also like to thank the Ilam University Research Council and the Iranian Nanotechnology Initiative Council for their partial support.
Compliance with ethical standards
The authors declare that they have no competing interests.
Copyright information
© Springer-Verlag GmbH Austria, part of Springer Nature 2018