Matrix assisted laser desorption/ionization time-of-flight mass spectrometric determination of benzo[a]pyrene using a MIL-101(Fe) matrix
Abstract
A method is described for the matrix assisted laser desorption/ionization time-of-flight (MALDI-TOF)-based determination of benzo[a]pyrene (BaP) by using the metal-organic framework MIL-101(Fe) as a matrix. Following optimization of the experimental parameters, the method has a detection limit as low as 0.1 μg·L−1, which makes it more sensitive than previous methods for BaP analysis, and its analysis time is only 1 min. Its applicability was evaluated by analyzing sesame oil, linseed oil, camellia seed oil, and olive oil spiked with BaP at three levels (10, 1, and 0.5 μg·kg−1), and the recovery range was found to range from 80.0 to 114.8% with relative standard deviations (RSDs) between 3.9 and 13.7%.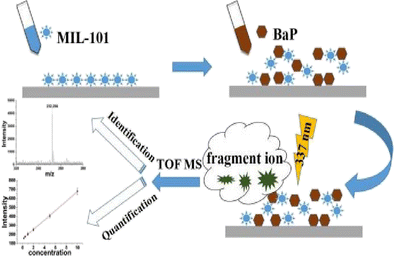 Keywords
Benzo[a]pyrene 
Metal-organic framework 
Matrix-assisted laser desorption/ionization time-of-flight mass spectrometry 
Vegetable oil 
Notes
Acknowledgements
We would like to thank the National Key R&D Program of China (No. 2016YFD0401202), the Special Fund for Grain-scientific Research in the Public Interest (201513006-04), and the National Key Technology R&D Program (No. 2015BAD17B03).
Author contributions
All authors have given approval to the final version of the manuscript.
Compliance with ethical standards
The author(s) declare that they have no competing interests.
Copyright information
© Springer-Verlag GmbH Austria, part of Springer Nature 2018