Abstract
X-ray micro-tomography (XMT) is an efficient technique for non-destructive imaging of morphological structures. It is suitable for monitoring local displacement fields of heterogeneous materials. Digital volume correlation (DVC) methods are widely used for the quantification of local strain fields from highly contrasted XMT images. The aim of this work is to investigate strain localization and cracking process in a hard clayey rock. For this purpose, three-dimensional images have been taken by in situ X-ray micro-tomography on a tested sample under different loading levels and time steps. These images are analyzed with a DVC based method to calculate both local strain fields and averaged global strains. In particular, the progressive localization of strain field with applied stress and creep time is investigated in relation with material heterogeneities. It is found that the strain field localization as well as the cracking process is clearly influenced by the presence of stiff inclusions, pores, weak clayey zones and layered microscopic structure of claystone.
We're sorry, something doesn't seem to be working properly.
Please try refreshing the page. If that doesn't work, please contact support so we can address the problem.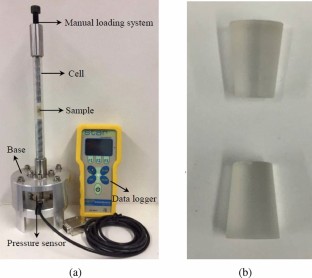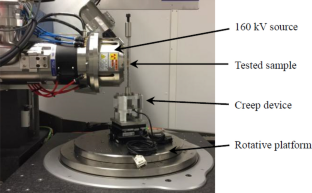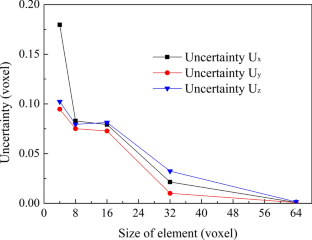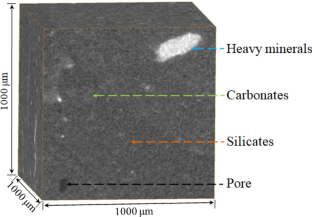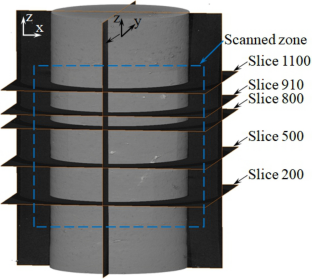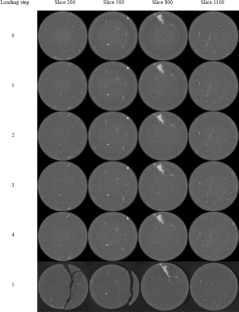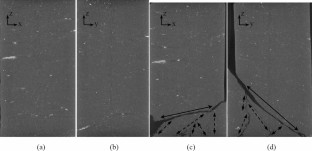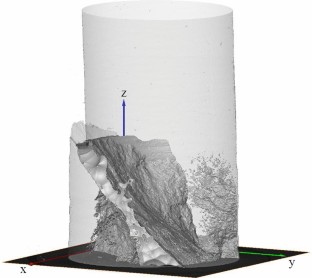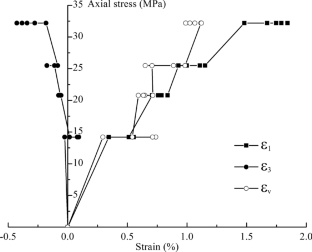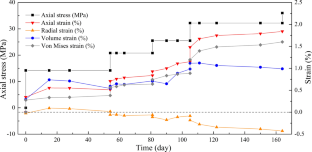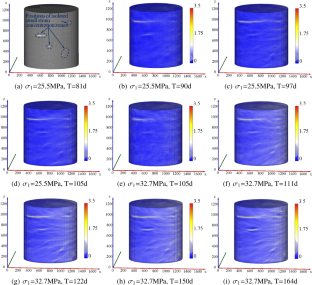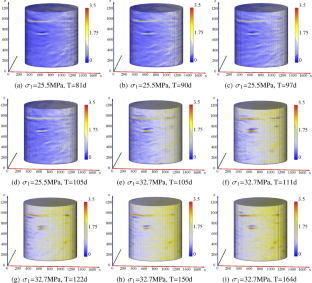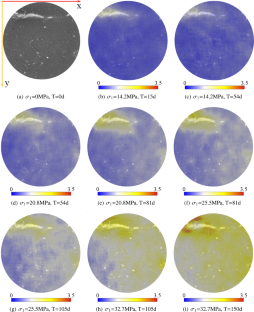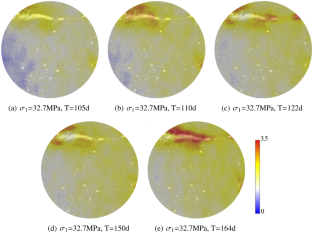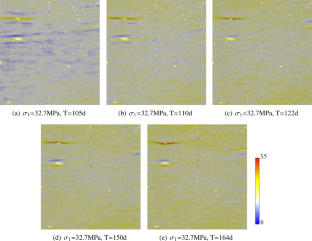 References
Armand G, Conil N, Talandier J, Seyedi DM (2017) Fundamental aspects of the hydromechanical behaviour of Callovo–Oxfordian claystone: from experimental studies to model calibration and validation. Comput Geotech 85:277–286

Armand G, Leveau F, Nussbaum C, deLaVaissiere R, Noiret A, Jaeggi D, Landrein P, Righini C (2014) Geometry and properties of the excavation induced fractures at the meuse-haute-marne url drifts. Rock Mech Rock Eng 47:21–41

Bauer A, Verhulp E, Schoofs S (2006) Measuring local strains in sandstones under stress with microcomputed tomography. In: Advances in x-ray tomography for geomaterials, pp 247–253

Bennett KC, Berla LA, Nix WD, Borja RI (2015) Instrumented nanoindentation and 3d mechanistic modeling of a shale at multiple scales. Acta Geotech 10:1–14

Besnard G, Hild F, Roux S (2006) Finite element displacement fields analysis from digital images application to portevin le chatelier bands. Exp Mech 46:789–803

Bornert M (2010) X-ray micro ct for studying strain localization in clay rocks under triaxial compression. In: Advances in X-ray tomography for geomaterials, vol 118, pp 35–52

Buljac A, Jailin C, Mendoza A, Neggers J, TaillandierThomas T, Bouterf A, Smaniotto B, Hild F, Roux S (2018) Digital volume correlation review of progress and challenges. Exp Mech 58:661–708

Chen G, Maes T, Vandervoort F, Sillen X, Van Marcke P, Honty M, Dierick M, Vanderniepen P (2014) Thermal impact on damaged boom clay and opalinus clay: permeameter and isostatic tests with \(\mu\)ct scanning. Rock Mech Rock Eng 47(1):87–99

Chu T, Ranson W, Sutton MA (1985) Applications of digital-image-correlation techniques to experimental mechanics. Exp Mech 25(3):232–244

Desbois G, Hohne N, Urai JL, Besuelle P, Viggiani G (2017) Deformation in cemented Mudrock (Callovo–Oxfordian clay) by microcracking, granular flow and phyllosilicate plasticity: insights from triaxial deformation, broad ion beam polishing and scanning electron microscopy. Solid Earth 8(2):291–305

Desrues J, Viggiani G, Besuelle P (2010) Advances in X-ray tomography for geomaterials, vol 118. Wiley, New York

Gasc-Barbier M, Chanchole S, Berest P (2004) Creep behavior of bure clayey rock. Appl Clay Sci 26:449–458

Hu DW, Zhang F, Shao JF, Gatmiri B (2014) Influences of mineralogy and water content on the mechanical properties of argillite. Rock Mech Rock Eng 47:157–166

Kak AC, Slaney M (2001)Principles of computerized tomographic imaging. Classics in applied mathematics, vol 33. Society for Industrial and Applied Mathematics, Philadelphia

Kawakata H, Cho A, Kiyama T, Yanagidani T, Kusunose K, Shimada M (1999) Three dimensional observations of faulting process in westerly granite under uniaxial and triaxial conditions by x-ray ct scan. Tectonophysics 313(3):293–305

Lenoir N, Bornert M, Desrues J, Besuelle P, Viggiani G (2007) Volumetric digital image correlation applied to x-ray microtomography images from triaxial compression tests on argillaceous rock. Strain 43(3):193–205

Li Z, Limodin N, Tandjaoui A, Quaegebeur P, Witz J-F, Balloy D (2017) Influence of Fe content on the damage mechanism in a319 aluminum alloy: tensile tests and digital image correlation. Eng Fract Mech 183:94–108

Limodin N, Rougelot T, Hosdez J (2013) Isis4d—in situ innovative set-ups under x-ray microtomography. http://isis4d.univ-lille.fr

Liu ZB, Shao JF, Liu TG, Xie SY, Conil N (2016) Gas permeability evolution mechanism during creep of a low permeable claystone. Appl Clay Sci 129:47–53

Liu ZB, Shao JF, Xie SY, Conil N, Talandier J (2019) Mechanical behavior of claystone in lateral decompression test and thermal effect. Rock Mech Rock Eng 52:321–334

Liu ZB, Shao JF, Xie SY, Conil N, Zha WH (2018) Effects of relative humidity and mineral compositions on creep deformation and failure of a claystone under compression. Int J Rock Mech Min Sci 103:68–76

Liu ZB, Shao JF, Xie SY, Secq J (2015) Gas permeability evolution of clayey rocks in process of compressive creep test. Mater Lett 139:422–425

Liu ZB, Xie SY, Shao JF, Conil N (2015) Effects of deviatoric stress and structural anisotropy on compressive creep behavior of a clayey rock. Appl Clay Sci 114:491–496

Louis L, Wong T-F, Baud P, Tembe S (2006) Imaging strain localization by x-ray computed tomography: discrete compaction bands in diemelstadt sandstone. J Struct Geol 28(5):762–775

Maire E, Withers PJ (2014) Quantitative x-ray tomography. Int Mater Rev 59(1):1–43

Mao L, Zhu Y, Wang Y, Liu Y, Li L, Chiang F-P (2019) An improved digital volumetric speckle photography technique with x-ray microtomography and its applications to investigating strain localization in red sandstone. Rock Mech Rock Eng 1–10 (in press)

Menaceur H, Delage P, Tang AM, Conil N (2015) The thermo-mechanical behaviour of the Callovo–Oxfordian claystone. Int J Rock Mech Min Sci 78:290–303

Otani J, Mukunoki T, Obara Y (2000) Application of x-ray ct method for characterization of failure in soils. Soils Found 40(2):111–118

Pardoen B, Bésuelle P, Dal Pont S, Cosenza P, Desrues J (2020) Accounting for small-scale heterogeneity and variability of clay rock in homogenised numerical micromechanical response and microcracking. Rock Mech Rock Eng 1–20 (in press)

Robinet JC, Sardini P, Coelho D, Parneix JC, Pret D, Sammartino S, Boller E, Altmann S (2012) Effects of mineral distribution at mesoscopic scale on solute diffusion in a clay-rich rock: example of the callovo-Oxfordian mudstone (bure, france). Water Resour Res 48:W05554

Stavropoulou E, Ando E, Roubin E, Lenoir N, Tengattini A, Briffaut M, Besuelle P (2020) Dynamics of water absorption in callovo-oxfordian claystone revealed with multimodal x-ray and neutron tomography. Front Earth Sci 8:6. https://doi.org/10.3389/feart.2020.00006

Stock SR (2008) Recent advances in x-ray microtomography applied to materials. Int Mater Rev 53(3):129–181

Viggiani G, Besuelle P, Desrues J (2013) X-ray micro tomography as a tool for studying localized damage/deformation in clay rock. Tech, Rep. 1

Viggiani G, Lenoir N, Bésuelle P, Michiel M, Marello S, Desrues J, Kretzschmer M (2004) X-ray microtomography for studying localized deformation in fine-grained geomaterials under triaxial compression. Comptes rendus Mécanique 332(10):819–826

Wang L, Limodin N, El Bartali A, Witz J-F, Seghir R, Buffiere J-Y, Charkaluk E (2016) Influence of pores on crack initiation in monotonic tensile and cyclic loadings in lost foam casting a319 alloy by using 3d in-situ analysis. Mater Sci Eng A 673:362–372

Wang LL, Bornert M, Heripre E, Chanchole S, Pouya A, Halphen B (2015) The mechanisms of deformation and damage of mudstones: a micro-scale study combining esem and dic. Rock Mech Rock Eng 48:1913–1926

Yang DS, Chanchole S, Valli P, Chen LF (2013) Study of the anisotropic properties of argillite under moisture and mechanical loads. Rock Mech Rock Eng 46:247–257

Yang S-Q, Ju Y, Gao F, Gui Y-L (2016) Strength, deformability and x-ray micro-ct observations of deeply buried marble under different confining pressures. Rock Mech Rock Eng 49(11):4227–4244

Zhang F, Xie SY, Hu DW, Shao JF, Gatmiri B (2012) Effect of water content and structural anisotropy on mechanical property of claystone. Appl Clay Sci 69:79–86
Acknowledgements
The present study was jointly supported by Andra and the ISIS4D X-Ray CT platform. This platform has been funded by the International Campus on Safety and Inter-modality in Transportation (CISIT), the Hauts-de-France Region, the European Community and the National Center for Scientific Research (CNRS). Special thanks are addressed to Jean-Pierre Parent and Jean Secq for their invaluable assistance to the design of experimental device and preparation of samples.
Additional information
Publisher's Note
Springer Nature remains neutral with regard to jurisdictional claims in published maps and institutional affiliations.
About this article
Cite this article
Shi, HL., Hosdez, J., Rougelot, T. et al. Analysis of Local Creep Strain Field and Cracking Process in Claystone by X-Ray Micro-Tomography and Digital Volume Correlation. Rock Mech Rock Eng (2021). https://doi.org/10.1007/s00603-021-02375-5
Received:

Accepted:

Published:
Keywords
X-ray micro-tomography

Digital volume correlation

Local strain

In situ creep test

Clayey rock