Abstract
A large amount of lining cracks, pavement uplift and cable trench overturning occurred during the operation of the Dugongling tunnel, which finally led to the closure of the whole line. The study on the lining cracking mechanism is very important to ensure that the tunnel opens again early. First, the actual cracks of the lining were investigated in the field. According to the geological data, the expansion and softening of the surrounding rock is likely to be the main cause of lining cracking. To verify this inference, a corresponding research program was drawn up. Then, representative sections were selected and the back-analysis method was used to simulate the cracking characteristics of the lining. Based on the simulation results, the cracking mechanisms were studied. The research showed that the increased water content caused the expansion and softening of the surrounding rock, increased the uneven loading on the lining structure, and, finally, led to lining cracking and pavement uplift. Based on the cracking mechanism, progressive enhancement schemes were proposed for each section. The research results of this paper can provide a reference for the design and construction of this project and similar projects.
This is a preview of subscription content, log in to check access.
Access options
Buy single article
Instant access to the full article PDF.
US$ 39.95
Price includes VAT for USA
Subscribe to journal
Immediate online access to all issues from 2019. Subscription will auto renew annually.
US$ 99
This is the net price. Taxes to be calculated in checkout.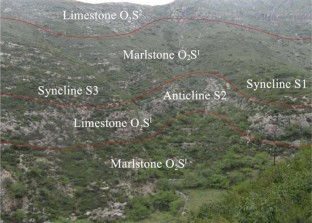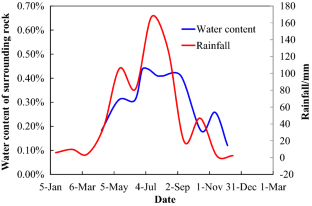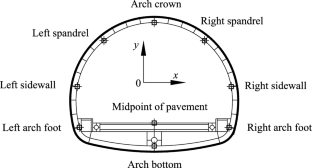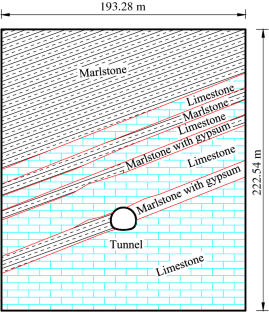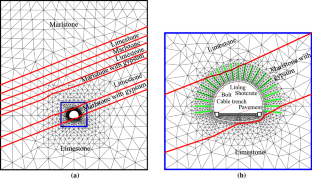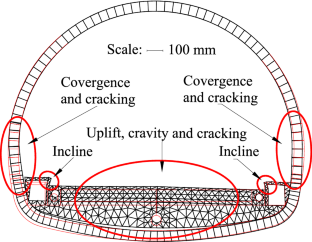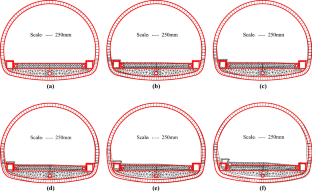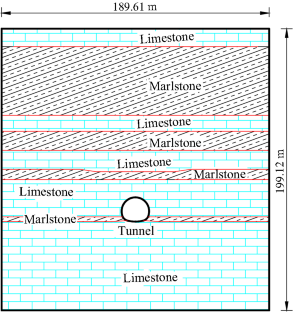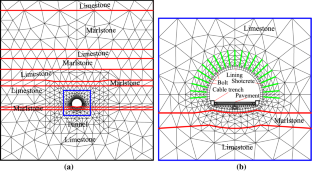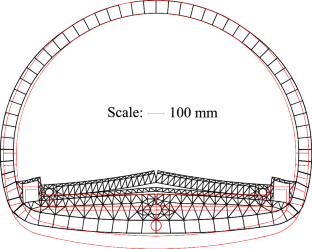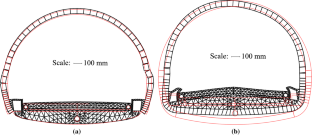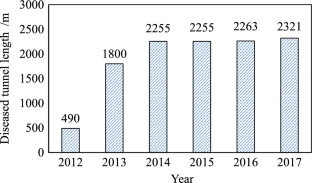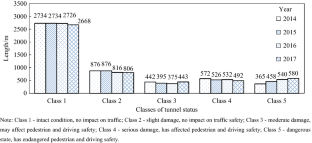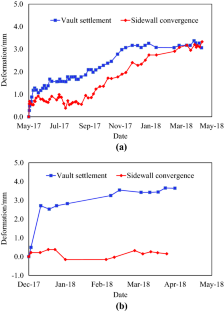 References
Amorim DLNDF, Proença SPB, Flórez-López J (2014) Simplified modeling of cracking in concrete: application in tunnel linings. Eng Struct 70(9):23–35

Bian K, Liu J, Xiao M, Liu ZP (2016) Cause investigation and verification of lining cracking of bifurcation tunnel at Huizhou Pumped Storage Power Station. Tunn Undergr Sp Technol 54(27):123–134

Cheng WC, Song ZP, Tian W, Wang ZF (2018) Shield tunnel uplift and deformation characterisation: a case study from Zhengzhou metro. Tunn Undergr Sp Technol 79(6):83–95

Chiu YC, Lee CH, Wang TT (2017) Lining crack evolution of an operational tunnel influenced by slope instability. Tunn Undergr Sp Technol 65(3):167–178

Editorial Department of China Journal of Highway and Transport (EDCJHT) (2015) Review on China's tunnel engineering research: 2015. China J Highw Transp 28(5):1–65 (in Chinese)

Guo ZB, Wang J, Zhang YL (2015) Failure mechanism and supporting measures for large deformation of Tertiary deep soft rock. Int J Min Sci Technol 25(1):121–126

Hong KR (2015) State-of-art and prospect of tunnels and underground works in China. Tunnel Constr 35(2):95–107 (in Chinese)

Lee CH, Chiu YC, Wang TT (2013) Application and validation of simple image-mosaic technology for interpreting cracks on tunnel lining. Tunn Undergr Sp Technol 34(1):145–150

Li SC, Xu F, Li LP, Wang WM, Zhang W, Zhang QQ, Shi SS (2016a) State of the art: challenge and methods on large deformation in tunnel engineering and introduction of a new type supporting system. Chin J Rock Mech Eng 35(7):1366–1376 (in Chinese)

Li YY, Jin XG, Lv ZT, Dong JG, Guo JC (2016b) Deformation and mechanical characteristics of tunnel lining in tunnel intersection between subway station tunnel and construction tunnel. Tunn Undergr Sp Technol 56(3):22–33

Li HB, Yang XG, Zhang XB, Zhou JW (2017) Deformation and failure analyses of large underground caverns during construction of the Houziyan Hydropower Station, Southwest China. Eng Fail Anal 80(1):164–185

Li A, Xu NW, Dai F, Gu GK, Hu ZH, Liu Y (2018) Stability analysis and failure mechanism of the steeply inclined bedded rock masses surrounding a large underground opening. Tunn Undergr Sp Technol 77(3):45–58

Liu JD, Li QY, Gong BW (2011a) Swelling properties of expansive rock in Middle Route Project of South-to-North Water Diversion. Chin J Geotech Eng 33(5):826–830 (in Chinese)

Liu YM, Yu HM, Wang C, Wang CL (2011b) Research on mechanism of damage of anhydrock in dolomite layer to tunnel structure. Rock Soil Mech 32(9):2704–2708 (in Chinese)

Liu NF, Li N, Li GF, Zhang ZQ, Mu YM (2018) Deformation and Collapse Mechanisms of Water-Rich Soil Tunnels. Soil Mech Found Eng 54(6):384–394

Luo YB, Chen JX, Chen Y, Diao PS, Qiao X (2018) Longitudinal deformation profile of a tunnel in weak rock mass by using the back analysis method. Tunn Undergr Sp Technol 71(1):478–493

Meng B, Jing HW, Chen KF, Su HJ (2013a) Failure mechanism and stability control of a large section of very soft roadway surrounding rock shear slip. Int J Min Sci Technol 23(1):127–134

Meng LB, Li TB, Jiang Y, Wang R, Li YR (2013b) Characteristics and mechanisms of large deformation in the Zhegu mountain tunnel on the Sichuan–Tibet highway. Tunn Undergr Sp Technol 37(6):157–164

Ng CWW, Lee KM, Tang DKW (2004) Three-dimensional numerical investigations of new Austrian tunnelling method (NATM) twin tunnel interactions. Can Geotech J 41(3):523–539

Pérez-Romero J, Oteo CS, Fuente PDL (2007) Design and optimisation of the lining of a tunnel in the presence of expansive clay levels. Tunn Undergr Sp Technol 22(1):10–22

Shuai JB (2012) Study on deformation and crack control measures of weak surrounding rock of Lao Dongshan tunnel. Chin J Railw Sci Eng 9(1):84–89 (in Chinese)

Song SW, Feng XM, Liao CG, Cai DW, Liu ZX, Yang YH (2016a) Measures for controlling large deformations of underground caverns under high in-situ stress condition—a case study of Jinping I hydropower station. J Rock Mech Geotech Eng 8(5):605–618

Song ZP, Yang TT, Jiang AN, Zhang DF, Jiang ZB (2016b) Experimental investigation and numerical simulation of surrounding rock creep for deep mining tunnels. J Southern Afr I Min Metall 116(12):1181–1188

Standing JR, Lau C (2017) Small-scale model for investigating tunnel lining deformations. Tunn Undergr Sp Technol 68(5):130–141

Sun XM, Chen F, Miao CY, Song P, Li G, Zhao CW, Xia X (2018) Physical modeling of deformation failure mechanism of surrounding rocks for the deep-buried tunnel in soft rock strata during the excavation. Tunn Undergr Sp Technol 74(2):247–261

Tan YQ, Simith JV, Li CQ, Currell M, Wu YF (2018) Predicting external water pressure and cracking of a tunnel lining by measuring water inflow rate. Tunn Undergr Sp Technol 71(1):115–125

Wang TT (2010) Characterizing crack patterns on tunnel linings associated with shear deformation induced by instability of neighboring slopes. Eng Geol 115(1):80–95

Wang MY, Zhang N, Li J, Ma LJ, Fan PX (2015) Computational method of large deformation and its application in deep mining tunnel. Tunn Undergr Sp Technol 50(1):47–53

Xia RH, Cui XP, Zhou Q (2015) Analysis of tunnel lining deformation in complex geology and engineering control technology. J Railw Eng Soc 32(8):66–72 (in Chinese)

Xiao JZ, Dai FC, Wei YQ, Min H, Xu C, Tu XB, Wang ML (2014) Cracking mechanism of secondary lining for a shallow and asymmetrically-loaded tunnel in loose deposits. Tunn Undergr Sp Technol 43(7):232–240

Yan QX, Xu YJ, Zhang WL, Geng P, Yang WB (2018) Numerical analysis of the cracking and failure behaviors of segmental lining structure of an underwater shield tunnel subjected to a derailed high-speed train impact. Tunn Undergr Sp Technol 72(1):41–54

Zhang SS, Pei XJ, Wei XJ, Yu T, Feng JM, Ran CY, Li CY (2014) Back analysis of structural loads and deformation characteristics of Erguxi tunnel #1 at Shiziping hydropower station. Chin J Rock Mech Eng 33(11):2283–2290 (in Chinese)

Zhang ZQ, Chen FF, Li N, Swoboda G, Liu NF (2017) Influence of fault on the surrounding rock stability of a tunnel: location and thickness. Tunn Undergr Sp Technol 61(1):1–11

Zhang Y, Li N, Lv G, Chen ZW (2019) Quantification of fatigue damage at dry–wet cycles of polymer fiber cement mortar. Mater Lett 257(2019):126754

Zhu CH, Li N (2017) Prediction and analysis of surface settlement due to shield tunneling for Xi'an Metro. CanGetech J 54:529–546

Zuo QJ, Wu L, Lin CY, Xu CM, Li B, Lu ZL, Yuan Q (2016) Collapse mechanism and treatment measures for tunnel in water-rich soft rock crossing fault. Chin J Rock Mech Eng 35(2):369–377 (in Chinese)
Acknowledgements
We would like to express our gratitude to the two anonymous reviewers for their constructive comments and suggestions. This research was supported by the Talent-technology Foundation (Grant no. RC1804) and Special Funds of the Natural Science Foundation (Grant no. ZR18017) of Xi'an University of Architecture and Technology, the Shaanxi Natural Science Foundation (Grant no. 2019JQ-756), the Special Scientific Research Project of Shaanxi Education Department (Grant no. 19JK0452), and the China Postdoctoral Science Foundation (Grant no. 2019M663648).
Additional information
Publisher's Note
Springer Nature remains neutral with regard to jurisdictional claims in published maps and institutional affiliations.
About this article
Cite this article
Liu, N., Li, N., Xu, C. et al. Mechanism of Secondary Lining Cracking and its Simulation for the Dugongling Tunnel. Rock Mech Rock Eng (2020). https://doi.org/10.1007/s00603-020-02183-3
Received:

Accepted:

Published:
Keywords
Highway tunnel

Lining cracking

Pavement uplift

Expansion and softening

Cracking mechanism