Abstract
Purpose
Hepatocellular carcinoma (HCC) is one of the most common primary cancers worldwide. HCC has unique characteristics such as co-existing chronic liver damage and a high recurrence rate. A negative impact on the surgical outcome due to these backgrounds could be expected. We aimed to evaluate the clinical outcomes of cardiac surgery in these patients.
Methods
Between January 2000 and December 2019, 16 patients with remitted cancer and 5 patients with active HCC who underwent open heart surgery were studied. The clinical data were retrospectively evaluated from hospital records. Follow-up information was collected via telephone interviews.
Results
The major cause of HCC was viral hepatitis. Eighteen patients (86%) were classified as having Child–Pugh class A cirrhosis. The mean model of end-stage liver disease (MELD) score was 7.2 ± 5.2. There was no 30-day mortality. During follow-up, 11 patients died due to HCC. The 1-, 3-, and 5-year survival rates were 80.0, 42.5, and 22.3%, respectively. A univariate analysis identified a higher preoperative MELD score and lower serum cholinesterase levels as prognostic factors for long-term survival.
Conclusion
We could safely perform cardiac surgery in selected patients with remitted and active HCC. The postoperative life expectancy of these patients was limited but acceptable.
Access options
Buy single article
Instant access to the full article PDF.
US$ 39.95
Tax calculation will be finalised during checkout.
Subscribe to journal
Immediate online access to all issues from 2019. Subscription will auto renew annually.
US$ 79
Tax calculation will be finalised during checkout.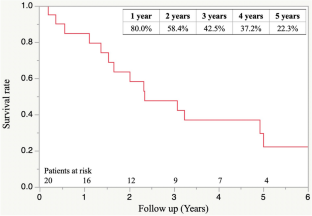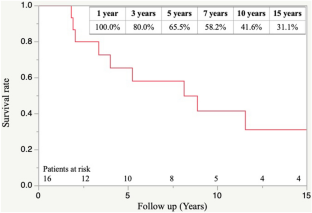 References
1.

Lorusso R, Vizzardi E, Johnson DM, Mariscalco G, Sciatti E, Maessen J, et al. Cardiac surgery in adult patients with remitted or active malignancies: a review of preoperative screening, surgical management and short- and long-term postoperative results. Eur J Cardiothorac Surg. 2018;54:10–8.

2.

Carrascal Y, Gualis J, Arévalo A, Fulquet E, Flórez S, Rey J, et al. Cardiac surgery with extracorporeal circulation in cancer patients: influence on surgical morbidity and mortality, and on survival. Rev Esp Cardiol. 2008;61:369–75.

3.

Nardi P, Pellegrino A, Pugliese M, Bovio E, Chiariello L, Ruvolo G. Cardiac surgery with extracorporeal circulation and concomitant malignancy: early and long-term results. J Cardiovasc Med. 2016;17:152–9.

4.

Chan J, Rosenfeldt F, Chaudhuri K, Marasco S. Cardiac surgery in patients with a history of malignancy: influence complication rate but similar mortality. Heart Lung Circ. 2012;21:255–9.

5.

Canver CC, Marrin CAS, Plume SK, Nugent WC. Should a patient with a treated cancer be offered an open heart operation? Ann Thorac Surg. 1993;55:1202–4.

6.

Mistiaen WP, Van Cauwelaert P, Muylaert P, Wuyts F, Harrisson F, Bortier H. Effect of prior malignancy on survival after cardiac surgery. Ann Thorac Surg. 2004;77:1593–7.

7.

Schoenmakers MCJ, van Boven WJ, vanden Bosch J, van Swieten HA. Comparison of on-pump or off-pump coronary artery revascularization with lung resection. Ann Thorac Surg. 2007;84:504–9.

8.

Fornar A, Reig M, Bruix J. Hapatocellular carcinoma. Lancet. 2018;391:1303–14.

9.

Kudo M, Izumi N, Sakamoto M, Matsuyama Y, Ichida T, Nakashima O, et al. Survival analysis over 28 years of 173,378 patients with hepatocellular carcinoma in Japan. Liver Cancer. 2016;5:190–7.

10.

Hasegawa K, Kokudo N, Makuuchi M, Izumi N, Ichida T, Kudo M, et al. Comparison of resection and ablation for hepatocellular carcinoma: a cohort study based on a Japanese nationwide survey. J Hepatol. 2013;58:724–9.

11

Hasegawa K, Makuuchi M, Takayama T, Kokudo N, Arii S, Okazaki M, et al. Surgical resection vs. percutaneous ablation for hepatocellular carcinoma: a preliminary report of the Japanese nationwide survey. J Hepatol. 2008;49:589–94.

12.

Shimizu H, Katano Y, Nagano K, Yokozaki S, Shimizu F, Naito T, et al. Recurrent hepatocellular carcinoma with rapid growth after cardiac surgery. Hepatogastrienterology. 2005;52:1863–6.

13.

Hayashida N, Shoujima T, Teshima H, Yokokura Y, Takagi T, Tomoeda H, et al. Clinical outcome after cardiac operation in patients with cirrhosis. Ann Thorac Surg. 2004;77:500–5.

14.

Wallwork K, Ali JM, Abu-Omar Y, De Silva R. Does liver cirrhosis lead to inferior outcomes following cardiac surgery? Interact CardioVasc Thorac Surg. 2019;28:102–7.

15.

Chou AH, Chen TH, Chen CY, Chen SW, Lee CW, Liao CH, et al. Long-term outcome of cardiac surgery in 1,040 liver cirrhosis patient—nationwide population-based cohort study. Circ J. 2017;81:476–84.

16.

Sablotzki A, Dehne M, Welters I, Lehmann N, Görlach G, Osmer C, et al. Alterations of cytokine network in patients undergoing cardiopulmonary bypass. Perfusion. 1997;12:393–403.

17.

Tajima K, Yamamoto F, Kawazoe K, Nakatani I, Sakai H, Abe T, et al. Cardiopulmonary bypass and cellular immunity: changes in lymphocyte subsets and natural killer cell activity. Ann Thorac Surg. 1993;55:625–30.

18.

Markewitz A, Lante W, Franke A, Marohl K, Kuhlmann WD, Weinhold C. Alterations of cell-mediated immunity following cardiac operation: clinical implications and open questions. Shock. 2001;16:10–5.

19.

Yamamoto S, Yoshimatsu T, Nishimura Y, Uchida S, Toguchi K, Honda K, et al. In vitro evaluation of the effect of cardiac surgery on cancer cell proliferation. Ann Thorac Cardiovasc Surg. 2011;17:260–6.

20.

Suzuki S, Usui A, Yoshida K, Matsumura A, Ichihara T, Ueda Y. Effect of cardiopulmonary bypass on cancer prognosis. Asian Cardiovasc Thorac Ann. 2010;18:536–40.

21.

Platell C. Influence of cardiopulmonary bypass surgery on cancer-specific survival rate of patients with colorectal cancer. Dis Colon Rectum. 1998;41:1371–5.

22.

Vieira RD, Pereira AC, Lima EG, Garzillo CL, Rezende PC, Favarato D, et al. Cancer-related deaths among different treatment options in chronic coronary artery disease: results of a 6-year follow-up of the MASS II study. Coron Artery Dis. 2012;23:79–84.

23.

Biancari F, Dahlbacka S, Juvonen T, Virtanen MPO, Maaranen P, Jaakkola J, et al. Favorable outcome of cancer patients undergoing transcatheter aortic valve replacement. Int J Cardiol. 2020 (online ahead of print).

24.

Watanabe Y, Kozuma K, Hioki H, Kawashima H, Nara Y, Kataoka A, et al. Comparison of results of transcatheter aortic valve implantation in patients with versus without active cancer. Am J Cardiol. 2016;118:572–7.

25.

Yassin AS, Subahi A, Abubakar H, Akintoye E, Alhusain R, Adegbala O, et al. Outcomes and effects of hepatic cirrhosis in patients who underwent transcatheter aortic valve implantation. Am J Cardiol. 2018;122:455–60.

26.

Alqahtani F, Aljohani S, Ghabra A, Alahdab F, Kawsara A, Holmes DR, et al. Outcomes of transcatheter versus surgical aortic valve implantation for aortic stenosis in patients with hepatic cirrhosis. Am J Cardiol. 2017;120:1193–7.

27.

Quintana RA, Monlezun DJ, Davogustto G, Saenz HR, Lozano-Ruiz F, Sueta D, et al. Outcomes following percutaneous coronary intervention in patients with cancer. Int J Cardiol. 2020;300:106–12.

28.

Krone RJ. Managing coronary artery disease in the cancer patient. Prog Cardiovasc Dis. 2010;53:149–56.

29.

Ochi M, Yamada K, Fujii M, Ohkubo N, Ogasawara H, Tanaka S. Role of off-pump coronary artery bypass grafting in patients with malignant neoplastic disease. Jpn Circ J. 2000;64:13–7.
Funding
This study was not supported by any funding.
Ethics declarations
Conflict of interest
All authors declare no conflicts of interest.
Additional information
Publisher's Note
Springer Nature remains neutral with regard to jurisdictional claims in published maps and institutional affiliations.
About this article
Cite this article
Takagi, K., Arinaga, K., Takaseya, T. et al. Clinical outcome of cardiac surgery in patients with remitted or active hepatocellular carcinoma. Surg Today (2021). https://doi.org/10.1007/s00595-021-02239-z
Received:

Accepted:

Published:
Keywords
Hepatocellular carcinoma

Liver cirrhosis

Cardiac surgery

Outcome