Abstract
Purpose
The purpose of this study was to determine the factors influencing conversion from laparoscopic distal pancreatectomy (LDP) to open surgery, and the effect of such conversion on the outcome.
Methods
This retrospective single-center study included 70 consecutive patients undergoing LDP. The primary endpoint was the rate of conversion to open surgery during LDP. The secondary endpoints were determining the reasons for conversion to open surgery, with detailed analyses of these cases and a comparison of the surgical outcome with and without conversion.
Results
Seven patients (10%) required conversion to open surgery during LDP. Pancreatic ductal adenocarcinoma (PDAC) was identified as a risk factor for conversion (p = 0.010). The reasons for conversion included technical difficulty (two bleeding, one severe adhesion) and pancreatic stump-related issues (two margin-positive, two stapling failures). Although the overall morbidity rate (29 vs. 11%, p = 0.48) and the rate of clinically relevant postoperative pancreatic fistula (14 vs. 5%, p = 0.82) were no different for the patients with or without open conversion, the postoperative hospital stay was significantly longer in the former (median 15 vs. 10 days, p = 0.03).
Conclusions
Careful preoperative assessment is required when planning LDP for PDAC. Although conversion to open surgery does not result in failure of LDP, efforts to reduce the duration of postoperative hospital stay and the occurrence of complications are desirable to improve the outcome of LDP.
This is a preview of subscription content, log in to check access.
Access options
Buy single article
Instant access to the full article PDF.
US$ 39.95
Price includes VAT for USA
Subscribe to journal
Immediate online access to all issues from 2019. Subscription will auto renew annually.
US$ 99
This is the net price. Taxes to be calculated in checkout.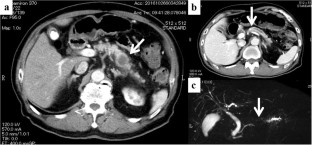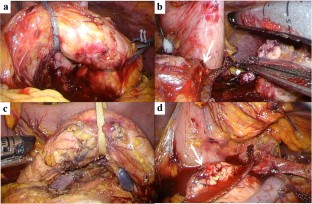 References
1.

Nakamura M, Wakabayashi G, Miyasaka Y, Tanaka M, Morikawa T, Unno M, et al. Multicenter comparative study of laparoscopic and open distal pancreatectomy using propensity score-matching. J Hepatobiliary Pancreat Sci. 2015;22:731–6.

2.

Wellner UF, Lapshyn H, Bartsch DK, Mintziras I, Hopt UT, Wittel U, et al. Laparoscopic versus open distal pancreatectomy-a propensity score-matched analysis from the German StuDoQ|Pancreas registry. Int J Colorectal Dis. 2017;32:273–80.

3.

Matsumoto I, Kamei K, Satoi S, Murase T, Matsumoto M, Kawaguchi K, et al. Laparoscopic versus open distal pancreatectomy for benign and low-grade malignant lesions of the pancreas: a single-center comparative study. Surg Today. 2019;49:394–400.

4.

Riviere D, Gurusamy KS, Kooby DA, Vollmer CM, Besselink MG, Davidson BR, et al. Laparoscopic versus open distal pancreatectomy for pancreatic cancer. Cochrane Database Syst Rev. 2016;4:CD011391.

5.

Cesaretti M, Bifulco L, Costi R, Le Bian AZ. Pancreatic resection in the era of laparoscopy: state of art. A systematic review. Int J Surg. 2017;44:309–16.

6.

van Hilst J, de Rooij T, Klompmaker S, Rawashdeh M, Aleotti F, Al-Sarireh B, et al. Minimally invasive versus open distal pancreatectomy for ductal adenocarcinoma (DIPLOMA): a Pan-European propensity score matched study. Ann Surg. 2019;269:10–7.

7.

de Rooij T, van Hilst J, van Santvoort H, Boerma D, van den Boezem P, Daams F, et al. Minimally invasive versus open distal pancreatectomy (LEOPARD): a multicenter patient-blinded randomized controlled trial. Ann Surg. 2019;269:2–9.

8.

Daouadi M, Zureikat AH, Zenati MS, Choudry H, Tsung A, Bartlett DL, et al. Robot-assisted minimally invasive distal pancreatectomy is superior to the laparoscopic technique. Ann Surg. 2013;257:128–32.

9.

Lee SY, Allen PJ, Sadot E, D'Angelica MI, DeMatteo RP, Fong Y, et al. Distal pancreatectomy: a single institution's experience in open, laparoscopic, and robotic approaches. J Am Coll Surg. 2015;220:18–27.

10.

Hua Y, Javed AA, Burkhart RA, Makary MA, Weiss MJ, Wolfgang CL, et al. Preoperative risk factors for conversion and learning curve of minimally invasive distal pancreatectomy. Surgery. 2017;162:1040–7.

11.

Goh BKP, Chan CY, Lee SY, Chan WH, Cheow PC, Chow PKH, et al. Factors associated with and consequences of open conversion after laparoscopic distal pancreatectomy: initial experience at a single institution. ANZ J Surg. 2017;87:E271–E275275.

12.

Casadei R, Ricci C, Pacilio CA, Ingaldi C, Taffurelli G, Minni F. Laparoscopic distal pancreatectomy: which factors are related to open conversion? Lessons learned from 68 consecutive procedures in a high-volume pancreatic center. Surg Endosc. 2018;32:3839–45.

13.

Lee SH, Kang CM, Hwang HK, Choi SH, Lee WJ, Chi HS. Minimally invasive RAMPS in well-selected left-sided pancreatic cancer within Yonsei criteria: long-term (> median 3 years) oncologic outcomes. Surg Endosc. 2014;28:2848–55.

14.

Dindo D, Demartines N, Clavien PA. Classification of surgical complications: a new proposal with evaluation in a cohort of 6336 patients and results of a survey. Ann Surg. 2004;240:205–13.

15.

Bassi C, Marchegiani G, Dervenis C, Sarr M, Abu Hilal M, Adham M, et al. The 2016 update of the International Study Group (ISGPS) definition and grading of postoperative pancreatic fistula: 11 years after. Surgery. 2017;161:584–91.

16.

Matsumoto I, Takeyama Y, Kamei K, Satoi S, Nakata Y, Ishikawa H, et al. Transpancreatic mattress suture with vicryl mesh around the stump during distal pancreatectomy: a novel technique for preventing postoperative pancreatic fistula. J Am Coll Surg. 2016;223:e1–5.

17.

Yoshida Y, Matsumoto I, Matsumoto M, Kawaguchi K, Murase T, Kamei K, et al. Transpancreatic mattress suture with Vicryl mesh around the stump decreases postoperative pancreatic fistula after distal pancreatectomy. J Hepatobiliary Pancreat Sci. 2019;26:510–6.

18.

Abu Hilal M, Richardson JR, de Rooij T, Dimovska E, Al-Saati H, Besselink MG. Laparoscopic radical 'no-touch' left pancreatosplenectomy for pancreatic ductal adenocarcinoma: technique and results. Surg Endosc. 2016;30:3830–8.

19.

Ohtsuka T, Ban D, Nakamura Y, Nagakawa Y, Tanabe M, Gotoh Y, et al. Difficulty scoring system in laparoscopic distal pancreatectomy. J Hepatobiliary Pancreat Sci. 2018;25:489–97.

20.

Lad NL, Squires MH, Maithel SK, Fisher SB, Mehta VV, Cardona K, et al. Is it time to stop checking frozen section neck margins during pancreaticoduodenectomy? Ann Surg Oncol. 2013;20:3626–33.

21.

Kooby DA, Lad NL, Squires MH, Maithel SK, Sarmiento JM, Staley CA, et al. Value of intraoperative neck margin analysis during Whipple for pancreatic adenocarcinoma: a multicenter analysis of 1399 patients. Ann Surg. 2014;260:494–501 (Discussion-3).

22.

Nitschke P, Volk A, Welsch T, Hackl J, Reissfelder C, Rahbari M, et al. Impact of intraoperative re-resection to achieve R0 status on survival in patients with pancreatic cancer: a single-center experience with 483 patients. Ann Surg. 2017;265:1219–25.

23.

Kawai M, Hirono S, Okada KI, Satoi S, Yanagimoto H, Kon M, et al. Reinforced staplers for distal pancreatectomy. Langenbecks Arch Surg. 2017;402:1197–204.

24.

Ohtsuka T, Nagakawa Y, Toyama H, Takeda Y, Maeda A, Kumamoto Y, et al. A multicenter prospective registration study on laparoscopic pancreatectomy in Japan: report on the assessment of 1429 patients. J Hepatobiliary Pancreat Sci. 2020;27:47–55.
Acknowledgements
No grant support was provided for this study.
Ethics declarations
Conflict of interest
The authors have no conflicts of interest to disclose.
Additional information
Publisher's Note
Springer Nature remains neutral with regard to jurisdictional claims in published maps and institutional affiliations.
Electronic supplementary material
Below is the link to the electronic supplementary material.
About this article
Cite this article
Matsumoto, I., Kamei, K., Satoi, S. et al. Conversion to open laparotomy during laparoscopic distal pancreatectomy: lessons from a single-center experience in 70 consecutive patients. Surg Today (2020). https://doi.org/10.1007/s00595-020-02056-w
Received:

Accepted:

Published:
Keywords
Conversion to open surgery

Laparoscopic distal pancreatectomy

Laparoscopic pancreatectomy