Abstract
Purpose
The left renal vein is technically difficult to expose during laparoscopic distal pancreatectomy for pancreatic ductal adenocarcinoma despite being an important landmark for posterior dissection. We hereby propose a novel technique to safely expose the left renal vein while avoiding the associated anatomical pitfalls.
Methods
The anatomy of the left renal artery and vein was analyzed using multidetector computed tomography. We initially exposed the left renal vein on the left posterior side of the superior mesenteric artery followed by exposure toward the left kidney. We retrospectively examined the perioperative results of this technique in 33 patients who underwent laparoscopic distal pancreatectomy.
Results
15.7% of the patients had an accessory left renal artery coursing cranial to the vein. In 43.1%, the left renal arterial branch ventrally traversed the vein at the renal hilum, thereby posing a risk for arterial injury. The location of the left renal vein varies cranial (17.6%) or caudal (82.4%) to the pancreas. The left renal vein was exposed without any vascular injury using this technique. The median operative time was 259 min, blood loss was 18 mL, and R0 resection rate was 97.0%.
Conclusions
The initial exposure of the left renal vein should, therefore, be on the left posterior side of the superior mesenteric artery.
This is a preview of subscription content, log in to check access.
Access options
Buy single article
Instant access to the full article PDF.
US$ 39.95
Price includes VAT for USA
Subscribe to journal
Immediate online access to all issues from 2019. Subscription will auto renew annually.
US$ 99
This is the net price. Taxes to be calculated in checkout.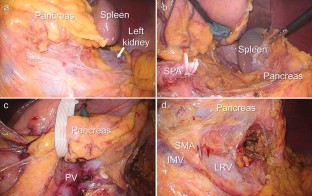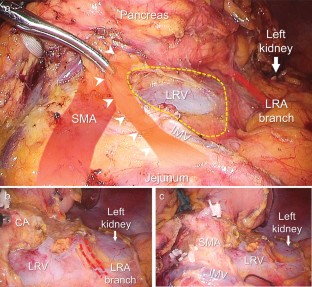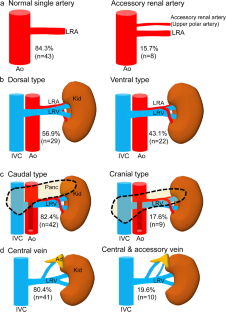 References
1.

Nakamura M, Nakashima H. Laparoscopic distal pancreatectomy and pancreatoduodenectomy: is it worthwhile? A meta-analysis of laparoscopic pancreatectomy. J Hepatobiliary Pancreat Sci. 2013;20:421–8.

2.

Mehrabi A, Hafezi M, Arvin J, Esmaeilzadeh M, Garoussi C, Emami G, et al. A systematic review and meta-analysis of laparoscopic versus open distal pancreatectomy for benign and malignant lesions of the pancreas: it's time to randomize. Surgery. 2015;157:45–55.

3.

Ghaneh P, Kleeff J, Halloran CM, Raraty M, Jackson R, Melling J, et al. The impact of positive resection margins on survival and recurrence following resection and adjuvant chemotherapy for pancreatic ductal adenocarcinoma. Ann Surg. 2019;269:520–9.

4.

Strobel O, Hank T, Hinz U, Bergmann F, Schneider L, Springfeld C, et al. Pancreatic cancer surgery: the new R-status counts. Ann Surg. 2017;265:565–73.

5.

Rau BM, Moritz K, Schuschan S, Alsfasser G, Prall F, Klar E. R1 resection in pancreatic cancer has significant impact on long-term outcome in standardized pathology modified for routine use. Surgery. 2012;152:S103–S111111.

6.

Strasberg SM, Drebin JA, Linehan D. Radical antegrade modular pancreatosplenectomy. Surgery. 2003;133:521–7.

7.

Kitagawa H, Tajima H, Nakagawara H, Makino I, Miyashita T, Terakawa H, et al. A modification of radical antegrade modular pancreatosplenectomy for adenocarcinoma of the left pancreas: significance of en bloc resection including the anterior renal fascia. World J Surg. 2014;38:2448–544.

8.

Choi SH, Kang CM, Lee WJ, Chi HS. Multimedia article. Laparoscopic modified anterior RAMPS in well-selected left-sided pancreatic cancer: technical feasibility and interim results. Surg Endosc. 2011;25:2360–1.

9.

Sunagawa H, Harumatsu T, Kinjo S, Oshiro N. Ligament of Treitz approach in laparoscopic modified radical antegrade modular pancreatosplenectomy: report of three cases. Asian J Endosc Surg. 2014;7:172–4.

10.

Kim EY, Hong TH. Initial experience with laparoscopic radical antegrade modular pancreatosplenectomy for left-sided pancreatic cancer in a single institution: technical aspects and oncological outcomes. BMC Surg. 2017;17:2.

11.

Yamamoto M, Zaima M, Yamamoto H, Harada H, Kawamura J, Yamada M, et al. New laparoscopic procedure for left-sided pancreatic cancer-artery-first approach laparoscopic RAMPS using 3D technique. World J Surg Oncol. 2017;15:213.

12.

Ome Y, Hashida K, Yokota M, Nagahisa Y, Michio O, Kawamoto K. Laparoscopic radical antegrade modular pancreatosplenectomy for left-sided pancreatic cancer using the ligament of Treitz approach. Surg Endosc. 2017;31:4836–7.

13.

Ozkan U, Oğuzkurt L, Tercan F, Kizilkiliç O, Koç Z, Koca N. Renal artery origins and variations: angiographic evaluation of 855 consecutive patients. Diagn Interv Radiol. 2006;12:183–6.

14.

Urban BA, Ratner LE, Fishman EK. Three-dimensional volume-rendered CT angiography of the renal arteries and veins: normal anatomy, variants, and clinical applications. Radiographics. 2001;21:373–86 (questionnaire 549–55).

15.

Miotto D, De Toni R, Pitter G, Seccia TM, Motta R, Vincenzi M, et al. Impact of accessory hepatic veins on adrenal vein sampling for identification of surgically curable primary aldosteronism. Hypertension. 2009;54:885–9.

16.

Nagakawa Y, Sahara Y, Hosokawa Y, Takishita C, Kasuya K, Tsuchida A. The straightened splenic vessels method improves surgical outcomes of laparoscopic distal pancreatectomy. Dig Surg. 2017;34:289–97.

17.

Japan Pancreas Society. Classification of pancreatic carcinoma. 1st ed. Tokyo: Kanehara; 1996.
Acknowledgements
The authors received no financial support for the research, authorship, and/or publication of this article.
Ethics declarations
Conflict of interest
The authors have no conflicts of interest to declare.
Ethical approval
This study was approved by the institutional review board of Tokyo Medical University (number: 2018-016).
Additional information
Publisher's Note
Springer Nature remains neutral with regard to jurisdictional claims in published maps and institutional affiliations.
About this article
Cite this article
Nishino, H., Nagakawa, Y., Takishita, C. et al. Safe exposure of the left renal vein during laparoscopic distal pancreatectomy for pancreatic ductal adenocarcinoma: anatomical variations and pitfalls. Surg Today (2020). https://doi.org/10.1007/s00595-020-02053-z
Received:

Accepted:

Published:
Keywords
Pancreatic adenocarcinoma

Laparoscopic distal pancreatectomy

Left renal vein

Left renal artery

Posterior dissection