Abstract
Purpose
In rectal cancer surgery, an insufficient distal margin (DM) is associated with a high risk of local recurrence, whereas an excessive DM will cause low anterior resection syndrome, impairing quality of life. This study aimed to identify the factors that affect the distance between the colorectal resection site and the tumor to optimize achieving the correct DM.
Methods
The subjects of this study were 219 patients who underwent resection for primary rectal cancer in our department between January 2006 and July 2014. According to Japanese guidelines, DM (rDM) was based on the tumor location, but the pathological DM (pDM) was measured from surgical specimens. The patients were divided into two groups: the pDM-less-than-rDM group (pDM < rDM) and the pDM-greater-or-equal-to-rDM group (pDM ≥ DM). The factors associated with the DM in the two groups were compared.
Results
In the pDM < rDM group, the tumor distance from the anal verge was shorter (p = 0.001) and significantly more patients underwent laparotomy (p = 0.047).
Conclusion
The DM tended to be shorter than that planned by the surgeon in patients with lower rectal cancers and those treated by laparotomy,; therefore, when performing rectal resection, care must be taken to ensure that the pDM is not shorter than the rDM.
This is a preview of subscription content, log in to check access.
Access options
Buy single article
Instant access to the full article PDF.
US$ 39.95
Price includes VAT for USA
Subscribe to journal
Immediate online access to all issues from 2019. Subscription will auto renew annually.
US$ 99
This is the net price. Taxes to be calculated in checkout.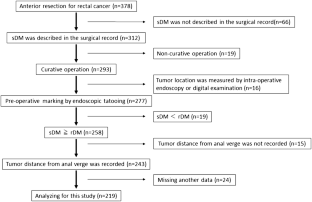 References
1.

Nash GM, Weiss A, Dasgupta R, Gonen M, Guillem JG, Eong WD. Close distal margin and rectal cancer recurrence after sphincter-preserving rectal resection. Dis Colon Rectum. 2010;53(10):1365–73.

2.

Heald RJ, Husband EM, Ryall RD. The mesorectum in rectal cancer surgery—the clue to pelvic recurrence. Br J Surg. 1982;69:613–6.

3.

Shirouzu K, Isomoto H, Kakegawa T. Distal spread of rectal cancer and optical distal margin of resection for sphincter-preserving surgery. Cancer. 1995;76:388–92.

4.

Ono C, Yoshinaga K, Enomoto M, Sugihara K. Discontinuous rectal cancer spread in the mesorectum and the optimal distal clearance margin in situ. Dis Colon Rectum. 2002;45:742–9.

5.

Zhao GP, Zhou ZG, Lei WZ, Yu YY, Wang C, Wang Z, et al. Pathological study of distal mesorectal cancer spread to determine a proper distal resection margin. World J Gastroenterol. 2005;11:319–22.

6.

Scott N, Jackson P, Al-Jaberi T, Dixon MF, Quirke P, Finan PJ. Total mesorectal excision and local recurrence: a study of tumour spread in the mesorectum distal to rectal cancer. Br J Surg. 1995;82:1031–3.

7.

Reynolds JV, Joyce WP, Dolan J, Sheahan K, Hyland JM. Pathological evidence in support of total mesorectal excision in the management of rectal cancer. Br J Surg. 1996;83:1112–5.

8.

Grinnel RS. Distal intramural spread of carcinoma of the rectum and rectosigmoid. Surg Gynecol Obstet. 1954;99:421–30.

9.

Nakagoe T, Yamaguchi E, Tanaka K, Sawai T, Tsuji T, Shibasaki S, et al. Distal intramural spread is an independent prognostic factor for distant metastasis and poor outcome in patients with rectal cancer: a multivariate analysis. Ann Surg Oncol. 2003;10:163–70.

10.

Ueno H, Mochizuki H, Hashiguchi Y, Ishikawa K, Fujimoto H, Shinto E, et al. Preoperative parameters expanding the indication of sphincter preserving surgery in patients with advanced low rectal cancer. Ann Surg. 2004;239:34–42.

11.

Shimada Y, Takii Y, Murayama S, Ohta T. Intramural and mesorectal distal spread detected by whole-mount sections in the determination of optimal distal resection margin in patients undergoing surgery for rectosigmoid or rectal cancer without preoperative therapy. Dis Colon Rectum. 2011;54:1510–20.

12.

Loery AC, Simmang CL, Boulos P, Farmer KC, Finan PJ, Hyman N, et al. Consensus statement of definitions for anorectal physiology and rectal cancer. Dis Colon Rectum. 2001;44:915–9.

13.

Japanese Society for Cancer of the Colon and Rectum. Japanese classification of colorectal carcinoma. 8th ed. Tokyo: Kanehara & CO., LTD; 2013.

14.

Kakodkar R, Gupta S, Nundy S. Low anterior resection with total mesorectal excision for rectal cancer: functional assessment and factors affecting outcome. Colorectal Dis. 2006;8:650–6.

15.

Ekkarat P, Boonpipattanapong T, Tantiphlachiva K, Sangkhathat S. Factors determining low anterior resection syndrome after rectal cancer resection: a study in Thai patients. Asian J Surg. 2015;39:225–31.

16.

Lee MG, Chiu CC, Wang CC, Chang CN, Lee M, Hsu TC, Lee CC. Trends and outcomes of surgical treatment for colorectal cancer between 2004 and 2012- an analysisusing national inpatient database. Sci Rep. 2017. https://doi.org/10.1038/s41598-017-02224-y.

17.

Lacy AM, Garcia-Valdecasas JC, Delgado S, Castells A, Taurá P, Piqué JM, et al. Laparoscopy-assisted colectomy versus open colectomy for treatment of non-metastatic colon cancer: a randomised trial. Lancet. 2002;359:2224–9.

18.

Clinical Outcomes of Surgical Therapy Group. A comparison of laparoscopically assisted and open colectomy for colon cancer. N Engl J Med. 2004;350:2050–9.

19.

Colon cancer laparoscopic or open resection study group. Survival after laparoscopic surgery versus open surgery for colon cancer: long-term outcome of a randomised clinical trial. Lancet Oncol. 2009;10:44–52.

20.

Green BL, Marshall HC, Collinson F, Quirke P, Guillou P, Jayne DG, et al. Long-term follow-up of the Medical Research Council CLASICC trial of conventional versus laparoscopically assisted resection in colorectal cancer. Br J Surg. 2013;100:75–82.

21.

Bonjer HJ, Deijen CL, Abis GA, Cuesta MA, van der Pas MH, de Lange-de Klerk ES, COLOR II Study Group, et al. A randomized trial of laparoscopic versus open surgery for rectal cancer. N Engl J Med. 2015;372:1324–32.

22.

Jeong SY, Park JW, Nam BH, Kim S, Kang SB, Lim SB, et al. Open versus laparoscopic surgery for mid-rectal or low-rectal cancer after neoadjuvant chemoradiotherapy (COREAN trial): survival outcomes of an open-label, non-inferiority, randomized controlled trial. Lancet Oncol. 2014;15:767–74.

23.

Fleshman J, Branda M, Sargent DJ, Boller AM, George V, Abbas M, et al. Effect of laparoscopic-assisted resection vs open resection of stage II or III rectal cancer on pathologic outcomes: the ACOSOG Z6051 randomized clinical trial. JAMA. 2015;314:1346–55.

24.

Kirchoff DD, Hang JH, Cekic V, Baxter K, Shehebar J, Holzman K, et al. Endoscopic tattooing to mark distal margin for low anterior rectal and select sigmoid resection. Surg Innov. 2014;21:376–80.

25.

Vernava AM 3rd, Moran M, Rothenberg DA, Wong WD. A prospective evaluation of distal margins in carcinoma of the rectum. Surg Gynecol Obstet. 1992;175:333–6.

26.

Kim YW, Kim NK, Min BS, Huk H, Kim JS, Kim JY, et al. Factors associated with anastomotic recurrence after total mesorectal excision in rectal cancer patients. J Surg Oncol. 2009;99:58–64.

27.

Moore HG, Riedel E, Minsky BD, Saltz L, Paty P, Wong D, et al. Adequacy of 1-cm distal margin after restorative rectal cancer resection with sharp mesorectal excision and preoperative combined-modality therapy. Ann Surg Oncol. 2003;10:80–5.

28.

Rutkowski A, Bujko K, Nowacki MP, Chmielik E, Nasierowska-Guttmejer A, Wojnar A, Polish Colorectal Study Group. Distal bowel surgical margin shorter than 1 cm after preoperative radiation for rectal cancer: Is it safe? Ann Surg Oncol. 2008;15:3124–31.

29.

Rutkowski A, Nowacki MP, Chwalinski M, Oledzki J, Bednarczyk M, Liszka-Dalecki P, et al. Acceptance of a 5-mm distal bowel resection margin for rectal cancer: Is it safe? Colorectal Dis. 2012;14:71–8.
Ethics declarations
Conflict of interest
Makoto Kosuge and the co-authors of this study have no conflict of interest to declare.
Additional information
Publisher's Note
Springer Nature remains neutral with regard to jurisdictional claims in published maps and institutional affiliations.
About this article
Cite this article
Kosuge, M., Eto, K., Sasaki, S. et al. Clinical factors affecting the distal margin in rectal cancer surgery. Surg Today 50, 743–748 (2020). https://doi.org/10.1007/s00595-020-01959-y
Received:

Accepted:

Published:

Issue Date:
Keywords
Rectal cancer

Distal margin

Laparoscopic surgery

Endoscopic marking