Abstract
Aim
The study evaluated the effect of different concentrations of sildenafil-containing ointment on wound healing in healthy and streptozotocin (STZ)-induced diabetic rats.
Methods
A total of 108 Sprague Dawley male rats aged 5 months were randomly divided into two groups: healthy and diabetes-inducing rats. Following induction of diabetes by intraperitoneal STZ injection (55 mg/kg), diabetic and healthy rats were subdivided into six groups (9 rats each). Linear incisions of the dorsal backs of rats were made. Then, rats were treated twice daily with either 2%, 2% + Fucidin, 5% sildenafil-containing ointments, oral sildenafil (13.0 mg/kg), moist exposed burn ointment or vehicle. During treatment, the percent reduction of the wound area and tensile strength were measured on days 3, 7 and 10. Furthermore, histopathology was performed on the wounded skin on similar days for the assessment of collagen synthesis and proliferation of new capillary vessels.
Results
In healthy and STZ-induced diabetic rats, the percent reduction in wound area on day 3 was significantly higher in sildenafil-containing ointment-treated groups than all other groups, whereas on day 7 only the 5% sildenafil-containing ointment-treated group showed better response in healthy rats. Although the sildenafil-containing ointment significantly showed better tensile strength than all other groups, the 5% sildenafil-treated group significantly enhanced the tensile better than the 2% and 2% + Fucidin dose. Furthermore, the histological evaluation revealed that sildenafil-containing ointment promoted collagen synthesis and proliferation of new capillary vessels.
Conclusion
Our results suggest that sildenafil-containing ointment can provide an advantage in wound healing by promoting wound contractions and resistance to wound breakage in healthy and diabetic conditions. Therefore, 5% sildenafil-containing ointment can be used as a support factor for wound healing in healthy and diabetic conditions; however, clinical trials are required to confirm the benefits of sildenafil in wound healing.
This is a preview of subscription content, log in to check access.
Access options
Buy single article
Instant access to the full article PDF.
US$ 39.95
Price includes VAT for USA
Subscribe to journal
Immediate online access to all issues from 2019. Subscription will auto renew annually.
US$ 99
This is the net price. Taxes to be calculated in checkout.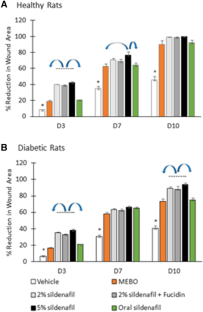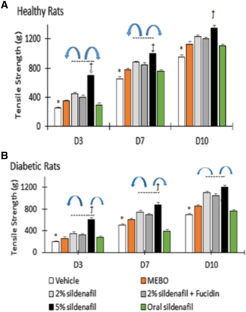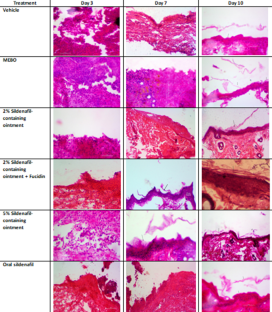 References
1.

Hamed S, Ullmann Y, Masoud M, Hellou E, Khamaysi Z, Teot L (2010) Topical erythropoietin promotes wound repair in diabetic rats. J Invest Dermatol 130:287–294

2.

Toker S, Gulcan E, Cayc MK, Olgun EG, Erbilen E, Ozay Y (2009) Topical atorvastatin in the treatment of diabetic wounds. Am J Med Sci 338:201–204

3.

Meireles GC, Santos JN, Chagas PO, Moura AP, Pinheiro AL (2008) Effectiveness of laser photobiomodulation at 660 or 780 nanometers on the repair of third-degree burns in diabetic rats. Photomed Laser Surg 26:47–54

4.

Fahey TJ, Sadaty A, Jones WG, Barber A, Smoller B, Shires GT (1991) Diabetes impairs the late inflammatory response to wound healing. J Surg Res 50:308–313

5.

Qunaibi EA, Disi AM, Taha MO (2009) Phenytoin enhances collagenization in excision wounds and tensile strength in incision wounds. Pharmazie 64:584–586

6.

Singer A, Clark R (1999) Cutaneous wound healing. N Engl J Med 341:738–746

7.

Martin P (1997) Wound healing-aiming for perfect skin regeneration. Science 276:75–81

8.

Efron DT, Most D, Barbul A (2000) Role of nitric oxide in wound healing. Curr Opin Clin Nutr Metab Care 3:197–204

9.

Ziche M, Morbidelli L, Masini E, Amerini S, Grance HJ, Maggi CA (1994) Nitric-oxide mediates angiogenesis in vivo and endothelial cell growth and migration in vitro promoted by substance P. J Clin Invest 94:2036–2044

10.

Kamer E, Unalp HR, Tarcan E, Diniz G, Atahan K, Ortac R (2008) Effect of hyaluronic acid-carboxymethylcellulose adhesion barrier on wound healing: an experimental study. Wounds 20:265–272

11.

Diegelmann RF, Evans MC (2004) Wound healing: an overview of acute, fibrotic and delayed healing. Front Biosci 9:283–289

12.

Carmeliet P (2003) Angiogenesis in health and disease. Nat Med 9:653–660

13.

El-Wakeel LM, Fouad FA, Saleem MD, Saber-Khalaf M (2019) Efficacy and tolerability of sildenafil/l -arginine combination relative to sildenafil alone in patients with organic erectile dysfunction. Andrology. https://doi.org/10.1111/andr.12671

14.

Serin M, Altinel D, Leblebici C et al (2018) Preoperative subcutaneous sildenafl injection increases random flap survival in rats. Acta Cir Bras 33:216–222

15.

Simsek T, Ersoy ÖF, Özsoy Z et al (2018) Efect of sildenafl citrate on the liver structure and function in obstructive jaundice: an experimental study. Turk J Surg 34:111–116. https://doi.org/10.5152/turkjsurg.2018.3771

16.

Kulshrestha S, Chawla R, Alam T, Adhikari JS, Basu M (2019) Efficacy and dermal toxicity analysis of sildenafil citrate based topical hydrogel formulation against traumatic wounds. Biomed Pharmacother 112:108571. https://doi.org/10.1016/j.biopha.2019.01.032

17.

Tas A, Atasoy N, Ozbek H et al (2003) The effects of sildenafil citrate (Viagra) in the early phase of healing process in open wounds in dogs. Acta Vet Brno 72:273–277

18.

National Research Council (US), Institute of Laboratory Animal Resources (US) (1985) Committee on the Care and Use of Laboratory Animals, United States. Department of Health and Human Services, National Institutes of Health (US) Guide for the Care and Use of Laboratory Animals: NIH Publication No. 86-23, revised. Bethesda, Maryland, p. 83

19.

Al-Matubsi HY, Salim MD, El-Sharaky AS et al (2010) Activities of cyclooxygenases, and levels of prostaglandins E2 And F2 alpha, in fetopathy associated with experimental diabetic gestation. Diabetes Metab 36:43–50. https://doi.org/10.1016/j.diabet.2009.06.009

20.

Sabale V, Kunjwani H, Sabale P (2011) Formulation and in vitro evaluation of the topical antiageing preparation of the fruit of Benincasa hispida. J Ayurveda Integr Med 2:124–128. https://doi.org/10.4103/0975-9476.85550

21.

Ajwee DM, Disi AM, Qunaibi EA, Taha MO (2012) Ethosuximide and phenobarbital promote wound healing via enhancing collagenization. Chem Biol Drug Des 79:137–142. https://doi.org/10.1111/j.1747-0285.2011.01105.x

22.

Vaisberg AJ, Milla M, Planas MC et al (1989) Taspine is the cicatrizant principle in Sangre de Grado extracted from Croton lechleri. Planta Med 55:140–143

23.

Khan AW, Kotta S, Ansari SH, Sharma RK, Amit Kumar A, Ali J (2013) Formulation development, optimization and evaluation of aloevera gel for wound healing. Pharmacogn Mag 9:S6–S10. https://doi.org/10.4103/0973-1296.117849

24.

Jamshidzadeh A, Azarpira N (2011) The effects of topical sildenafil on wound healing in rat. Iran. J. Pharm. Sci. 7:43–48

25.

Hassan SW, Abubakar MG, Umar RA, Yakubu AS, Maishanu HM, Ayeni G (2011) Pharmacological and toxicological properties of leaf extracts of Kingelia africana (Bignoniaceae). Pharmacol Toxicol 6:124–132

26.

Li J, Chen J, Kirsner R (2007) Pathophysiology of acute wound healing. Clin Dermatol 25:9–18

27.

Udupa AL, Kulkarni DR, Udupa SL (1995) Effect of Tridax procumbens extracts on wound healing. IJP 33:37–40

28.

Cooper D, Yu E, Hennessey P, Ko F, Robson M (1994) Determination of endogenous cytokines in chronic wounds. Ann Surg 219:688–691

29.

Szpaderska AM, DiPietro LA (2005) Inflammation in surgical wound healing: friend or foe? Surgery 2005(137):571–573

30.

Pan LR, Tang Q, Fu Q, Hu BR, Xiang JZ, Qian JQ (2005) Roles of nitric oxide in protective effect of berberine in ethanolinduced gastric ulcer mice. Acta Pharmacol Sin 26:1334–1338

31.

Munoz-Torres M, Jodar E, Escobar-Jimenez F, Lopez-Ibarra PJ, Luna JD (1996) Bone mineral density measured by dual X-ray absorptiometry in Spanish patients with insulin-dependent diabetes mellitus. Calcif Tissue Int 58:316–319

32.

Loder RT (1988) The influence of diabetes mellitus on the healing of closed fractures. Clin Orthop Relat Res 232:210–216

33.

Tas A, Karasu A, Comba B, Aksu DS, Duz E, Tanritanir P (2011) Effects of sildenafil citrate on the hematological parameters in the early phase of wound healing in diabetic rats. Asian J Anim Vet Adv 6:290–296

34.

Calnan J, Fry HJF (1962) Wound healing in rats with the antibiotic fucidic acid. Br J Pharmacol Chemother 19:321–323

35.

Perk H, Armagan A, Nazıroğlu M et al (2008) Sildenafil citrate as a phosphodiesterase inhibitor has an antioxidant effect in the blood of men. J Clin Pharm Ther 33:635–640. https://doi.org/10.1111/j.1365-2710.2008.00962.x

36.

Irkorucu O, Tascilar O, Cakmak GK et al (2008) The effect of sildenafil on an animal model for ischemic colitis. Dig Dis Sci 53:1618–1623

37.

Irkorucu O, Ucan BH, Cakmak GK et al (2009) Does sildenafil reverse the adverse effects of ischemia on ischemic colon anastomosis: yes, 'no'. Int J Surg 7:39–43. https://doi.org/10.1016/j.ijsu.2008.10.003

38.

Derici H, Kamer E, Unalp HR et al (2010) Effect of sildenafil on wound healing: an experimental study. Langenbecks Arch Surg 395:713–718

39.

Cakmak E, Karasoy Yesilada A, Sevim KZ, Sumer O, Tatlidede HS, Sakiz D (2014) Effect of sildenafil citrate on secondary healing in full thickness skin defects in experiment. Bratisl Lek Listy 115:267–271
Acknowledgements
We thank University of Petra Pharmaceutical Center (UPPC) and Ms. Hana Khalaf for her valuable help in performing the histological work.
Funding
This work was funded by a grant from the Deanship of Academic Research at the University of Petra (15-4/2018).
Ethics declarations
Conflict of interest
The authors declare that they have no competing interests.
Ethical approval
This study was performed in line with the principles of the Declaration of Helsinki. Approval was granted by the Ethics Committee of Al-Ahliyya Amman University (AAU; number AAU-Pharm-09-2018).
Informed consent
This study did not involve human participants so informed consent were not needed.
Additional information
Publisher's Note
Springer Nature remains neutral with regard to jurisdictional claims in published maps and institutional affiliations.
Managed By Massimo Porta.
About this article
Cite this article
Abu Dayyih, W., Abu Rayyan, W. & Al-Matubsi, H.Y. Impact of sildenafil-containing ointment on wound healing in healthy and experimental diabetic rats. Acta Diabetol (2020). https://doi.org/10.1007/s00592-020-01562-0
Received:

Accepted:

Published:
Keywords
Sildenafil ointment

Wound healing

Diabetic

Tensile strength