Abstract
Purpose
The purpose of this study was to analyse the anatomic course of the radial nerve (RN) in the arm, in order to minimize the potential risk of surgical injury.
Methods
The study was performed in 19 embalmed upper extremities of 11 adult human cadavers. We measured: distance from deltoid insertion (DI) into the humerus to lateral epicondyle (LE); distance from RN piercing point into the lateral intermuscular septum (LIS) to three other points—DI, LE and RN division into superficial and deep terminal branches; distance between the LE and the RN division. To assess variability, we correlated the distances between the landmarks to the overall length of the arm.
Results
The RN was found to pierce the LIS within 31.6 mm of the most distal DI into the humerus. The mean distance between the entry point of RN in the LIS and the LE was 107.2 mm. The mean distance between RN perforating point in the LIS and RN division in its terminal branches was 86.4 mm. The DI-LE and the LIS-LE showed a moderate positive correlation with the length of the arm.
Conclusion
We describe the DI relationship to the RN course and also report its proportion within overall arm length which has not been previously described. Using the arm length as reference, our results show that RN can be found to perforate on the LIS at a point distal to the DI by 11% and proximal to the LE by 38%.
Access options
Buy single article
Instant access to the full article PDF.
US$ 39.95
Tax calculation will be finalised during checkout.
Subscribe to journal
Immediate online access to all issues from 2019. Subscription will auto renew annually.
US$ 79
Tax calculation will be finalised during checkout.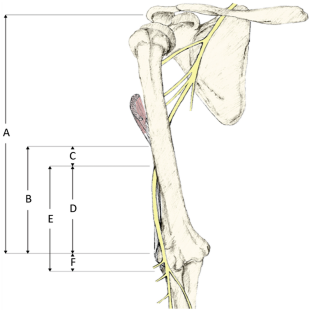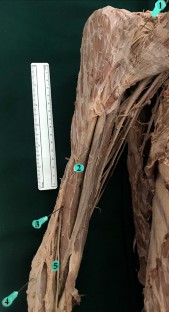 References
1.

Bono CM, Grossman MG, Hochwald N, Tornetta P (2000) Radial and axillary nerves. anatomic considerations for humeral fixation. Clin Orthop Relat Res 373:259–264

2.

Carlan D, Pratt J, Patterson JM, Weiland AJ, Boyer MI, Gelberman RH (2007) The radial nerve in the brachium: an anatomic study in human cadavers. J Hand Surg Am 32:1177–1182

3.

Wang JP, Shen WJ, Chen WM, Huang CK, Shen YS, Chen TH (2009) Iatrogenic radial nerve palsy after operative management of humeral shaft fractures. J Trauma 66:800–803

4.

Romanes GJ (1981) Cunningham's textbook Of anatomy. Oxford University Press, New York

5.

Tank P (2013) Grant's Dissector. Wolters Kluwer | Lippincott Williams & Wilkins, London.

6.

Standring S (2016) Gray's anatomy - the anatomical basis of clinical practice. Elsevier Limited, London

7.

Chang G, Ilyas AM (2018) Radial nerve palsy after humeral shaft fractures: the case for early exploration and a new classification to guide treatment and prognosis. Hand Clin 34:105–112

8.

Park KJ, Romero BA, Ahmadi S (2019) Identification of radial nerve in relationship to deltoid tuberosity and brachioradialis. Arch Bone Jt Surg 7:246–250

9.

Seigerman DA, Choung EW, Yoon RS, Lu M, Frank MA, Gaines LC et al (2012) Identification of the radial nerve during the posterior approach to the humerus: a cadaveric study. J Orthop Trauma 26:226–228

10.

Cox CL, Riherd D, Tubbs RS, Bradley E, Lee DH (2010) Predicting radial nerve location using palpable landmarks. Clin Anat 23:420–426

11.

Guse TR, Ostrum RF (1995) The surgical anatomy of the radial nerve around the humerus. Clin Orthop Relat Res 320:149–153

12.

Fleming P, Lenehan B, Sankar R, Folan-Curran J, Curtin W (2004) One-third, two-thirds: relationship of the radial nerve to the lateral intermuscular septum in the arm. Clin Anat 17:26–29

13.

Chou PH, Shyu JF, Ma HL, Wang ST, Chen TH (2008) Courses of the radial nerve differ between chinese and Caucasians: clinical applications. Clin Anat 466:135–138

14.

Artico M, Telera S, Tiengo C, Stecco C, Macchi V, Porzionato A et al (2009) Surgical anatomy of the radial nerve at the elbow. Surg Radiol Anat 31:101–106

15.

Wegmann K, Lappen S, Pfau DB, Neiss WF, Muller LP, Burkhart KJ (2014) Course of the radial nerve in relation to the center of rotation of the elbow–the need for a rational safe zone for lateral pin placement. J Hand Surg Am 39:1136–1140

16.

Sukegawa K, Kuniyoshi K, Suzuki T, Matsuura Y, Onuma K, Kenmoku T et al (2018) Effects of the elbow flexion angle on the radial nerve location around the humerus: cadaver study for safe installation of a hinged external fixator. J Hand Surg Asian Pac 23:388–394

17.

Hackl M, Lappen S, Burkhart KJ, Leschinger T, Scaal M, Muller LP et al (2015) Elbow positioning and joint insufflation substantially influence median and radial nerve locations. ClinOrthopRelat Res 473:3627–3634

18.

Van Sint JS, Van Nguyen D, Rooze M (2008) Quantified relationships of the radial nerve with the radial groove and selected humeral landmarks. Surg Radiol Anat 30:627–631

19.

Patra A, Chaudhary P, Malhotra V, Arora K (2020) Identification of most consistent and reliable anatomical landmark to locate and protect radial nerve during posterior approach to humerus: a cadaveric study. Anat Cell Biol 53:132–136
Funding
This work was supported by ERDF through the operation POCI-01- 0145-FEDER-007746 funded by the Programa Operacional Competitividade e Internacionalização – COMPETE2020 and by National Funds through FCT—Fundação para a Ciência e a Tecnologia within CINTESIS, R&D Unit (reference UID/IC/4255/2013).
Ethics declarations
Conflict of interest
The author(s) declare that they have no competing interests.
Data availability
Each author certifies that her or his institution approved or waived approval for the human protocol for this investigation and that all investigations were conducted in conformity with ethical principles of research.
Additional information
Publisher's Note
Springer Nature remains neutral with regard to jurisdictional claims in published maps and institutional affiliations.
About this article
Cite this article
Sapage, R., Pereira, P.A., Vital, L. et al. Surgical anatomy of the radial nerve in the arm: a cadaver study. Eur J Orthop Surg Traumatol (2021). https://doi.org/10.1007/s00590-021-02916-2
Received:

Accepted:

Published:
Keywords
Anatomy

regional

Arm

Cadaver

Humerus

Radial nerve