Abstract
Purpose
Progressive early-onset scoliosis raises major challenges for surgeons, as growth must be preserved. With traditional growing rods, the need for repeated surgery is associated with numerous complications, high costs, and heavy psychosocial burden on the patient and family. We assessed the safety and efficacy of a new one-way self-expanding rod (OWSER).
Methods
This prospective single-centre phase 2 study included two groups of children with progressive EOS treated by the OWSER in 2016–2017: Ten received a unilateral construct to treat progressive non-neuromuscular curves and 10 others a bilateral construct for neuromuscular scoliosis. Clinical and radiological data were assessed at surgery and 3, 6, 12, 18 months later. The primary endpoint was success defined as the absence of repeated surgery at 12 months.
Results
In the non-neuromuscular group, rod expansion occurred in 5 of 10 patients [95% CI 19–81]; in the five other patients, rotational conflict inside the domino prevented rod expansion, four of them required surgery within the first 12 months. Rod expansion occurred spontaneously and during monthly traction sessions in all 10 neuromuscular patients [95% CI 69–100], without mechanical or device-related complications. Residual pelvic obliquity was improved by −3° [− 6.0 to 9.5] at 18 months. Lung function improved in the non-neuromuscular group.
Conclusion
In neuromuscular diseases, the OWSER bilateral construct seems to be safe and less aggressive. Used as unilateral construct in non-neuromuscular group, it was less effective. Accordingly, we recommend the bilateral construct for all aetiologies. That device could avoid further surgery and reduce the rate of complications after long follow-up.
Access options
Buy single article
Instant access to the full article PDF.
US$ 39.95
Tax calculation will be finalised during checkout.
Subscribe to journal
Immediate online access to all issues from 2019. Subscription will auto renew annually.
US$ 119
Tax calculation will be finalised during checkout.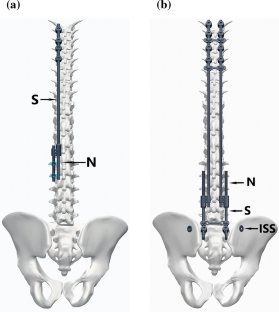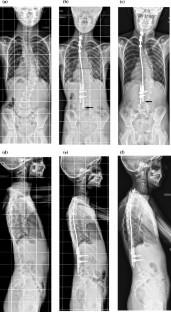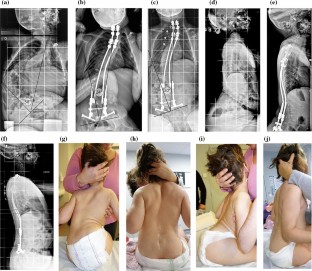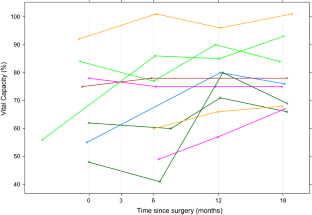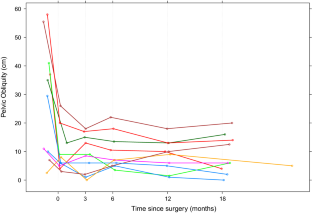 References
1.

Skaggs DL, Akbarnia BA, Flynn JM et al (2014) A Classification of growth friendly spine implant. J Pediatr Orthop 34(3):260–274

2.

Thompson GH, Akbarnia BA, Campbell RM Jr (2007) Growing rod techniques in early-onset scoliosis. J Pediatr Orthop 27:354–361

3.

Pratt RK, Webb JK, Burwell RG, Cummings SL (1999) Luque trolley and convex epiphysiodesis in the management of infantile and juvenile idiopathic scoliosis. Spine 24(15):1538–1547

4.

Ouellet J (2011) Surgical technique: modern Luque trolley, a self-growing rod technique. Clin Orthop Relat Res 469(5):1356–1367

5.

McCarthy RE, Luhmann S, Lenke L, McCullough FL (2014) The shilla growth guidance technique for early-onset spinal deformities at 2-year follow-up: a preliminary report. J Pediatr Orthop 34(1):1–7

6.

Andras LM, Joiner ERA, McCarthy RE, McCullough L, Luhmann SJ, Sponseller PD, Emans JB, Barrett KK, Skaggs DL, GSSG. (2015) Growing rods versus shilla growth guidance: better cobb angle correction and T1–S1 length increase but more surgeries. Spine Deform 3:246–252

7.

Cheung KM-C, Cheung JP-Y, Samartzis D et al (2012) Magnetically controlled growing rods for severe spinal curvature in young children: a prospective case series. Lancet 379:1967–1974

8.

Teoh KH, Winson DMG, James SH et al (2016) Magnetic controlled growing rods for early-onset scoliosis: a 4-year follow-up. Spine J 16:S34–S39

9.

Thompson W, Thakar C, Rolton DJ et al (2016) The use of magnetically controlled growing rods to treat children with early-onset scoliosis: early radiological results in 19 children. Bone Jt J 98B:1240–1247

10.

Lebon J, Batailler C, Wargny M et al (2017) Magnetically controlled growing rod in early onset scoliosis: a 30-case multicenter study. Eur Spine J 26:1567–1576

11.

Teoh KH, Winson DMG, James SH et al (2016) Do magnetic growing rods have lower complication rates compared with conventional growing rods? Spine J 16:S40–S44

12.

Teoh KH, von Ruhland C, Evans SL et al (2016) Metallosis following implantation of magnetically controlled growing rods in the treatment of scoliosis: a case series. Bone Jt J 98(12):1662–1667

13.

Choi E, Yazsay B, Mundis G et al (2017) Implant complications after magnetically controlled growing rods for early onset scoliosis: a multicenter retrospective review. J Pediatr Orthop 37:e588–e592

14.

Kwan KYH, Alanay A, Yazici M et al (2017) Unplanned reoperations in magnetically controlled growing rod surgery for early onset scoliosis with a minimum of two-year follow-up. Spine 42:E1410-4

15.

Cheung JPY, Yiu KKL, Samartzis D et al (2017) Rod lengthening with the magnetically controlled growing rod: factors influencing rod slippage and reduced gains during distractions. Spine 43(7):E399–E405

16.

Thakar C, Kieser DC, Mardare M et al (2018) Systematic review of the complications associated with magnetically controlled growing rods for the treatment of early onset scoliosis. Eur Spine J 27:2061–2071

17.

Subramanian T, Ahmad A, Mardare DM et al (2018) A six-year observational study of 31 children with early-onset scoliosis treated using magnetically controlled growing rods with a minimum follow-up of two years. Bone Jt J 100(9):1187–1200

18.

Miladi L, Journe A, Mousny M (2013) H3S2 (3 hooks, 2 screws) construct: a simple growing rod technique for early onset scoliosis. Eur Spine J 22(2):S96-105

19.

Miladi L, Gaume M, Khouri N et al (2018) Minimally invasive surgery for neuromuscular scoliosis: results and complications in a series of one hundred patients. Spine 43(16):E968–E975

20.

Akbarnia BA, Breakwell LM, Marks DS et al (2008) Dual growing rod technique followed for three to eleven years until final fusion: the effect of frequency of lengthening. Spine 33:984–90

21.

Bess S, Akbarnia BA, Thompson GH et al (2010) Complications of growing-rod treatment for early-onset scoliosis: analysis of one hundred and forty patients. J Bone Jt Surg Am 92:2533–2543

22.

Watanabe K, Uno K, Suzuki T et al (2013) Risk factors for complications associated with growing-rod surgery for early-onset scoliosis. Spine 38:E464-8

23.

Sankar WN, Skaggs DL, Yazici M et al (2011) Lengthening of dual growing rods and the law of diminishing returns. Spine 36:806–9

24.

Cahill PJ, Marvil S, Cuddihy L et al (2010) Autofusion in the immature spine treated with growing rods. Spine 35:E1199-203
Acknowledgements
We thank the Assistance Publique Hôpitaux de Paris who sponsored the study protocol.
We thank Euros Company the manufacturer who donated the OWSER devices and contributed financially to the study. We thank Christophe Glorion and Vicken Topouchian for their participation in surgical procedures. We are grateful to the Clinical Research Unit team of Necker-Cochin Hospitals Group, especially Elodie Henry, Laure Choupeaux, and Loreto Naya Aquilue. We are also indebted to the rehabilitation team of Necker Hospital, for their help with managing the patients. We thank the patients and their families for their agreement and collaboration. We also thank Antoinette Wolfe for its help for manuscript redaction.
Funding
Euros Company (La Ciotat, France), the company that manufactures the device used in this clinical trial, funded the study. Euros Company had no role in designing the study, collecting the data, analysing or interpreting the findings, writing the study report, or deciding to submit the study report for publication. No authors of this paper received any financial or nonfinancial benefits in relation with this study.
Ethics declarations
Conflict of interest
Lotfi MILADI has intellectual property rights with Euros Company. All other authors declare that they have no conflict of interest.
IRB approval
The Regional Ethics Committee (N° 2014-06-10) and National Drug Safety Agency (ANSM, DMTCOS/DMTCHIR/LAB/2014-A01043-44-A) approved the study. All parents or guardians provided written informed consent. The study was registred on ClinicalTrials.gov (NCT02266667).
Additional information
Publisher's Note
Springer Nature remains neutral with regard to jurisdictional claims in published maps and institutional affiliations.
About this article
Cite this article
Miladi, L., Khouri, N., Pradon, J. et al. One-way self-expanding rod for early-onset scoliosis: early results of a clinical trial of 20 patients. Eur Spine J (2021). https://doi.org/10.1007/s00586-021-06732-4
Received:

Revised:

Accepted:

Published:
Keywords
Growing rods

One-way self-expanding rod

Neuromuscular scoliosis

Early-onset scoliosis

Bipolar technique