Abstract
Purpose
Recent animal studies have discovered dysregulation of local inflammatory activity as a novel mechanism to explain fat and connective tissue accumulation in the multifidus muscle in association with intervertebral disc (IVD) degeneration/injury. This study aimed to test whether similar mechanisms are active in humans by investigation of whether expression of inflammatory genes in the multifidus muscle differed between individuals with low and high levels of intra-muscular fat in the muscle. The secondary aims were to compare inflammatory gene expression in the intra-muscular, subcutaneous and epidural fat between groups.
Methods
Muscle and fat were procured from 24 individuals undergoing spine surgery for IVD herniation. Gene expression was quantified using qPCR assays. Participants were allocated to high- and low-fat infiltration groups based on clinical assessment of multifidus fat using Kjaer grading of MRI.
Results
TNF expression in the multifidus muscle was greater in participants with high rather than low levels of fat infiltration. This group also had greater expression of leptin, but lower arginase-1 (marker of anti-inflammatory M2 macrophages) in intra-muscular and subcutaneous adipose tissue, and greater expression of TNF, adiponectin and nitric oxide synthase 2 (marker of pro-inflammatory M1 macrophages) in epidural fat.
Conclusion
The results support the hypothesis that IVD degeneration is associated with dysregulation of the inflammatory state of the local multifidus muscle, which provides initial evidence for translation of some, but not all, observations from recent animal studies to humans. Discovery of inflammatory dysregulation in epidural adipose tissue has potential for broad impact on tissue health and LBP symptoms.
This is a preview of subscription content, log in to check access.
Access options
Buy single article
Instant access to the full article PDF.
US$ 39.95
Price includes VAT for USA
Subscribe to journal
Immediate online access to all issues from 2019. Subscription will auto renew annually.
US$ 199
This is the net price. Taxes to be calculated in checkout.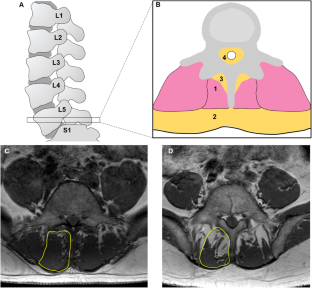 References
1.

Hodges PW, James G, Blomster L, Hall L, Schmid A, Shu C, Little C, Melrose J (2015) Multifidus muscle changes after back injury are characterized by structural remodeling of muscle, adipose and connective tissue, but not muscle atrophy: molecular and morphological evidence. Spine 40(14):1057–1071. https://doi.org/10.1097/brs.0000000000000972

2.

Danneels LA, Vanderstraeten GG, Cambier DC, Witvrouw EE, De Cuyper HJ (2000) CT imaging of trunk muscles in chronic low back pain patients and healthy control subjects. Eur Spine J Off Publ Eur Spine Soc Eur Spinal Deform Soc Eur Sect Cerv Spine Res Soc 9(4):266–272

3.

Hodges P, Holm AK, Hansson T, Holm S (2006) Rapid atrophy of the lumbar multifidus follows experimental disc or nerve root injury. Spine 31(25):2926–2933. https://doi.org/10.1097/01.brs.0000248453.51165.0b

4.

Hodges PW, James G, Blomster L, Hall L, Schmid AB, Shu C, Little C, Melrose J (2014) Can proinflammatory cytokine gene expression explain multifidus muscle fiber changes after an intervertebral disc lesion? Spine 39(13):1010–1017. https://doi.org/10.1097/brs.0000000000000318

5.

James G, Klyne DM, Millecamps M, Stone LS, Hodges PW (2019) ISSLS Prize in Basic science 2019: Physical activity attenuates fibrotic alterations to the multifidus muscle associated with intervertebral disc degeneration. Eur Spine J Off Publ Eur Spine Soc Eur Spinal Deform Soc Eur Sect Cerv Spine Res Soc. https://doi.org/10.1007/s00586-019-05902-9

6.

James G, Millecamps M, Stone LS, Hodges PW (2018) Dysregulation of the inflammatory mediators in the multifidus muscle after spontaneous intervertebral disc degeneration SPARC-null mice is ameliorated by physical activity. Spine 43(20):E1184–e1194. https://doi.org/10.1097/brs.0000000000002656

7.

James G, Sluka KA, Blomster L, Hall L, Schmid AB, Shu CC, Little CB, Melrose J, Hodges PW (2018) Macrophage polarization contributes to local inflammation and structural change in the multifidus muscle after intervertebral disc injury. Eur Spine J Off Publ Eur Spine Soc Eur Spinal Deform Soc Eur Sect Cerv Spine Res Soc 27(8):1744–1756. https://doi.org/10.1007/s00586-018-5652-7

8.

Shahidi B, Hubbard JC, Gibbons MC, Ruoss S, Zlomislic V, Allen RT, Garfin SR, Ward SR (2017) Lumbar multifidus muscle degenerates in individuals with chronic degenerative lumbar spine pathology. J Orthop Res Off Publ Orthop Res Soc 35(12):2700–2706. https://doi.org/10.1002/jor.23597

9.

Andrade P, Visser-Vandewalle V, Philippens M, Daemen MA, Steinbusch HW, Buurman WA, Hoogland G (2011) Tumor necrosis factor-alpha levels correlate with postoperative pain severity in lumbar disc hernia patients: opposite clinical effects between tumor necrosis factor receptor 1 and 2. Pain 152(11):2645–2652. https://doi.org/10.1016/j.pain.2011.08.012

10.

de Boer TN, van Spil WE, Huisman AM, Polak AA, Bijlsma JW, Lafeber FP, Mastbergen SC (2012) Serum adipokines in osteoarthritis; comparison with controls and relationship with local parameters of synovial inflammation and cartilage damage. Osteoarthr Cartil 20(8):846–853. https://doi.org/10.1016/j.joca.2012.05.002

11.

White DK, Wilson JC, Keysor JJ (2011) Measures of adult general functional status: SF-36 physical functioning subscale (PF-10), health assessment questionnaire (HAQ), modified health assessment questionnaire (MHAQ), Katz index of independence in activities of daily living, functional independence measure (FIM), and osteoarthritis-function-computer adaptive test (OA-Function-CAT). Arthritis Care Res 63(Suppl 11):S297–307. https://doi.org/10.1002/acr.20638

12.

Crawford RJ, Cornwall J, Abbott R, Elliott JM (2017) Manually defining regions of interest when quantifying paravertebral muscles fatty infiltration from axial magnetic resonance imaging: a proposed method for the lumbar spine with anatomical cross-reference. BMC Musculoskelet Disord 18(1):25. https://doi.org/10.1186/s12891-016-1378-z

13.

Kjaer P, Bendix T, Sorensen JS, Korsholm L, Leboeuf-Yde C (2007) Are MRI-defined fat infiltrations in the multifidus muscles associated with low back pain? BMC Med 5:2. https://doi.org/10.1186/1741-7015-5-2

14.

Hebert JJ, Kjaer P, Fritz JM, Walker BF (2014) The relationship of lumbar multifidus muscle morphology to previous, current, and future low back pain: a 9-year population-based prospective cohort study. Spine 39(17):1417–1425. https://doi.org/10.1097/brs.0000000000000424

15.

La Cava A (2017) Leptin in inflammation and autoimmunity. Cytokine 98:51–58. https://doi.org/10.1016/j.cyto.2016.10.011

16.

Skurk T, Alberti-Huber C, Herder C, Hauner H (2007) Relationship between adipocyte size and adipokine expression and secretion. J Clin Endocrinol Metab 92(3):1023–1033. https://doi.org/10.1210/jc.2006-1055

17.

Olmarker K, Larsson K (1998) Tumor necrosis factor alpha and nucleus-pulposus-induced nerve root injury. Spine 23(23):2538–2544

18.

Klyne DM, Barbe MF, van den Hoorn W, Hodges PW (2018) ISSLS prize in clinical science 2018: longitudinal analysis of inflammatory, psychological, and sleep-related factors following an acute low back pain episode-the good, the bad, and the ugly. Eur Spine J Off Publ Eur Spine Soc Eur Spinal Deform Soc Eur Sect Cerv Spine Res Soc 27(4):763–777. https://doi.org/10.1007/s00586-018-5490-7

19.

Genevay S, Finckh A, Payer M, Mezin F, Tessitore E, Gabay C, Guerne PA (2008) Elevated levels of tumor necrosis factor-alpha in periradicular fat tissue in patients with radiculopathy from herniated disc. Spine 33(19):2041–2046. https://doi.org/10.1097/BRS.0b013e318183bb86

20.

Wang K, Bao JP, Yang S, Hong X, Liu L, Xie XH, Wu XT (2016) A cohort study comparing the serum levels of pro- or anti-inflammatory cytokines in patients with lumbar radicular pain and healthy subjects. Eur Spine J Off Publ Eur Spine Soc Eur Spinal Deform Soc Eur Sect Cerv Spine Res Soc 25(5):1428–1434. https://doi.org/10.1007/s00586-015-4349-4

21.

Albrecht DS, Ahmed SU, Kettner NW, Borra RJH, Cohen-Adad J, Deng H, Houle TT, Opalacz A, Roth SA, Melo MFV, Chen L, Mao J, Hooker JM, Loggia ML, Zhang Y (2018) Neuroinflammation of the spinal cord and nerve roots in chronic radicular pain patients. Pain 159(5):968–977. https://doi.org/10.1097/j.pain.0000000000001171

22.

Fang H, Judd RL (2018) Adiponectin regulation and function. comprehensive. Physiology 8(3):1031–1063. https://doi.org/10.1002/cphy.c170046

23.

Wang Y, Wang X, Lau WB, Yuan Y, Booth D, Li JJ, Scalia R, Preston K, Gao E, Koch W, Ma XL (2014) Adiponectin inhibits tumor necrosis factor-α-induced vascular inflammatory response via caveolin-mediated ceramidase recruitment and activation. Circ Res 114(5):792–805. https://doi.org/10.1161/circresaha.114.302439

24.

Catrysse L, van Loo G (2018) Adipose tissue macrophages and their polarization in health and obesity. Cell Immunol 330:114–119. https://doi.org/10.1016/j.cellimm.2018.03.001

25.

Gaffney L, Warren P, Wrona EA, Fisher MB, Freytes DO (2017) Macrophages' role in tissue disease and regeneration. Results Probl Cell Differ 62:245–271. https://doi.org/10.1007/978-3-319-54090-0_10

26.

Ni L, Zheng Y, Gong T, Xiu C, Li K, Saijilafu LB, Yang H, Chen J (2019) Proinflammatory macrophages promote degenerative phenotypes in rat nucleus pulpous cells partly through ERK and JNK signaling. J Cell Physiol 234(5):5362–5371. https://doi.org/10.1002/jcp.27507

27.

Paul RF, Hassan M, Nazar HS, Gillani S, Afzal N, Qayyum I (2011) Effect of body mass index on serum leptin levels. J Ayub Med Coll Abbottabad JAMC 23(3):40–43

28.

Park HS, Park JY, Yu R (2005) Relationship of obesity and visceral adiposity with serum concentrations of CRP, TNF-alpha and IL-6. Diabetes Res Clin Pract 69(1):29–35. https://doi.org/10.1016/j.diabres.2004.11.007
Funding
PWH has a Senior Principal Research Fellowship from the National Health and Medical Research Council (NHMRC) of Australia (APP1102905). The study was partly funded by a NHMRC Program Grant (APP1091302). XC is supported by an Australian Government RTP award and by the ISSLS travelling Fellowship 2018. The funding source did not play any role in investigation.
Ethics declarations
Conflict of interest
There are no conflicts of interest related to this work.
Additional information
Publisher's Note
Springer Nature remains neutral with regard to jurisdictional claims in published maps and institutional affiliations.
About this article
Cite this article
James, G., Chen, X., Diwan, A. et al. Fat infiltration in the multifidus muscle is related to inflammatory cytokine expression in the muscle and epidural adipose tissue in individuals undergoing surgery for intervertebral disc herniation. Eur Spine J (2020). https://doi.org/10.1007/s00586-020-06514-4
Received:

Revised:

Accepted:

Published:
Keywords
Intervertebral disc herniation

Multifidus muscle

Fat infiltration

Pro-inflammatory cytokine

Tumour necrosis factor