Abstract
Purpose
Many patients receive magnetic resonance (MR) and computed tomography (CT) scans post-operatively to review screw placement. Traditionally, CT is diagnostic but as metal artefact reduction sequences are advancing in MR, the necessity for both MR and CT scans is questionable. The objective is to establish the statistical agreeability of MR and CT for evaluation of adequate screw placement in posterior lumbar interbody fusion.
Methods
This opportunistic retrospective study of 58 patients investigated 297 images of 296 implanted screws. Post-operative MR and CT images were scrutinised for depiction of lumbar pedicle screw position using a 5-point scale. Kappa value for statistical agreeability tested MR against CT.
Results
The 297 images of screws resulted in strong to near-perfect agreement between MR and CT (n = 297 k = 0.8042 p < 0.025). MRI resulted in high sensitivity (88.7%) and positive predictive value (78.3%). MRI demonstrated very high specificity (96.2%) and negative predictive value (98.2%). MR depicted screws (mean 12.6 mm diameter, mean 65.3 mm length) with 50% error in diameter and 30% in length from susceptibility artefact compared to manufacturer dimensions (6.5–7.5 mm diameter, 40–50 mm length). Adequate screw placement was high despite this (85.8%). On MR, the cortex border visibility was 60.7% and the spinal canal visibility was 74.6%.
Conclusion
There is strong to near-perfect agreement between MR and CT for evaluating adequate screw position in PLIF surgery. MR alone is useful for analyzing screw placement and should be considered first-line imaging in uncomplicated cases with CT analysis reserved for cases of uncertainty.
Level of evidence
Level III retrospective cohort study.
Access options
Buy single article
Instant access to the full article PDF.
US$ 39.95
Tax calculation will be finalised during checkout.
Subscribe to journal
Immediate online access to all issues from 2019. Subscription will auto renew annually.
US$ 119
Tax calculation will be finalised during checkout.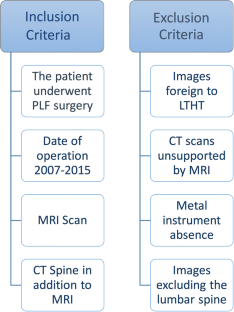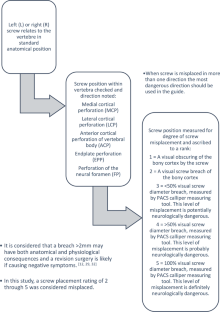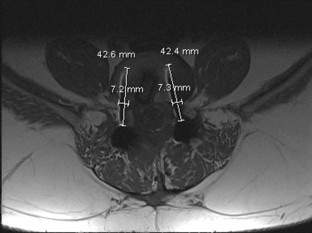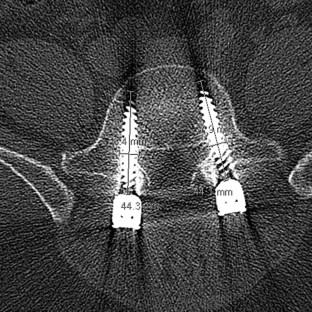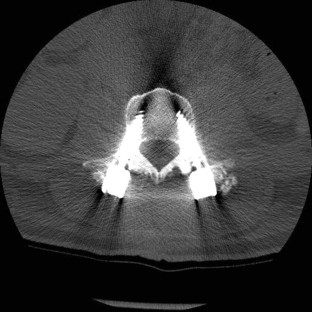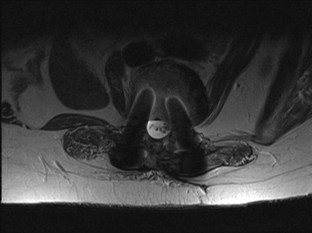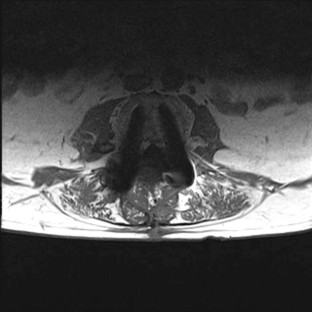 References
1.

Roy-Camille R, Mazel C, Saillant G (1986) Internal fixation of the lumbar spine with pedicle screw plating. Curr Orthop Pract 203:2–312

2.

Çolak A, Kutlay M, Demircan N, Seçer Hİ, Kibici K, Başekim Ç (1999) MR imaging for early complications of transpedicular screw fixation. Eur Spine J 8(2):151–155

3.

Faraj AA, Webb JK (1997) Early complications of spinal pedicle screw. Eur Spine J 6(5):324–326

4.

Kim HS, Heller JG, Hudgins PA, Fountain JA (2003) The accuracy of computed tomography in assessing cervical pedicle screw placement. Spine 28(21):2441–2446

5.

Tack D, Jahnen A, Kohler S, Harpes N, De Maertelaer V, Back C et al (2014) Multidetector CT radiation dose optimisation in adults: short- and long-term effects of a clinical audit. Eur Radiol 24(1):169–175

6.

Kent DL, Haynor DR, Longstreth WT, Larson EB (1994) The clinical efficacy of magnetic resonance imaging in neuroimaging. Ann Intern Med 120(10):856–871

7.

Gupta A, Subhas N, Primak AN, Nittka M, Liu K (2015) Metal artifact reduction. Radiol Clin 53(3):531–547

8.

Ulbrich EJ, Sutter R, Aguiar RF, Nittka M, Pfirrmann CW (2012) STIR sequence with increased receiver bandwidth of the inversion pulse for reduction of metallic artifacts. Am J Roentgenol 199(6):W735–W742

9.

Jang Gyu C, Wook J, Min Hee L, Dong Hoon K, Jai Soung P, Won Han S et al (2011) Reducing metallic artifacts in postoperative spinal imaging: usefulness of IDEAL contrast-enhanced T1- and T2-weighted MR imaging—phantom and clinical studies. Radiology 259(3):885–893

10.

Rudisch A, Kremser C, Peer S, Kathrein A, Judmaier W, Daniaux H (1998) Metallic artifacts in magnetic resonance imaging of patients with spinal fusion: a comparison of implant materials and imaging sequences. Spine 23(6):692–699

11.

Trammell TR, Flint K, Ramsey CJ (2012) A comparison of MRI and CT imaging clarity of titanium alloy and titanium alloy with cobalt-chromium-alloy pedicle screw and rod implants in the lumbar spine. JBJS 94(16):1479–1483

12.

Zhang X, Wang J, Xing L (2011) Metal artifact reduction in x-ray computed tomography (CT) by constrained optimization. Med Phys 38(2):701–711

13.

Kosmopoulos V, Schizas C (2007) Pedicle screw placement accuracy: a meta-analysis. Spine 32(3):E111–E120. https://doi.org/10.1097/01.brs.0000254048.79024.8b

14.

Petersilge CA, Lewin JS, Duerk JL, Yoo JU, Ghaneyem AJ (1996) Optimizing imaging parameters for MR evaluation of the spine with titanium pedicle screws. Am J Roentgenol 166(5):1213–1218

15.

Thakkar RS, Malloy JP IV, Thakkar SC, Carrino JA, Khanna AJ (2012) Imaging the postoperative spine. Radiol Clin N Am 50(4):731–747

16.

Weise L, Suess O, Picht T, Kombos T (2008) Transpedicular screw fixation in the thoracic and lumbar spine with a novel cannulated polyaxial screw system. Med Devices Auckl 1:33–39

17.

Tins B (2010) Technical aspects of CT imaging of the spine. Insights Imaging 1(5–6):349–359

18.

Landis JR, Koch GG (1977) The measurement of observer agreement for categorical data. Biometrics 33(1):159–174

19.

Lavelle W, Ranade A, Samdani A, Gaughan J, D'Andrea L, Betz R (2014) Inter- and intra-observer reliability of measurement of pedicle screw breach assessed by postoperative CT scans. Int J Spine Surg 23(8):11

20.

Elliott M, Slakey J (2014) CT provides precise size assessment of implanted titanium alloy pedicle screws. Clin Orthop Relat Res 1(472):1605–1609

21.

Williams AL, Gornet MF, Burkus JK (2005) CT evaluation of lumbar interbody fusion: current concepts. AJNR Am J Neuroradiol 26:2057–2066

22.

Cho K, Kim DJ, Kim YK (1988) Total inhomogeneity correction including chemical shifts and susceptibility by view angle tilting. Med Phys 15:7–11

23.

Butts K, Pauly JM, Gold GE (2005) Reduction of blurring in view angle tilting MRI. Magn Reson Med Off J Soc Magn Reson Med Soc Magn Reson Med 53:418–424

24.

Lu W, Pauly KB, Gold GE, Pauly JM, Hargreaves BA (2009) SEMAC: slice encoding for metal artifact correction in MRI. Magn Reson Med Off J Soc Magn Reson Med Soc Magn Reson Med 62(1):66–76
Ethics declarations
Conflict of interest
The authors declare that they have no conflict of interest.
Ethical approval
All procedures performed in studies involving human participants were in accordance with the ethical standards of the institutional and/or national research committee and with the 1964 Helsinki declaration and its later amendments or comparable ethical standards.
Informed consent
Informed consent was obtained from all individual participants included in the study.
Additional information
Publisher's Note
Springer Nature remains neutral with regard to jurisdictional claims in published maps and institutional affiliations.
About this article
Cite this article
Battleday, F.M., Williams, M., Rankine, J. et al. MRI versus CT: a retrospective investigation of the feasibility and agreeability in post-operative evaluation of screw position after posterior lumbar interbody fusion. Eur Spine J 30, 173–180 (2021). https://doi.org/10.1007/s00586-020-06433-4
Received:

Revised:

Accepted:

Published:

Issue Date:
Keywords
Posterior lumbar interbody fusion

Spinal surgery

Pedicle screw

Screw placement

Magnetic resonance imaging

Computer tomography