Abstract
Objective
This study evaluates efficacy and safety of contemporary spinal instrumentation for AO/type C posterior pelvic ring (PPR) injuries.
Methods
Twenty-two consecutive patients, aged 36 ± 17 years, were managed with spinal instrumentation with spinopelvic fixation (SPF) or non-spinopelvic fixation (NSPF) and less invasive surgery. There were 16 vertically unstable sacral fractures and six iliosacral dislocations. Matta score was used for fragment diastasis and Majeed's score for functional outcome evaluation.
Results
All patients were followed for 61 ± 8 months postoperatively. The operative time was less in NSPF (P < 0.001). SPF was applied in six cases and NSPF in 16 cases. Postoperatively, fragment diastasis was reduced from 16 ± 13 to 2.6 ± 3.8 mm (P < 0.000). There was no statistically significant difference in fracture reduction between SPF and NSPF (P = 0.16). Majeed score was 83 ± 16 postoperatively. There was a significant correlation between Matta score and Majeed score (P = 0.013). There were two cases with spinal instrumentation failure. Low-grade infection occurred in one patient, without hardware failure, that was eradicated after hardware removal. From ten patients with incomplete neurologic impairment on admission, eight showed postoperatively full and two partial recovery without direct sacral decompression. Patients with preoperative neurologic impairment showed lower postoperative Majeed score than those without neurologic impairment (P = 0.027). There was no correlation between neurologic impairment and recovery and type of PPR injury.
Conclusions
SPF and NSPF with contemporary spinal instrumentation for C AO-type PPR injury with less invasive methods are safe and effective techniques that reduce and maintain PPR disruption allowing early mobilization, neurologic recovery and improved Majeed score.
Graphic abstract
These slides can be retrieved under electronic supplementary material.

This is a preview of subscription content, log in to check access.
Access options
Buy single article
Instant access to the full article PDF.
US$ 39.95
Tax calculation will be finalised during checkout.
Subscribe to journal
Immediate online access to all issues from 2019. Subscription will auto renew annually.
US$ 119
Tax calculation will be finalised during checkout.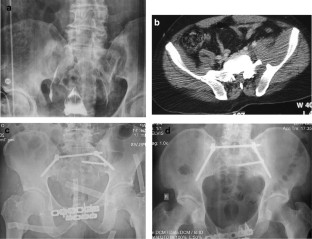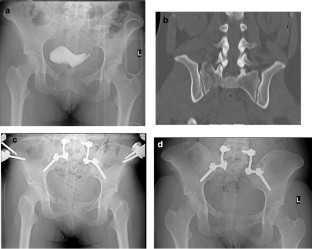 References
1.

Bederman SS, Hassan JM, Shah KN, Kiester PD, Bhatia NN, Zamorano DP (2013) Fixation techniques for complex traumatic transverse sacral fractures: a systematic review. Spine 38(16):E1028–E1040

2.

Hoffmann E, Lenoir T, Morel E, Levassor N, Rillardon L, Guigui P (2007) Posterior bridging osteosynthesis for traumatic sacroiliac joint dislocation: a report of seven cases. Eur J Orthop Surg Traumatol 18(1):47–53

3.

Kabak S, Halici M, Tuncel M, Avsarogullari L, Baktir A, Basturk M (2003) Functional outcome of open reduction and internal fixation for completely unstable pelvic ring fractures (type C): a report of 40 cases. J Orthop Trauma 17(8):555–562

4.

Dabezies EJ, Millet CW, Murphy CP, Acker JH, Robicheaux RE, D'Ambrosia RD (1989) Stabilization of sacroiliac joint disruption with threaded compression rods. Clin Orthop Relat Res 246:165–171

5.

Sar C, Kilicoglu O (2003) S1 pediculoiliac screw fixation in instabilities of the sacroiliac complex: biomechanical study and report of two cases. J Orthop Trauma 17(4):262–270

6.

Starr AJ, Walter JC, Harris RW, Reinert CM, Jones AL (2002) Percutaneous screw fixation of fractures of the iliac wing and fracture dislocations of the sacro-iliac joint (OTA Types 61-B2.2 and 61-B2.3, or Young-Burgess "lateral compression type II" pelvic fractures). J Orthop Trauma 16(2):116–123

7.

Abumi K, Saita M, Iida T, Kaneda K (2000) Reduction and fixation of sacroiliac joint dislocation by the combined use of S1 pedicle screws and the Galveston technique. Spine 25(15):1977–1983

8.

Schildhauer TA, Josten C, Muhr G (1998) Triangular osteosynthesis of vertically unstable sacrum fractures: a new concept allowing early weight-bearing. J Orthop Trauma 12:307–314

9.

Mouhsine E, Wettstein M, Schizas C, Borens O, Blanc CH, Leyvraz PF, Theumann N, Garofalo R (2006) Modified triangular posterior osteosynthesis of unstable sacrum fracture. Eur Spine J 15:857–863

10.

Hu X, Pei F, Wang G, He J, Kong Q, Tu C (2013) Application triangular osteosynthesis for vertical unstable sacral fractures. Eur Spine J 22:503–509

11.

Fracture and Dislocation Compendium (2018) Revised AO/OTA classification of pelvic fractures. J Orthop Trauma 32(1S):S71–S75

12.

Matta MJ, Tornetta P (1996) Internal fixation of unstable pelvic ring injuries. Clin Orthop 329:129–137

13.

Majeed SA (1989) Grading the outcome of pelvic fractures. J Bone Joint Surg Br 71(2):304–306

14.

Papakostidis C, Kanakaris NK, Kontakis G, Giannoudis PV (2009) Pelvic ring disruptions: treatment modalities and analysis of outcomes. Int Orthop 33:329–338

15.

Sagi HC (2009) Technical aspects and recommended treatment algorithms in triangular osteosynthesis and spinopelvic fixation for vertical shear transforaminal sacral fractures. J Orthop Trauma 23:354–360

16.

Lindahl J, Mäkinen TJ, Koskinen SK, Söderlund T (2014) Factors associated with outcome of spinopelvic dissociation treated with lumbopelvic fixation. Injury 45(12):1914–1920

17.

Denis F, Davis S, Comfort T (1988) Sacral fractures: an important problem. Retrospective analysis of 236 cases. Clin Orthop Relat Res 227:67–81

18.

Reilly MC, Zinar DM, Matta JM (1996) Neurologic injuries in pelvic ring fractures. Clin Orthop Relat Res 329:28–36

19.

Sar C, Kilicoglu O (2003) S1 pediculoiliac screw fixation in instabilities of the sacroiliac complex: biomechanical study and report of two cases. J Orthop Trauma 17:262–270

20.

Korovessis PG, Magnissalis EA, Deligianni D (2006) Biomechanical evaluation of conventional internal contemporary spinal fixation techniques used for stabilization of complete sacroiliac joint separation: a 3-dimensional unilaterally isolated experimental stiffness study. Spine 31(25):E941–E951

21.

Shinohara K, Takigawa T, Tanaka M, Sugimoto Y, Arataki S, Ito Y, Ozaki T (2016) Biomechanical comparison of posterior fixation using spinal instrumentation and conventional posterior plate fixation in unstable vertical sacral fracture. Acta Med Okayama 70:97–102

22.

Korovessis P, Stamatakis M, Baikousis A (2000) Posterior stabilization of unstable sacroiliac injuries with the Texas Scottish Rite Hospital spinal instrumentation. Orthopedics 23(4):323–327

23.

Sobhan MR, Abrisham SM, Vakili M, Shirdel S (2016) Spinopelvic fixation of sacroiliac joint fractures and fractures dislocations: a clinical 8 years follow-up study. Arch Bone Jt Surg 4(4):381–386

24.

Williams KS, Quinnan MS (2016) Percutaneous lumbopelvic fixation for reduction and stabilization of sacral fractures with spinopelvic dissociation patterns. J Orthop Trauma 30:e318–e324

25.

Lefaivre KA, Slobogean GP, Ngai JT, Broekhuyse HM, O'Brien PJ (2014) What outcomes are important for patients after pelvic trauma? Subjective responses and psychometric analysis of three published pelvic-specific outcome instruments. J Orthop Trauma 28(1):23–27
Acknowledgements
The authors wish to express their appreciation to Alkis Korovesis, MSc Dipl. Engineer, for his assistance in statistical analysis of the data.
Ethics declarations
Conflict of interest
All authors declare that they have no conflict of interest.
Ethical standards
All authors declare that all procedures performed in these series were in accordance with the ethical standards of the institutional and national research committee and with the 1964 Helsinki Declaration and its later amendments or comparable ethical standards.
Additional information
Publisher's Note
Springer Nature remains neutral with regard to jurisdictional claims in published maps and institutional affiliations.
Electronic supplementary material
Below is the link to the electronic supplementary material.
About this article
Cite this article
Korovessis, P., Spastris, P., Syrimpeis, V. et al. Contemporary less invasive spinal instrumentation for AO C-type posterior pelvic ring injuries. Eur Spine J 29, 2521–2533 (2020). https://doi.org/10.1007/s00586-019-06180-1
Received:

Revised:

Accepted:

Published:

Issue Date:
Keywords
Less invasive

Spinal instrumentation

Pelvic ring fractures

Spinopelvic fixation