Abstract
Objective
We present a sternoclavicular dislocation as a non-reported complication after spinal kyphotic deformity surgical correction.
Background
The sternocostal complex seems to have an important role in the pathology of Scheuermann's kyphotic deformity. A role for the sternoclavicular complex has never been reported in association with Scheuermann's disease pathology but could explain anterior sternoclavicular dislocation after spinal kyphotic deformity correction.
Methods
A 19-year-old male patient underwent surgery for a 74° thoracic kyphosis associated with a 35° thoracic and a 50° lumbar scoliotic curve. In the early post-operative period, the patient developed pain over the left sternoclavicular joint articulation, with a very obvious lump. An X-ray disclosed an anterior sternoclavicular dislocation. After surgical treatment failed, the dislocation was repaired in a second surgical procedure with a flexion and lengthening osteotomy of the middle third of the clavicle followed by capsular repair reinforced with sternocleidomastoid fascia.
Results
At an 8-year follow-up after his spine procedure and 6 years after his clavicular surgery, the patient had full shoulder range of motion and no joint pain, despite the presence of a new sternoclavicular anterior dislocation.
Conclusion
Sternoclavicular dislocation after spine kyphotic deformity correction is presented for the first time; however, it is not possible to establish a causative association. Additional studies are necessary to delineate the role of the sternoclavicular complex in Scheuermann's disease.
Access options
Buy single article
Instant access to the full article PDF.
US$ 39.95
Tax calculation will be finalised during checkout.
Subscribe to journal
Immediate online access to all issues from 2019. Subscription will auto renew annually.
US$ 119
Tax calculation will be finalised during checkout.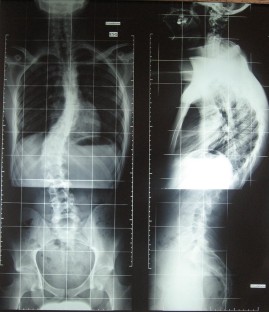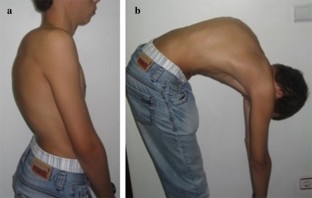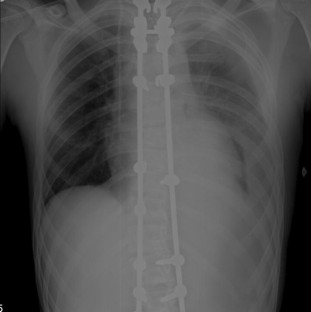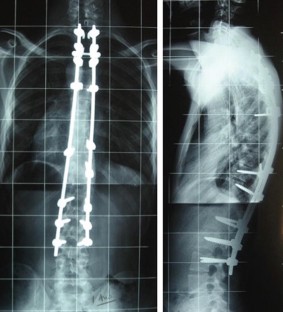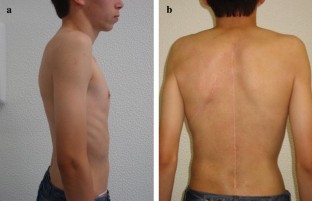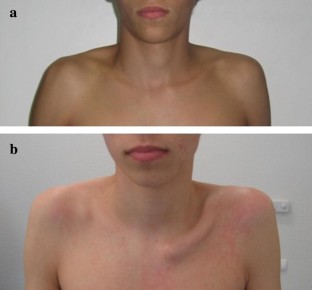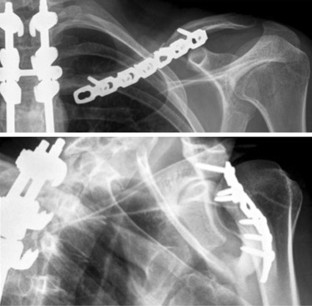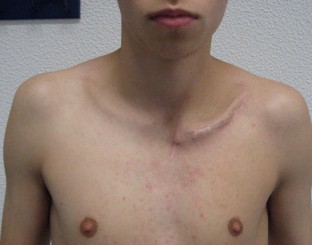 References
1.

Wenger DR, Frick SL (1999) Scheuermann kyphosis. Spine 24(24):2630

2.

Scheuermann HW (1920) Deforming osteochondritis of spine. Kyphosis Dorsalis Juv 82:385–393

3.

Sørensen KH (1964) Scheuermann's juvenile kyphosis: clinical appearances, radiography, aetiology, and prognosis. Munksgaard, Copenhagen

4.

Bradford DS, Moe JH, Montalvo FJ, Winter RB (1974) Scheuermann's kyphosis and roundback deformity: results of Milwaukee brace treatment. JBJS 56(4):740–758

5.

Sachs B, Bradford D, Winter R, Lonstein J, Moe J, Willson S (1987) Scheuermann kyphosis. Follow-up of Milwaukee-brace treatment. J Bone Jt Surg Am Vol 69(1):50–57

6.

Arlet V, Schlenzka D (2005) Scheuermann's kyphosis: surgical management. Eur Spine J 14(9):817–827

7.

Coe JD, Smith JS, Berven S, Arlet V, Donaldson W, Hanson D et al (2010) Complications of spinal fusion for Scheuermann kyphosis: a report of the scoliosis research society morbidity and mortality committee. Spine 35(1):99–103

8.

Elias F, Anthi G, George K, Efstathios K, Alkis P, Panagiotis K, Efthimios S (2008) The role of sternum in the etiopathogenesis of Scheuermann disease of the thoracic spine. Spine 33(1):E21–E24

9.

Murray PM, Weinstein SL, Spratt KF (1993) The natural history and long-term follow-up of Scheuermann kyphosis. JBJS 75(2):236–248

10.

Hosman AJ, Langeloo DD, de Kleuver M, Anderson PG, Veth RP, Slot GH (2002) Analysis of the sagittal plane after surgical management for Scheuermann's disease: a view on overcorrection and the use of an anterior release. Spine 27(2):167–175

11.

Papagelopoulos PJ, Klassen RA, Peterson HA, Dekutoski MB (2001) Surgical treatment of Scheuermann's disease with segmental compression instrumentation. Clin Orthop Relat Res 386:139–149

12.

Lonner BS, Newton P, Betz R, Scharf C, O'brien M, Sponseller P et al (2007) Operative management of Scheuermann's kyphosis in 78 patients: radiographic outcomes, complications, and technique. Spine 32(24):2644–2652

13.

Robinson CM, Jenkins PJ, Markham PE, Beggs I (2008) Disorders of the sternoclavicular joint. J Bone Jt Surg Br 90(6):685–696

14.

Aufdermaur M (1981) Juvenile kyphosis (Scheuermann's disease): radiography, histology, and pathogenesis. Clin Orthop Relat Res 154:166–174

15.

Lowe TG (1990) Scheuermann disease. JBJS 72(6):940–945

16.

Horton WC, Kraiwattanapong C, Akamaru T, Minamide A, Park JS, Park MS, Hutton WC (2005) The role of the sternum, costosternal articulations, intervertebral disc, and facets in thoracic sagittal plane biomechanics: a comparison of three different sequences of surgical release. Spine 30(18):2014–2023

17.

Sugrue PA, O'shaughnessy BA, Blanke KM, Lenke LG (2013) Rapidly progressive Scheuermann's disease in an adolescent after pectus bar placement treated with posterior vertebral-column resection: case report and review of the literature. Spine 38(4):E259–E262
Acknowledgements
The authors wish to thank Merry Diana Johannes (independent editor) for her assistance in preparing and revising the manuscript.
Ethics declarations
Conflict of interest
None of the authors has any potential conflict of interest.
Additional information
Publisher's Note
Springer Nature remains neutral with regard to jurisdictional claims in published maps and institutional affiliations.
About this article
Cite this article
do Brito, J.S., Martins, S. & Fernandes, P. Sternoclavicular dislocation as a possible complication for surgical Scheuermann's deformity correction: a case report. Eur Spine J 29, 133–137 (2020). https://doi.org/10.1007/s00586-019-06132-9
Received:

Revised:

Accepted:

Published:

Issue Date:
Keywords
Scheuermann's kyphosis

Pathogenesis

Sternocostal complex

Sternoclavicular dislocation

Sternoclavicular complex