Abstract
Diabetic cardiomyopathy (DCM) pathogenesis is complex, and the management options for DCM are limited. This study was designed to investigate the effect of Gongronema latifolium leaf extract on DCM in alloxan-induced diabetic rats. Alloxan monohydrate was used to induce diabetes by an intraperitoneal injection of (150 mg/kg). Three diabetic groups were administered aqueous leaf extract of Gongronema latifolium at 6.36, 12.72, and 25.44 mg/kg bodyweight (BW) respectively; a group was administered with metformin (5 mg/kg BW), while the other two served as positive and negative control. Thereafter, fasting blood glucose, antioxidant enzymes, malondialdehyde level, serum lactate dehydrogenase, creatine kinase-MB, cardiac Troponin I, C-reactive protein, and TNF-α were determined by standard methods. Aqueous extract of Gongronema latifolium leaf significantly (p < 0.05) reduced the alloxan-induced increases in blood glucose, malondialdehyde, serum lactate dehydrogenase, creatine kinase-MB, cardiac Troponin I, C-reactive protein, and tumor necrosis factor-α and increased the alloxan-induced decreases in superoxide dismutase, catalase, glutathione peroxidase, reduced glutathione, and glutathione transferase activities. All these changes were compared with those of metformin-treated diabetic rats. The data from this study suggest that aqueous extract of Gongronema latifolium ameliorated DCM by inhibiting redox imbalance and inflammation in diabetic rats.
This is a preview of subscription content, log in to check access.
Access options
Buy single article
Instant access to the full article PDF.
US$ 39.95
Price includes VAT for USA
Subscribe to journal
Immediate online access to all issues from 2019. Subscription will auto renew annually.
US$ 99
This is the net price. Taxes to be calculated in checkout.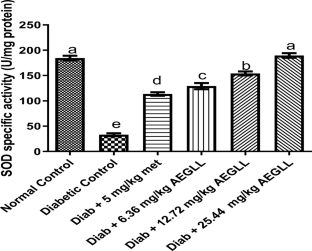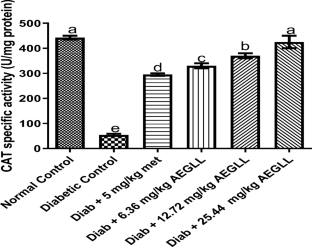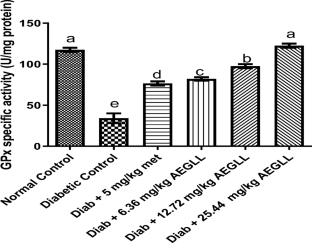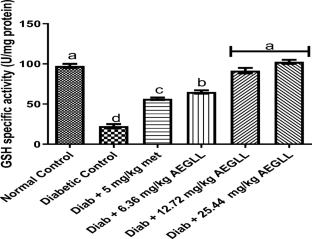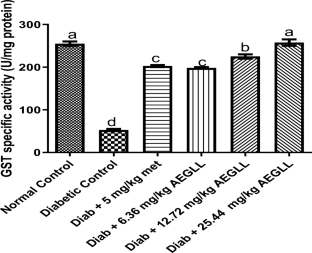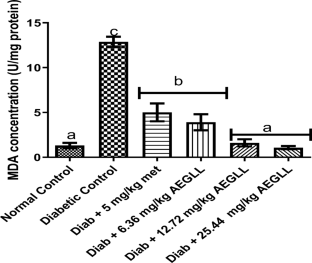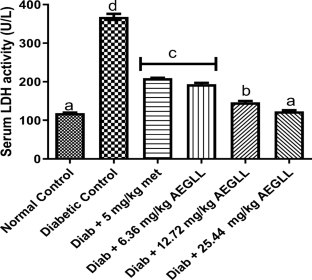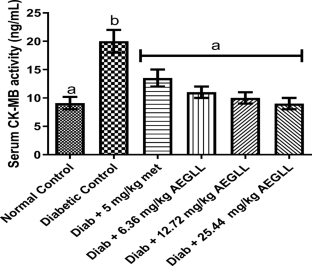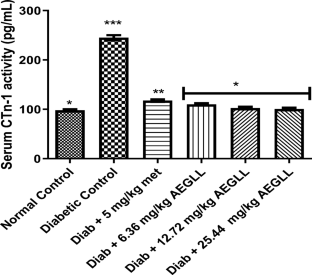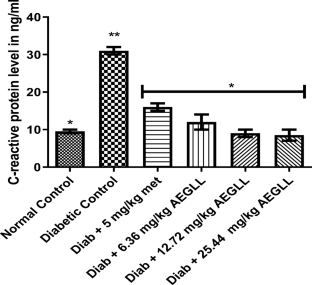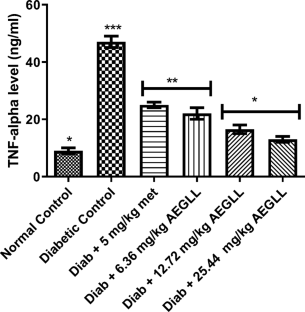 Data availability
The data used to support the findings of this study are available from the corresponding author upon request.
References
Ahmad MS, Pischetsrieder M, Ahmed N (2007) Aged garlic extract and S-allyl cysteine prevent formation of advanced glycation end products. Euro J Pharmacol 561:32–38

Ajiboye BO, Edobor G, Ojo OA, Onikanni SA, Olarewaju OI, Muhammad NO (2014) Effect of aqueous leaf extract of Senecio biafrae on hyperglycaemic and serum lipid profile of alloxan-induced diabetic rats. Inter J Dis Disor 2(1):059–064

Ajiboye BO, Ojo OA, Adeyonu O, Imiere O, Oyinloye BE, Ogunmodede O (2018a) Ameliorative activity of ethanolic extract of Artocarpus heterophyllus stem bark on alloxan-induced diabetic rats. Adv Pharm Bull 8(1):141–147

Ajiboye BO, Ojo OA, Akuboh OS, Okesola MA, Idowu O, Amuzat AO (2018b) Anti-hyperglycemic and anti-inflammatory activities of polyphenolic-rich extract of Syzygium cumini Linn leaves in alloxan-induced diabetic rats. J Evid Based Integra Med 23:1–8

Ajiboye BO, Oyinloye BE, Agboinghale PE, Onikanni SA, Asogwa E, Kappo PA (2019) Antihyperglycaemia and related gene expressions of aqueous extract of Gongronema latifolium leaf in alloxan-induced diabetic rats. Pharm Biol 57(1):604–611

Al-Rasheed, N.M., Hasan, I.H., Al-Amin, M.A., Al-Ajmi, H.N., Mohamad, R.A., 'Mahmoud, A.M., 2017. Simvastatin ameliorates diabetic cardiomyopathy by attenuating oxidative stress and inflammation in rats. Oxidative Medicine and Cellular Longevity, 2017, Article ID 1092015, 13 pages https://doi.org/10.1155/2017/1092015, 1092013

Asbun J, Villarreal FJ (2006) The pathogenesis of myocardial fibrosis in the setting of diabetic cardiomyopathy. J Am Coll Cardiol 47:693–700

Babu PV, Sabitha KE, Shyamaladevi CS (2006) Therapeutic effect of green tea extract on oxidative stress in aorta and heart of streptozotocin diabetic rats. Chem Biol Interact 162:114–120

Badole, S.L., Bodhankar, S.L., 2010. Antidiabetic activity of cycloart-23-ene-3훽, 25-diol (B2) isolated from Pongamia pinnata (L. Pierre) in streptozotocin-nicotinamide induced diabetic mice. Euro J Pharmacol 632, (1–3) 103–109, 103

Brownlee M (1995) Advanced protein glycosylation in diabetes and aging. Ann Rev Med 46:223–234

Cai L (2006) Suppression of nitrative damage by metallothionein in diabetic heart contributes to the prevention of cardiomyopathy. Free Radic Biol Med 41:851–861

Cai L, Kang YJ (2001) Oxidative stress and diabetic cardiomyopathy: a brief review. Cardiovascular Toxicol 1(3):181–193

Cai L, Wang J, Li Y, Sun X, Wang L, Zhou Z, James Kang Y (2005) Inhibition of superoxide generation and associated nitrosative damage is involved in metallothionein prevention of diabetic cardiomyopathy. Diabetes. 54(6):1829–1837

Cai L, Wang Y, Zhou G, Chen T, Song Y, Li X, Kang YJ (2006) Attenuation by metallothionein of early cardiac cell death via suppression of mitochondrial oxidative stress results in a prevention of diabetic cardiomyopathy. J Am Coll Cardiol 48:1688–1697

Cho NH, Shaw JE, Karuranga S, Huang Y, da Rocha Fernandes JD, Ohlrogge AW, Malanda B (2018) IDF Diabetes Atlas: global estimates of diabetes prevalence for 2017 and projections for 2045″, Diabetes Res. Clin Pract 138:271–281

Frieler RA, Mortensen RM (2015) Immune cell and other noncardiomyocyte regulation of cardiac hypertrophy and remodeling. Circulation. 131(11):1019–1030

Haidara MA, Yassin HZ, Rateb M, Ammar H, Zorkani MA (2006) Role of oxidative stress in development of cardiovascular complications in diabetes mellitus. Curr Vasc Pharmacol 4:215–227

Koya D, King GL (1998) Protein kinase C activation and the development of diabetic complications. Diabetes. 47:859–866

Mann DL (2015) Innate immunity and the failing heart: the cytokine hypothesis revisited. Circulation Res 116(7):1254–1268

Maritim AC, Sanders RA, Watkins JB III (2003) Diabetes, oxidative stress, and antioxidants: a review. J Biochem Molecular Toxicol 17(1):24–38

Maya L, Villarreal FJ (2010) Diagnostic approaches for diabetic cardiomyopathy and myocardial fibrosis. J Molecular and Cellular Cardiol 48(3):524–529

Mishra A, Bhatti R, Singh A, Singh Ishar MP (2010) Ameliorative effect of the cinnamon oil from Cinnamomum zeylanicum upon early stage diabetic nephropathy. Planta Med 76:412–417

Morebise O, Fafunso MA, Makinde JM, Olagide OA, Awe EO (2002) Anti-inflammatory property of the leaves of Gongronema latifolium. Phytother. Res 16:75–77

Moussa S (2008) Oxidative stress in diabetes mellitus. Romanian J Biophysics 18:225–236

Murarka S, Movahed MR (2010) Diabetic cardiomyopathy. J Cardiac Failure 16(12):971–979

Ojo OA, Ojo AB, Ajiboye BO, Oyinloye BE, Imiere O, Adeyonu O (2017) Ameliorative potentials of Blighia sapida K.D. Koenig bark against pancreatic-cell dysfunction in alloxan-induced diabetic rats. J. Complement. Integr. Med 14:20160145

Prabhu SD, Frangogiannis NG (2016) The biological basis for cardiac repair after myocardial infarction: from inflammation to fibrosis. Circulation Res 119(1):91–112

Rutter MK, Meigs JB, Sullivan LM, D'Agostino RB Sr, Wilson PW (2004) C-reactive protein, the metabolic syndrome, and prediction of cardiovascular events in the Framingham offspring study. Circulation. 110(4):380–385

Seddon M, Looi YH, Shah AM (2007) Oxidative stress and redox signalling in cardiac hypertrophy and heart failure. Heart. 93(8):903–907

Sulaiman, M., Matta, M.J., Sunderesan, N.R., Gupta, M.P., Periasamy, M., 2010. Resveratrol, an activator of SIRT1, upregulates sarcoplasmic calcium ATPase and improves cardiac function in diabetic cardiomyopathy. Am J. Physiol.—Heart and Circulatory Physiol 298, (3) H833–H843

Sun M, Chen M, Dawood F, Zurawska U, Li JY, Parker T, Kassiri Z, Kirshenbaum LA, Arnold M, Khokha R, Liu PP (2007) Tumor necrosis factor-α mediates cardiac remodeling and ventricular dysfunction after pressure overload state. Circulation 115(11):1398–1407

Suzuki H, Kayama Y, Sakamoto M, Iuchi H, Shimizu I, Yoshino T, Katoh D, Katoh D, Nagoshi T, Tojo K, Minamino T, Yoshimura M, Utsunomiya K (2015) Arachidonate 12/15-lipoxygenase-induced inflammation and oxidative stress are involved in the development of diabetic cardiomyopathy. Diabetes. 64(2):618–630

Ugochukwu NH, Babady NE, Cobourne M, Gasses SR (2003) The effect of Gongronema latifolium extract on serum lipid profile and oxidative stress in hepatocyte of diabetic rats. J Biosci 28:1–5

Ugwu CE, Olajide JE, Alumanah JC, Ezeanyika LUS (2010) Comparative effects of the leaves of Gongronema latifolium and Telfairia occidentalis incorporated diets on the lipid profiles of rats. Global J Pure and Appli Sci 16:319–324

Uloko, A.E., Musa, B.M., Ramalan, M.A., Gezawa, I.D., Puepet, F.H Puepet F.H., Uloko A.T., Borodo M.M., Sada K.B., 2018. Prevalence and risk factors for diabetes mellitus in Nigeria: a systematic review and meta-analysis. Diabetes Ther 9, 1307–1316

Upaganlawar A, Balaraman R (2010) Protective effects of Lagenaria siceraria (Molina) fruit juice in isoproterenol induced myocardial infarction. Int J Pharmacol 6(5):645–651

Xi S, Zhou G, Zhang X, Zhang W, Cai L, Zhao C (2009) Protective effect of total aralosides of Aralia elata (Miq) seem (TASAES) against diabetic cardiomyopathy in rats during the early stage, and possible mechanisms. Exp Molecul Med vol 41(8):538–547

Yakubu MT, Uwazie N, Igunnu A (2016) Anti-diabetic activity of aqueous extract of Senna alata (fabacea) flower in alloxan-induced diabetic male rats. Cameroon J BiolBiochem Sci 24:7–17
Acknowledgments
This study was supported by the South African Medical Research Council via funding collected from the South African National Treasury. Its contents are solely the responsibility of the authors and do not necessarily represent the official views of the South African Medical Research Council.
Ethics declarations
Conflicts of interest
Authors declare that they have no conflict of interest.
Ethical approval
Research involving animals complied with all relevant national regulations and institutional policies of Afe Babalola University for the care and use of animals. This study was approved by the ABUAD Animal Ethical Committee (approval number 19/ABUADSCI/016).
Additional information
Publisher's note
Springer Nature remains neutral with regard to jurisdictional claims in published maps and institutional affiliations.
About this article
Cite this article
Okesola, M.A., Ojo, O.A., Onikanni, S.A. et al. Ameliorative effect of Gongronema latifolium leaf extract on alloxan-induced diabetic cardiomyopathy in Wistar rats model. Comp Clin Pathol 29, 865–872 (2020). https://doi.org/10.1007/s00580-020-03134-8
Received:

Accepted:

Published:

Issue Date:
Keywords
Diabetic cardiomyopathy

Gongronema latifolium

Antioxidant

Inflammation

Cardiac enzymes