Abstract
The purpose of this study was to evaluate the potential effect of different levels of Gracilaria corticata (Gracilaria), Sargassum cristaefolium (Sargassum), Rhus coriaria (sumac), and Punica granatum (pomegranate) peel powdered on growth performance, carcass characteristics, and immune responses of Japanese quails against avian influenza and Newcastle disease killed vaccine virus. A total of 360 one-day-old Japanese quails were randomly distributed into nine dietary treatments with 4 replicates (10 quail/rep). Control group (C) received the diet free of medicinal plants supplementation and the other eight treatments received, 0.5 and 2% medicinal plants and algae-dried powder in diet for the 15 days at the end of experiment (in days 27–42). Live body weight, feed conversion ratio (FCR), carcass characteristics, and immune response evidences were recorded. G. corticata, S. cristafolium, R. coriaria, and P. granatum peel had significant (p < 0.05) effects on FCR. Some of carcass parameters were increased (p < 0.05) in S. cristafolium and G. corticata diet–supplemented quail compared with those fed on R. coriaria and P. granatum peel diets. P. granatum peel reduced low-density lipoprotein (LDL) and triglyceride (p < 0.05). We also recorded evidence that R. coriaria and G. corticata powders increased the antibody titers of avian Influenza and Newcastle disease vaccine. As a result, we concluded that G. corticata, S. cristafolium, R. coriaria, and P. granatum peel could be used as growth- and health-promoting food additives by using a 0.5 and 2% supplementation to foods in the diets of hatchling Japanese quail with no observed negative effects.
This is a preview of subscription content, log in to check access.
Access options
Buy single article
Instant access to the full article PDF.
US$ 39.95
Price includes VAT for USA
Subscribe to journal
Immediate online access to all issues from 2019. Subscription will auto renew annually.
US$ 99
This is the net price. Taxes to be calculated in checkout.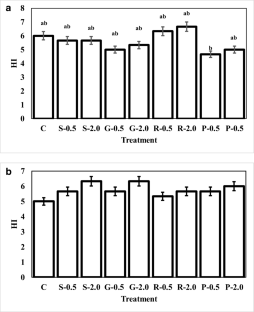 References
Abd El-Galil K, Henda AM (2015) Effect of ginger roots meal as feed additives in laying Japanese quail diets. J Am Sci 11(2):164–173

Abu-Reidah IM, Jamous RM, Ali-Shtayeh MS (2014) Phytochemistry, pharmacological properties and industrial applications of Rhus coriaria L. (sumac). Jordan J Biolog Sci 7(4):233–244

Ahmed Hossin FL (2009) Effect of pomegranate (Punica granatum) peels and it's extract on obese hypercholesterolemic rats. Pak J Nutr 8(8):1251–1257. https://doi.org/10.3923/pjn.2009.1251.1257

Ahmed ST, Yang CJ (2017) Effects of dietary Punica granatum L by-products on performance, immunity, intestinal and fecal microbiology, and odorous gas emissions from excreta in broilers. J Poult Sci 54(2):157–166. https://doi.org/10.2141/jpsa.0160116

Ahmed ST, Islam MM, Rubayet Bostami ABM, Mun HS, Kim YJ, Yang CJ (2015) Meat composition, fatty acid profile and oxidative stability of meat from broilers supplemented with pomegranate (Punica granatum L.) by-products. Food Chem 188:481–488. https://doi.org/10.1016/j.foodchem.2015.04.140

Baghban Kanani P, Daneshyar M, Najafi R (2015) Effects of cinnamon (Cinnamomum zeylanicum) and turmeric (Curcuma longa) powders on performance, enzyme activity, and blood parameters of broiler chickens under heat stress. Poult Sci J 4(1):47–53

Behnamifar A, Rahimi S, Karimi Torshizi M, Hasanpour S, Mohammadzade Z (2015) Effect of thyme, garlic and caraway herbal extracts on blood parameters, productivity, egg quality, hatchability and intestinal bacterial population of laying Japanese quail. Iran J Vet Med 9(3):179–187

Brugh M (1978) A simple method for recording and analyzing serological data. Avian Dis 22(2):362–365. https://doi.org/10.2307/1589552

De Almeida CLF, Falcão HDS, Lima GRDM, Montenegro CDA, Lira NS, De Athayde-Filho PF, Rodrigues LC, De Souza MFW, Barbosa-Filho JM, Batista LM (2011) Bioactivities from marine algae of the genus Gracilaria. Int J Mol Sci 12(7):4550–4573. https://doi.org/10.3390/ijms12074550

Ebile Dayan A, Kana JR, Pimagha Moffo HJ, Edie Nounamo LW, Nguefack Djieufo G, Ngouana Tadjong R, Fonteh AF (2018) Effects of Dichrostachys glomerata feeding regimes on growth performance, gut microbiota and haemato-biochemical profile of Japanese quails. J Anim Res Nutrit 3:1–8. https://doi.org/10.21767/2572-5459.100049

FAO (2009) How to feed the world in 2050. Insights from an Expert Meet FAO. 2050(1):1–35

Golzadeh M, Farhoomand P, Daneshyar M (2012) Dietary Rhus coriaria L. powder reduces the blood cholesterol, VLDL-c and glucose, but increases abdominal fat in broilers. S Afr J Anim Sci 42:398–405

Gumus H, Numan Oguz M, Emre Bugdayci K, Karakas Oguz F (2018) Effects of sumac and turmeric as feed additives on performance, egg quality traits, and blood parameters of laying hens. Zootec 47:1–7. https://doi.org/10.1590/rbz4720170114

Gurbuz Y, Salih YG (2017) Influence of sumac (Rhus Coriaria L.) and ginger (Zingiber officinale) on egg yolk fatty acid, cholesterol and blood parameters in laying hens. J Anim Physiol Anim Nutr (Berl) 101(6):1316–1323. https://doi.org/10.1111/jpn.12652

Hajati H, Hassanabadi A, Ahmadian F (2014) Application of medicinal plants in poultry nutrition. J Med Plants By-products 1:1–12

Hamodi SJ, Al-Khilani FM (2014) The effect of supplemental different level of Roselle flower in diet on Japanese quail performance. Sci Pap Ser D Anim Sci LVII:94–98

Hashemi SR, Davoodi H (2010) Phytogenics as new class of feed additive in poultry industry. J Anim Vet Adv 9(17):2295–2304. https://doi.org/10.3923/javaa.2010.2295.2304

Herve T, Raphaël KJ, Ferdinand N, Laurine Vitrice FT, Gaye A, Outman MM, Willy Marvel NM (2018) Growth performance, serum biochemical profile, oxidative status, and fertility traits in male Japanese quail fed on ginger (Zingiber officinale, roscoe) essential oil. Veterin Med Internat 1:1–8. https://doi.org/10.1155/2018/7682060

Jeke A, Phiri C, Chitiindingu K, Taru P (2018) Nutritional compositions of Japanese quail (Coturnix coturnix japonica) breed lines raised on a basal poultry ration under farm conditions in Ruwa, Zimbabwe. Cogent Food Agric 4:1–8. https://doi.org/10.1080/23311932.2018.1473009

Karásková K, Suchý P, Straková E (2015) Current use of phytogenic feed additives in animal nutrition: a review. Czech J Anim Sci 60:521–530. https://doi.org/10.17221/8594-CJAS

Karu P, Selvan ST, Gopi H, Manobhavan M (2018) Effect of macroalgae supplementation on growth performance of Japanese quails. Int J Curr Microbiol App Sci 7(02):1039–1041. https://doi.org/10.20546/ijcmas.2018.702.128

Kheiri F, Rahimian Y, Nasr J (2015) Application of sumac and dried whey in female broiler feed. Arch Anim Breed 58:205–210. https://doi.org/10.5194/aab-58-205-2015

Kumar KA (2018) Effect of Sargassum wightii on growth , carcass and serum qualities of broiler chickens. Open Access J Vet Sci Res 3(2):1–10

Mazloom Zavaragh F (2011) Influence of garlic and sumac powder (Rhus coriaria L.) on performance , carcass and blood biochemicals of Japanese quails. Sch Res Libr Ann 2(6):542–545

Mohammadi A, Pourreza J, Jalali SMA, Khon Mirzaei N (2011) Effect of sumac powder (Rhus Coriaria L.) and probiotic on performance of broiler chickens. Adv Environ Biol 5(8):2409–2412

Morshedi V, Nafisi Bahabadi M, Sotoudeh E, Azodi M, Hafezieh M (2018) Nutritional evaluation of Gracilaria pulvinata as partial substitute with fish meal in practical diets of barramundi (Lates calcarifer). J Appl Phycol 30(1):619–628. https://doi.org/10.1007/s10811-017-1199-y

Nakagawa H (1997) Effect of dietary algae on improvement of lipid metabolism in fish. Biomed Pharmacother 51(8):345–348. https://doi.org/10.1016/S0753-3322(97)88053-5

Pooryousef Myandoab M, Hosseini Mansoub N (2012) Comparative effect of liquorice root extract medicinal plants and probiotic in diets on performance, carcass traits and serum composition of Japanese quails. Glob Vet 8(1):39–42

Sabir P, Aydin R (2017) Diet supplemented with sumac (Rhus coriaria L.) influenced fatty acid composition but not the cholesterol content of eggs from Japanese quail. EC Nutr 2:103–109

Saeed M, Naveed M, Bibi J, Kamboh AA, Arain MA, Shah QA, Alagawany M, El-Hack MEA, Abdel-Latif MA, Yatoo MI, Tiwari R, Chakraborty S, Dhama K (2018) The promising pharmacological effects and therapeutic/medicinal applications of Punica Granatum L. (pomegranate) as a functional food in humans and animals. Recent Patents Inflamm Allergy Drug Discov 12:1–15. https://doi.org/10.2174/1872213X12666180221154713

Sharbati Alishah A, Daneshyar M, Aghazadeh A (2012) The effect of dietary sumac fruit powder (Rhus coriaria L.) on performance and blood antioxidant status of broiler chickens under continuous heat stress condition. Ital J Anim Sci 11:392–396. https://doi.org/10.4081/ijas.2012.e71

Sharbati A, Daneshyar M, Aghazadeh A, Aliakbarlu J, Hamian F (2015) Effects of Rhus coriaria on nutrient composition, thiobarbituric acid reactive substances and colour of thigh meat in heat-stressed broilers. S Afr J Anim Sci 45(1):49–55. https://doi.org/10.4314/sajas.v45i1.6

Sogut B, Mohammad AMA (2018) Effect of Moringa, thyme, sumac powders and their mixture on growth performance in broiler chicken. Turkish J Agric Nat Sci 5(3):322–330

Stanwell-Smith R (1997) Hygiene and the immune system. Am Soc Clin Nutr 66:460S–463S

Sutharsan S, Nishanthi S, Srikrishnah S (2014) Effects of foliar application of seaweed (Sargassum crassifolium ) liquid extract on the performance of Lycopersicon esculentum mill . In Sandy Regosol of Batticaloa District Sri Lanka. Am J Agric Environ Sci 14(12):1386–1396. https://doi.org/10.5829/idosi.aejaes.2014.14.12.1828

Tabarsa M, Rezaei M, Ramezanpour Z, Waaland JR (2012) Chemical compositions of the marine algae Gracilaria salicornia (Rhodophyta) and Ulva lactuca (Chlorophyta) as a potential food source. J Sci Food Agric 92:2500–2506. https://doi.org/10.1002/jsfa.5659

Takatsy G (1955) The use of spiral loops in serological and virological micromethods. Acta Microbiol Acad Sci Hung 3:191–202. https://doi.org/10.1556/AMicr.50.2003.4.5

Talazadeh F, Mayahi M, Naghavi M (2016) The effect of Antibiofin® on the immune response against avian influenza subtype H9N2 vaccine in broiler chickens. Int J Enteric Pathog 4(3):e39396

Tannoury MY, Elia JM, Saab AM, Makhlouf HY, Abboud JS, Daou-Chabo RJ, Diab-Assaf M (2016) Evaluation of cytotoxic activity of Sargassum vulgare from the Lebanese coast against Jurkat cancer cell line. J.App.Pharm.Sci 6(6):108–112. https://doi.org/10.7324/JAPS.2016.60619

Toghyani M, Faghan N (2017) Effect of sumac (Rhus coriaria L.) fruit powder as an antibiotic growth promoter substitution on growth performance, immune responses and serum lipid profile of broiler chicks. Indian J Pharm Educ Res 51(3):S295–S298. https://doi.org/10.5530/ijper.51.3s.33

Yassein DMM, Abdallah EA, Ismail II, Faddle AA (2015) Effect of dietary supplementation of pomegranate poeel powder and butylated hydroxy toluene on some productive, physiological and immunological parameters of Japanese quail. Egypt J Anim Prod 52:105–113

Yone Y, Furuichi M, Urano K (1986) Effects of Wakame Undaria pinnatifida and Ascophyllum nodosum on absorption of dietary nutrients, and blood sugar and plasma free amino-N levels of Red sea bream. Bull Jpn Soc Sci Fish 55(10):1817–1819. https://doi.org/10.2331/suisan.52.1817
Acknowledgements
We appreciate the improvements in English usage made by Phil Whitford through the Association of Field Ornithologists' program of editorial assistance.
Ethics declarations
Conflict of interest
The authors declare that they have no conflict of interest.
Ethical approval
All applicable international, national, and/or institutional guidelines for the care and use of animals were followed.
Additional information
Publisher's note
Springer Nature remains neutral with regard to jurisdictional claims in published maps and institutional affiliations.
Comparative effect of liquorice root extract medicinal plants
About this article
Cite this article
Habibi, H., Ghahtan, N. Effects of medicinal plant powder as feed additives on growth performance, carcass characteristics, and immune response of Coturnix japonica against avian influenza and Newcastle disease vaccine virus. Comp Clin Pathol 28, 1581–1588 (2019). https://doi.org/10.1007/s00580-019-02970-7
Received:

Accepted:

Published:

Issue Date:
Keywords
Avian influenza

Japanese quail

Carcass parameters

Newcastle disease