Abstract
Many orchid species are threatened, while some disappear from their natural habitats without obvious reasons. Eutrophication has been suggested as a possible factor and nitrate, which is able to suppress non-symbiotic orchid seed germination even at very low concentrations, and could pose a serious threat for natural orchid populations. Early ontogenesis of all orchids entirely depends on orchid mycorrhizal symbiosis, and at this initial mycoheterotrophic stage, many terrestrial green orchids associate with polyphyletic fungal symbionts (i.e., mycobionts), collectively called "rhizoctonias." We asked whether these fungi might also have some non-nutritional roles, i.e., whether they might confer resistance to eutrophication. To test this hypothesis, we co-cultivated seeds of the terrestrial orchid Dactylorhiza majalis with five rhizoctonias (two Tulasnella, two Ceratobasidium and one Serendipita isolate) at various ecologically meaningful nitrate concentrations (0 to 100 mg/L). With the exception of one Tulasnella isolate, all mycobionts supported the growth of protocorms and formed orchid mycorrhiza, i.e., intracellular hyphal pelotons, in the protocorms. Nitrate suppressed asymbiotic, as well as symbiotic, seed germination in all but one fungal treatment; the seeds co-cultivated with one of the Ceratobasidium isolates were indeed insensitive to nitrate. We conclude that nitrates also negatively affect symbiotic orchid germination, depending on the available compatible mycobionts. Thus, eutrophication with nitrate may decrease the number of orchid mycobionts capable of supporting seed germination.
Access options
Buy single article
Instant access to the full article PDF.
US$ 39.95
Tax calculation will be finalised during checkout.
Subscribe to journal
Immediate online access to all issues from 2019. Subscription will auto renew annually.
US$ 119
Tax calculation will be finalised during checkout.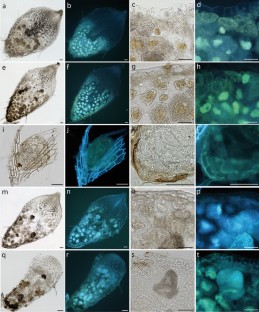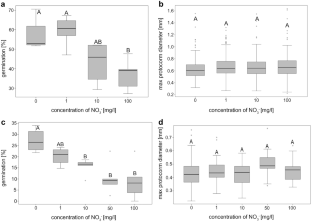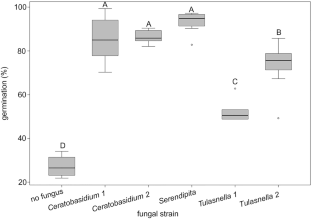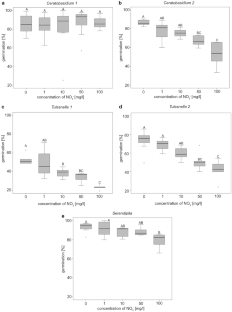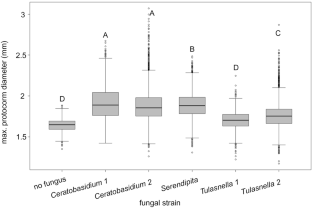 Data Availability
All relevant data are included in the manuscript.
References
Alboresi A, Gestin C, Leydecker M, Bedu MM, Truong C, H, (2005) Nitrate, a signal relieving seed dormancy in Arabidopsis. Plant Cell Environ 28:500–512. https://doi.org/10.1111/j.1365-3040.2005.01292.x

APG Iv (2016) An update of the Angiosperm Phylogeny Group classification for the orders and families of flowering plants: APG IV. Bot J Linn Soc 181:1–20. https://doi.org/10.1111/boj.12385

Azcón R, Ruiz-Lozano JM, Rodríguez R (2001) Differential contribution of arbuscularmycorrhizal fungi to plant nitrate uptake (15N) under increasing N supply to the soil. Can J Bot 79:1175–1180. https://doi.org/10.1139/cjb-79-10-1175

Bartlett M (1937) Properties of sufficiency and statistical tests. Proc R SocLondA Math PhysSci 160:268–282

Beyrle H, Penningsfeld F, Hockf B (1991) The role of nitrogen concentration in determining the outcome of the interaction between Dactylorhiza incarnata (L.) Soó and Rhizoctonia sp. New Phytol 117:665–672. https://doi.org/10.1111/j.1469-8137.1991.tb00971.x

Beyrle HF, Smith SE, Franco CMM, Peterson RL (1995) Colonization of Orchis morioprotocorms by a mycorrhizal fungus: effects of nitrogen nutrition and glyphosate in modifying the responses. Can J Bot 73:1128–1140. https://doi.org/10.1139/b95-123

Bochenková M, Karlík P, Hejcman M, Jiras P (2017) Does seed modification and nitrogen addition affect seed germination of Pulsatilla grandis? SciAgricBohem 48:216–223. https://doi.org/10.1515/sab-2017-0029

Callesen I, Raulund-Rasmussen K, Gundersen P, Stryhn H (1999) Nitrate concentrations in soil solutions below Danish forests. For Ecol Manage 114:71–82. https://doi.org/10.1016/S0378-1127(98)00382-X

Chase MW, Cameron KM, Freudenstein JV, Pridgeon AM, Salazar G, van den Berg C, Schuiteman A (2015) An updated classification of Orchidaceae. Bot J Linn Soc 177:151–174. https://doi.org/10.1111/boj.12234

Cuenca G, Azcón R (1994) Effects of ammonium and nitrate on the growth of vesicular-arbuscularmycorrhizal Erythrina poeppigiana O.I. Cook seedlings Biol Fertil Soils 18:249–254. https://doi.org/10.1007/BF00647676

Dijk E, Eck N (1995a) Axenic in vitro nitrogen and phosphorus responses of some Dutch marsh orchids. New Phytol 131:353–359. https://doi.org/10.1111/j.1469-8137.1995.tb03071.x

Dijk E, Eck N (1995b) Effects of mycorrhizal fungi on in vitro nitrogen response of some Dutch indigenous orchid species. Can J Bot - Rev Can Bot 1:1203–1211. https://doi.org/10.1139/b95-130

Dijk E, Eck N (1995c) Ammonium toxicity and nitrate response of axenically grown Dactylorhiza incarnata seedlings. New Phytol 131:361–367. https://doi.org/10.1111/j.1469-8137.1995.tb03072.x

Djordjević V, Tsiftsis S, Lakušić D, Jovanović S, Stevanović V (2016) Factors affecting the distribution and abundance of orchids in grasslands and herbaceous wetlands. SystBiodivers 14(4):355–370. https://doi.org/10.1080/14772000.2016.1151468

Duermeyer L, Khodapanahi E, Yan D, Krapp A, Rothstein SJ, Nambara E (2018) Regulation of seed dormancy and germination by nitrate. Seed Sci Res 28:1–8. https://doi.org/10.1017/s096025851800020x

Eiberg H (1970) Asymbiotisk frøspiring og kulturforsøg hos nogle europæiske jordorkideer. University of Copenhagen

Fay MF (1994) In what situations is in vitro culture appropriate to plant conservations? Biodivers Conserv 3:176–183. https://doi.org/10.1007/BF02291887

Fetter JC, Brown RN, Görres JH, Lee C, Amador JA (2012) Nitrate and phosphate leaching under turfgrass fertilized with a squid-based organic fertilizer. Water Air Soil Pollut 223:1531–1541. https://doi.org/10.1007/s11270-011-0962-y

Figura T, Tylová E, Šoch J, Selosse M-A, Ponert J (2018) In vitro axenic germination and cultivation of mixotrophicPyroloideae (Ericaceae) and their post-germination ontogenetic development. Ann Bot 123:625–639. https://doi.org/10.1016/0038-1098(79)91043-3

Figura T, Weiser M, Ponert J (2020) Orchid seed sensitivity to nitrate reflects habitat preferences and soil nitrate content. Plant Biol 22:21–29. https://doi.org/10.1111/plb.13044

Fochi V, Chitarra W, Kohler A, Voyron S, Singan VS, Lindquist EA, Barry KW, Girlanda M, Grigoriev IV, Martin F, Balestrini R, Perotto S (2017) Fungal and plant gene expression in the Tulasnella calospora–Serapias vomeracea symbiosis provides clues about nitrogen pathways in orchid mycorrhizas. New Phytol 213:365–379. https://doi.org/10.1111/nph.14279

Hadley BG, Ong SH (1978) Nutritional requirements of orchid endophytes. New Phytol 81:561–569

Jacquemyn H, Deja A, de hert K, CachapaBailarote B, Lievens B, (2012) Variation in mycorrhizal associations with tulasnelloid fungi among populations of five Dactylorhiza species. PLoS One 7:1–10. https://doi.org/10.1371/journal.pone.0042212

Jacquemyn H, Waud M, Merckx VSFT, Brys R, Tyteca D, Hedrén M, Lievens B (2016) Habitat-driven variation in mycorrhizal communities in the terrestrial orchid genus Dactylorhiza. Sci Rep 6:1–9. https://doi.org/10.1038/srep37182

Kaiser DR, Reinert DJ, Reichert JM, Streck CA, Pellegrini A (2010) Nitrate and ammonium in soil solution in tobacco management systems. Revista Brasileira de Ciência do Solo 34:379–387. https://doi.org/10.1590/S0100-06832010000200011

Kauth PJ, Vendrame WA, Kane ME (2006) In vitro seed culture and seedling development of Calopogon tuberosus. Plant Cell Tissue Organ Cult 85:91–102. https://doi.org/10.1007/s11240-005-9055-1

Kramer C (1956) Extension of multiple range tests to group means with unequal numbers of replications. Biometrics 12:307–310

Luna B, Moreno JM (2009) Light and nitrate effects on seed germination of Mediterranean plant species of several functional groups. Plant Ecol 203:123–135. https://doi.org/10.1007/s11258-008-9517-8

Manning JC, Van SJ (1987) The Development and mobilisation of seed reserves in some african orchids. Aust J Bot 35(3):343

Marschner P (2012) Marschner's mineral nutrition of higher plants, 3rd edn. Academic Press, San Diego

McCormick MK, Whigham DF, Canchani-Viruet A (2018) Mycorrhizal fungi affect orchid distribution and population dynamics. New Phytol 219:1207–1215. https://doi.org/10.1111/nph.15223

Mujica MI, Saez N, Cisternas M, Manzano M, Armesto JJ, Pérez F (2016) Relationship between soil nutrients and mycorrhizal associations of two Bipinnula species (Orchidaceae) from central Chile. Ann Bot 118:149–158. https://doi.org/10.1093/aob/mcw082

Nadarajan J, Wood S, Marks T, Seaton P, Pritchard H (2011) Nutritional requirements for in vitro seed germination of 12 terrestrial, lithophytic and epiphytic orchids. J Trop For Sci 23:204–212

Nelder JA, Wedderburn RWM (1972) Generalized Linear Models. J R Stat Soc 135:370–384. https://doi.org/10.2307/2344614

Nurfadilah S, Swarts ND, Dixon KW, Lambers H, Merritt DJ (2013) Variation in nutrient-acquisition patterns by mycorrhizal fungi of rare and common orchids explains diversification in a global biodiversity hotspot. Ann Bot 111:1233–1241. https://doi.org/10.1093/aob/mct064

Paladino O, Massabò M, Gandoglia E (2020) Assessment of nitrate hazards in Umbria region (Italy) using field datasets: good agriculture practices and farms sustainability. Sustainability 12(22):9497. https://doi.org/10.3390/su12229497

Pedersen A, Petersen BM, Eriksen J, Hansen S, Jensen LS (2007) A model simulation analysis of soil nitrate concentrations—Does soil organic matter pool structure or catch crop growth parameters matter most? Ecol Modell 205:209–220. https://doi.org/10.1016/J.ECOLMODEL.2007.02.016

Pellegrino G, Luca A, Bellusci F (2016) Relationships between orchid and fungal biodiversity: mycorrhizal preferences in Mediterranean orchids. Plant Biosyst 150:180–189. https://doi.org/10.1080/11263504.2014.940071

Perotto S, Rodda M, Benetti A, Sillo F, Ercole E, Rodda M, Girlanda M, Murat C, Balestrini R (2014) Gene expression in mycorrhizal orchid protocorms suggests a friendly plant–fungus relationship. Planta 239:1337–1349. https://doi.org/10.1007/s00425-014-2062-x

Ponert J, Figura T, Vosolsobě S, Lipavská H, Vohník M, Jersáková J (2013) Asymbiotic germination of mature seeds and protocorm development of Pseudorchis albida (Orchidaceae) are inhibited by nitrates even at extremely low concentrations. Can J Bot 91:662–670. https://doi.org/10.1139/cjb-2013-0082

Ponert J, Lipavská H (2017) Utilization of exogenous saccharides by protocorms of two terrestrial orchids. Plant, Soil Environ 63:152–158. https://doi.org/10.17221/71/2017-PSE

Ponert J, Vosolsobě S, Kmecová K, Lipavská H (2011) European orchid cultivation – from seed to mature plant. Eur J Environ Sci 1:95–107. https://doi.org/10.14712/23361964.2015.52

R Core Team (2015) R: A Language and Environment for Statistical Computing

Rasmussen HN (1990) Cell differentiation and mycorrhizal infection in Dactylorhiza majalis (Rchb. f.) Hunt & Summerh. (Orchidaceae) during germination in vitro. New Phytol 116:137–147. https://doi.org/10.1111/j.1469-8137.1990.tb00519.x

Rasmussen HN (1995) Terrestrial orchids: from seed to mycotrophic plant. Cambridge University Press, Cambridge

Rasmussen HN, Dixon KW, Jersáková J, Těšitelová T (2015) Germination and seedling establishment in orchids: a complex of requirements. Ann Bot 116:391–402. https://doi.org/10.1093/aob/mcv087

Richardson KA, Peterson RL, Currah RS (1992) Seed reserves and early symbiotic protocorm development of (Orchidaceae). Can J Bot 70(2):291–300

Selosse MA (2014) The latest news from biological interactions in orchids: in love, head to toe. New Phytol 202:337–340. https://doi.org/10.1111/nph.12769

Sgarbi E, Grimaudo M, Del Prete C (2009) In vitro asymbiotic germination and seedling development of Limodorum abortivum (Orchidaceae). Plant Biosyst 143:114–119. https://doi.org/10.1080/11263500802633808

Shapiro SS, Wilk MB (1965) An analysis of variance test for normality (complete samples). Biometrika 52:591–611

Soukup A, Tylová E (2014) Essential methods of plant sample preparation for light microscopy. In: Clifton N (ed) Methods im molecular biology. Humana Press, Totowa, NJ, p 1–23. https://doi.org/10.1007/978-1-62703-643-6_1

Stewart S, Kauth P, Dutra Elliott D, Johnson T, Kane M, Vendrame W (2008) Techniques and applications of in vitro orchid seed germination. Floriculture. Ornamental and Plant Biotechnology, Advances and Topical Issues, pp 375–391

Swarts N, Dixon KW (2017) Conservation methods for terrestrial orchids. J Ross Publishing

Taylor D, Bruns T, Leake J, Read D (2002) Mycorrhizal specificity and function in myco-heterotrophic plants. Ecol Stud 157:375–413. https://doi.org/10.1007/978-3-540-38364-2_15

van der Heijden MGA, Martin FM, Selosse M-A, Sanders IR (2015) Mycorrhizal ecology and evolution: the past, the present, and the future. New Phytol 205:1406–1423. https://doi.org/10.1111/nph.13288

Van Waes JM, Debergh PC (1986) In vitro germination of some Western European orchids. Physiol Plant 67:253–261. https://doi.org/10.1111/j.1399-3054.1986.tb02452.x

Vogt-Schilb H, Těšitelov T, Kotilínek M, Sucháček P, Kohout P, Jersáková J (2020) Altered rhizoctonia assemblages in grasslands on ex-arable land support germination of mycorrhizal generalist, not specialist orchids. New Phytol. https://doi.org/10.1111/nph.16604

Vohník M (2020) Ericoid mycorrhizal symbiosis: theoretical background and methods for its comprehensive investigation. Mycorrhiza 30:671–695. https://doi.org/10.1007/s00572-020-00989-1

Waterman RJ, Bidartondo MI, Stofberg J, Combs JK, Gebauer G, Savolainen V, Barraclough TG, Pauw A (2011) The effects of above- and belowground mutualisms on orchid speciation and coexistence. Am Nat 177:E54–E68. https://doi.org/10.1086/657955

Weiss M, Selosse MA, Rexer KH, Urban A, Oberwinkler F (2004) Sebacinales: a hitherto overlooked cosm of heterobasidiomycetes with a broad mycorrhizal potential. Mycol Res 108:1003–1010. https://doi.org/10.1017/S0953756204000772

White TJ, Bruns TD, Lee S, Taylor J (1990) Amplification and direct sequencing of fungal ribosomal RNA genes for phylogenetics. In: Innis MA, Gelfand DH (eds) PCR Protocols: A Guide to Methods and Applications. Academic Press, London, pp 315–322
Acknowledgements
We would like to thank professional statistician Tomáš Frantík for help and two anonymous reviewers who greatly improved our paper.
Funding
TF and JP were supported by Grant Agency of Charles University (GAUK 365115). JJ was supported by Czech Science Foundation (18-11378S) and MV by the long-term research project of the Czech Academy of Sciences, Institute of Botany (RVO 67985939).
Ethics declarations
Conflict of interest
The authors declare no conflicts of interest.
Consent for publication
All authors agree with the current content and form of the manuscript.
Additional information
Publisher's Note
Springer Nature remains neutral with regard to jurisdictional claims in published maps and institutional affiliations.
Supplementary Information
Below is the link to the electronic supplementary material.
About this article
Cite this article
Figura, T., Tylová, E., Jersáková, J. et al. Fungal symbionts may modulate nitrate inhibitory effect on orchid seed germination. Mycorrhiza 31, 231–241 (2021). https://doi.org/10.1007/s00572-021-01021-w
Received:

Accepted:

Published:

Issue Date:
Keywords
Nitrate

Orchid mycorrhiza

Orchid seed germination

Protocorm development

Symbiotic fungi

Terrestrial green orchids